After Hours: Sanzoku's main goal is creating ambiance
---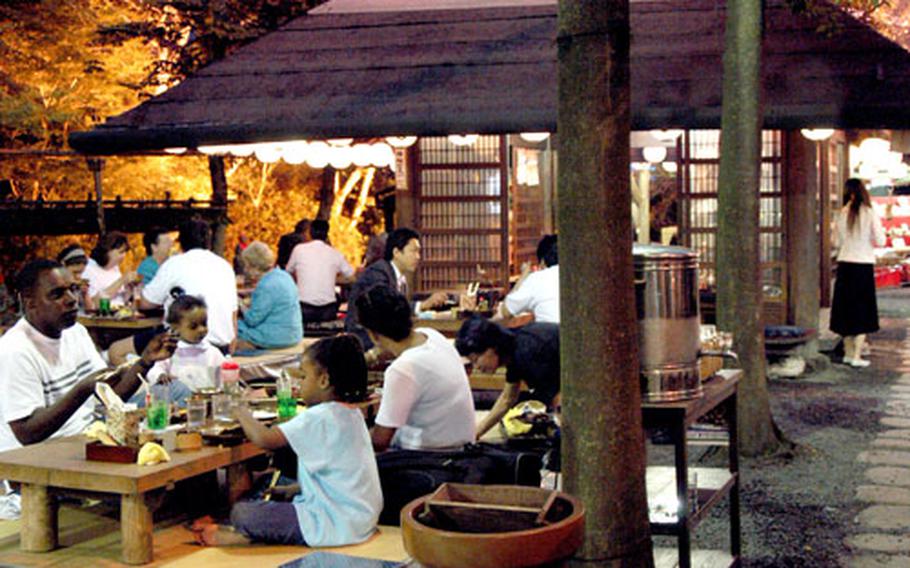 IWAKUNI, Japan — It's a like a culinary Disneyland: a traditional restaurant crossed with a Japanese festival set in a mountain retreat.
Sanzoku, popularly called "The Chicken Shack" by base residents at nearby Marine Corps Air Station Iwakuni, features amazing food, a friendly staff, a beautiful setting and a rare ambiance.
The ambiance was the owners' first concern: They bought a mountain with cascading waterfall to build upon to give patrons a natural setting in which to eat.
The owners started Sanzoku in 1970 and took several years to build the spacious traditional Japanese-style house and grounds for the restaurant, which actually is three restaurants in one.
They created the place not for the chicken Americans are so fond of, but for a special beef called sumeragi, made from young heifers that have not borne calves.
During construction, Sanzoku sold rice balls and chicken on a stick, which now are some of the most popular foods on the menu. Employees built the buildings and created the dishes themselves, according to restaurant workers.
The restaurant creates seasonal displays set in the style of a traditional Japanese festival. Leading in to the restaurant, visitors pass kiosks selling traditional festival goods — toys, food and trinkets. Inside, the restaurant is split into distinct areas: an indoor room upstairs covered with samurai memorabilia and outside seating that looks out onto the waterfall.
Diners sit at low tables on small tatami platforms in covered pavilions or out under the stars.
But the food is what draws the crowds. Roasted chicken on a stick called Sanzoku yaki, beef slices cooked at your table (shichirin yaki), rice balls, udon noodle soup and gyoza (fried meat dumplings) are highlights.
Foreigners have always been drawn to the restaurant, employees say. English menus are available, as is the ever-popular fallback for the hungry and Japanese-illiterate: a display case of plastic food to point to.
It's a perfect place for a family dinner or a night out with friends — or even a date. The only drawback is location. It's a 30-minute drive or a roughly $30 taxi ride from MCAS Iwakuni. Sanzoku has other restaurants, so be sure to specify to a taxi driver that you want the original.
As always, if you drink, do so responsibly. Don't drink and drive.
Sanzoku (Chicken Shack)
Iwakuni, Japan
Prices: Items cost about $5 each — for example, chicken on a stick (Sanzoku yaki) is 588 yen; beef cooked at your table, 788 yen. Yebisu draft beer ranges from 294 yen for a small glass to 1,019 yen for a large glass.
Cover: None
Food: Japanese style — famous for chicken on a stick and thin sliced beef cooked at your table
Entertainment: Festival-like atmosphere and location, nestled into a mountainside with a waterfall as a backdrop
Clientele: Young and old, families and singles
Dress: Casual
Location: 1380-1 Kuga-machi, Iwakuni city
Telephone: (0827) 82-3115. You may need a Japanese speaker to help with making reservations.
Hours: 10 a.m. to 5 a.m.
Closed: The Sanzoku portion of the complex is closed Tuesdays, Kamado (near waterfall) on Wednesdays, and Tourian (upstairs) on Thursdays.
---
---
---
---