After Hours: Santorini average, but worth a second trip
by
Ashley Rowland
November 13, 2008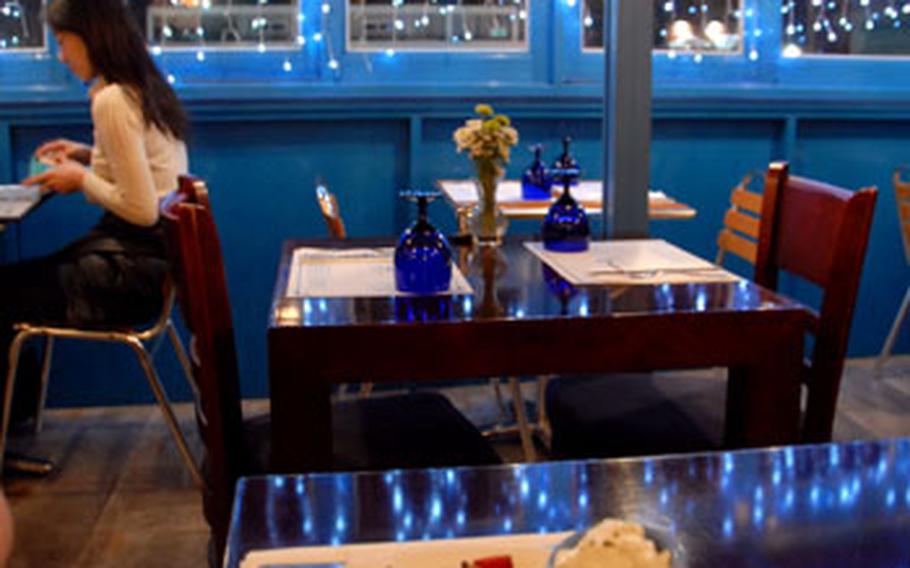 SEOUL — The first thing you notice is the smell of warm bread and grilled meat. Then, it's the flowers on the table, the soft lights, and the mellow ambiance that invite you to sit down at Santorini, a cozy Greek restaurant in Itaewon.
This popular eatery is decorated in blue and white, reminiscent of the buildings on the Mediterranean island it's named for, with strings of blue Christmas lights hanging against the windows and pictures of Greece on the walls.
Santorini serves reasonably priced Greek standards — moussaka, grilled meats, gyros, pita bread — and has a full list of drinks, including some Greek wines that are hard to find in South Korea. Appetizers start around 6,000 won, entrees average 18,000 to 20,000.
Santorini has a good reputation that it didn't quite live up to. Some of the food we ordered was excellent, but some dishes were disappointingly mediocre. Both the lamb chops and the pork souvlaki, a pork-and-vegetable kebab, were tough and overcooked. My appetizer of shrimp saganaki was bland, the sauce was watery, and the bread that came with it was tasteless.
But the spinach pie — four triangles of tender spinach wrapped in crispy phyllo dough — was delicious. So was the tub of creamy tzatziki sauce, a cucumber and yogurt dip, that came with it.
Both my friends even liked their overdone meat, particularly the heaping serving of lamb chops, which were artfully arranged on the plate. At 38,000 won, it was one of the most expensive items on the menu.
We all agreed that Santorini was worth giving a second try, especially if you're not a fan of spicy Korean cuisine.
"It makes you forget you're in Korea for a while," one friend said.
Santorini
Seoul
Hours:Noon-10 p.m.; order before the kitchen closes at 9:30. Reservations recommended on weekends.
Prices:Entrees range from about 18,000 won to 38,000 won ($13.50 to $28.50)
Specialties: Greek
English menu:Yes
Dress:Casual
Clientele:A mix of South Koreans and expats.
Location:Itaewon. To get there, walk to the street behind the Hamilton Hotel, and head toward Yongsan Garrison. Santorini is on the left, above Bricxx Bar.
Web site:None