After hours: San Ho restaurant, Daegu, S. Korea
by
Teri Weaver
September 20, 2009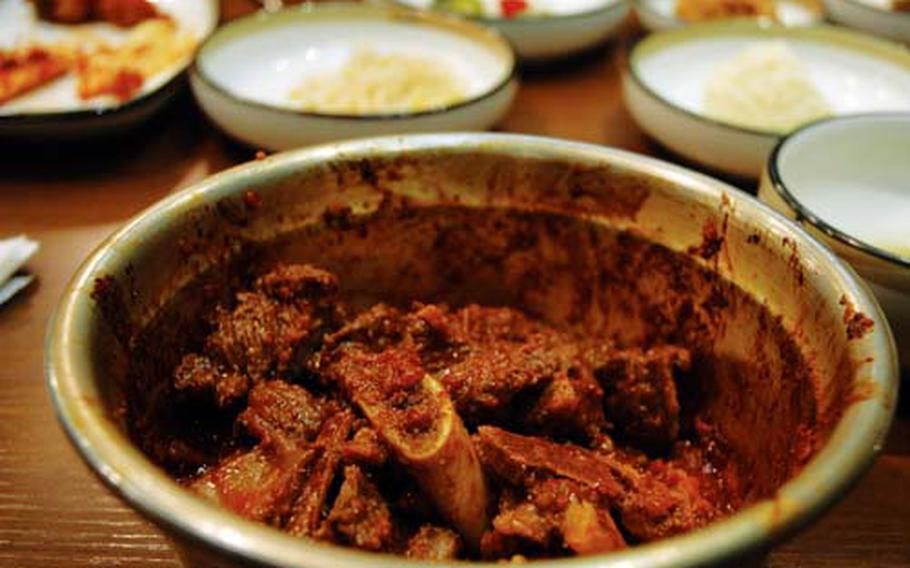 Daegu sits in a flat wide bowl, ringed with mountains, making for flat and easy city living.
But the topography also causes the seasons to get trapped over this city in central South Korea. In the summer, the humidity hangs solid as if held by a lid. In the winter, the cold air nestles directly in your bones.
So it's fitting that Daegu's traditional meal — kalbi jim — is served in a bowl with a spicy, garlicky pepper sauce after hours of steaming.
And like most generations-long recipes, kalbi jim smartly takes small pieces of meat and makes them go far in both quantity and flavor, a must for poorer families trying to feed many mouths, according to Moon Chang-su, owner of San Ho restaurant.
San Ho is in the middle of nearly a dozen kalbi jim restaurants on an alley in Daegu. The area of town is known for its specialty — merely saying "kalbi jim" to the taxi driver will get you exactly where you want to be.
Moon welcomes American customers and even has an English menu, though you won't need it. Each person gets an order of kalbi jim for 14,000 won. That comes with an array of kimchee and side dishes; a bowl of rice is 1,000 won extra.
The jim itself looks a bit like messy stew. But once inside a lettuce leaf with a little sesame sauce, some vinegared vegetables and rice, it's a real treat.
There's one caveat — the sauce is spicy, and there's no getting around it. Even the rice and lettuce don't hide the heat.
The friendly service and careful preparation fits with Moon's philosophy about food and culture.
"The quickest way to understand the culture of other nations is to taste their local food," he said. "Go to a local restaurant specializing in only a few dishes."
And the best part of kalbi jim, Moon says, is mixing the rice with the leftover sauce at the bottom of the bowl. "It is the most tasty part," he said.
We heartily agree.
Location: Daegu, South Korea
Hours: 9:30 a.m. to midnight
Prices: Kalbi jim costs 14,000 won per serving, with an extra 1,000 won for a bowl of rice.
Specialties: Kalbi jim — steamed beef ribs — in a fiery sauce. San Ho also has galbi tang, a beef soup for 6,000 won, though the owner rarely recommends it to foreigners because it's so spicy.
English menu: Yes, but saying, "kalbi jim" (pronounced jeem) will get you exactly what you need.
Dress: Casual
Clientele: Koreans and Westerners
Directions: 298-9, Dongin 1-ga, Jung-gu. To get there, get in the cab and say "Dongindong kalbi jim." The taxi will take you to a small street lined with kalbi jim restaurants. San Ho is in the middle, with an electronic sign on the front. San Ho is written on the outside in Hangul.
Web site: None
Phone: 053-422-2523
---
---
---
---