After Hours: 's Baggers near Nuremberg, Germany
by
Dan Blottenberger
March 15, 2011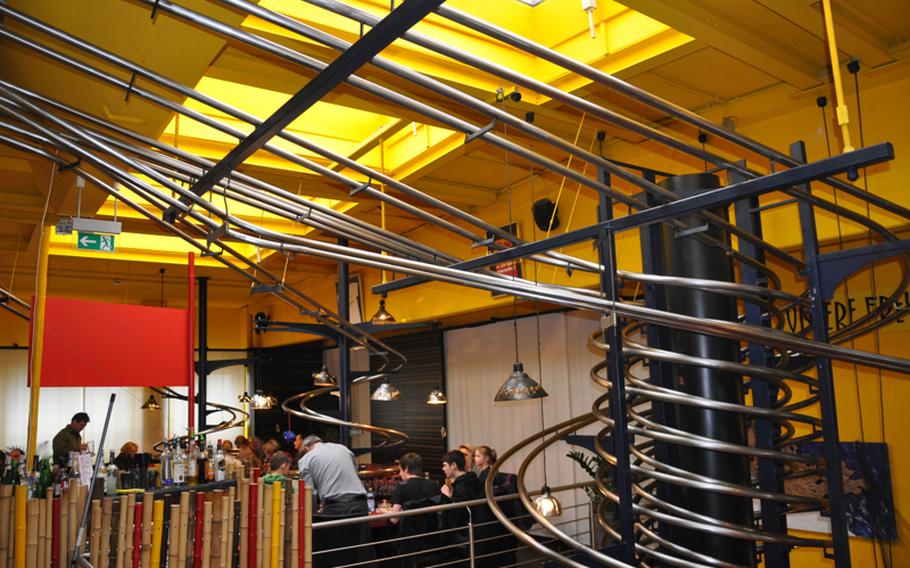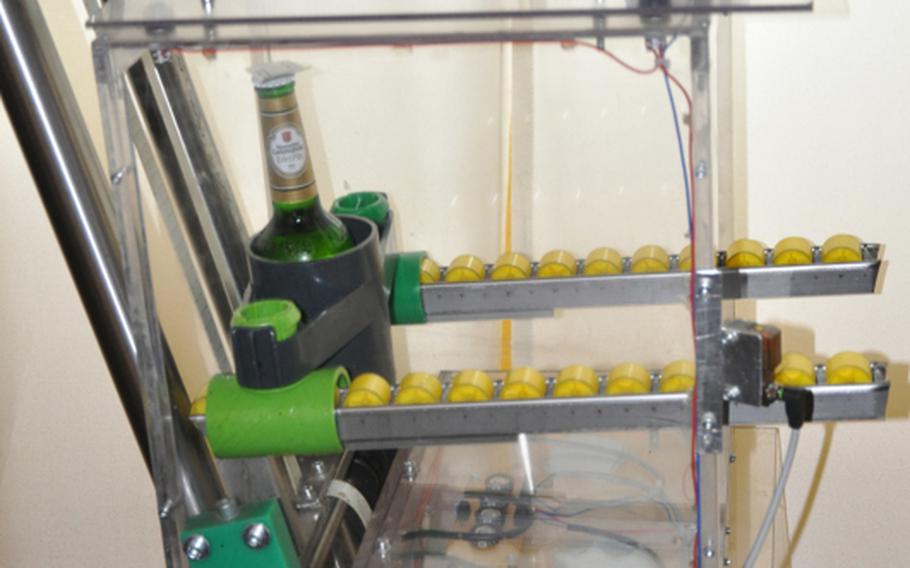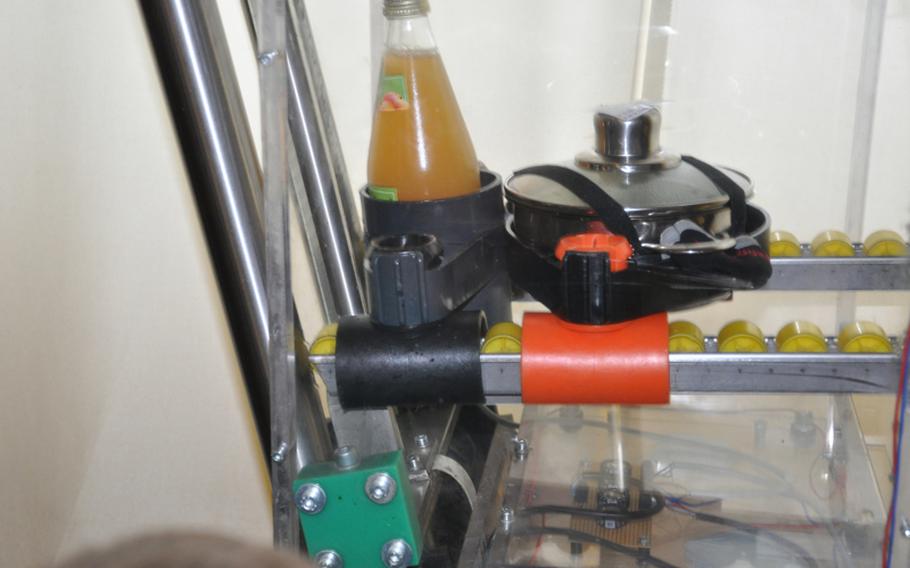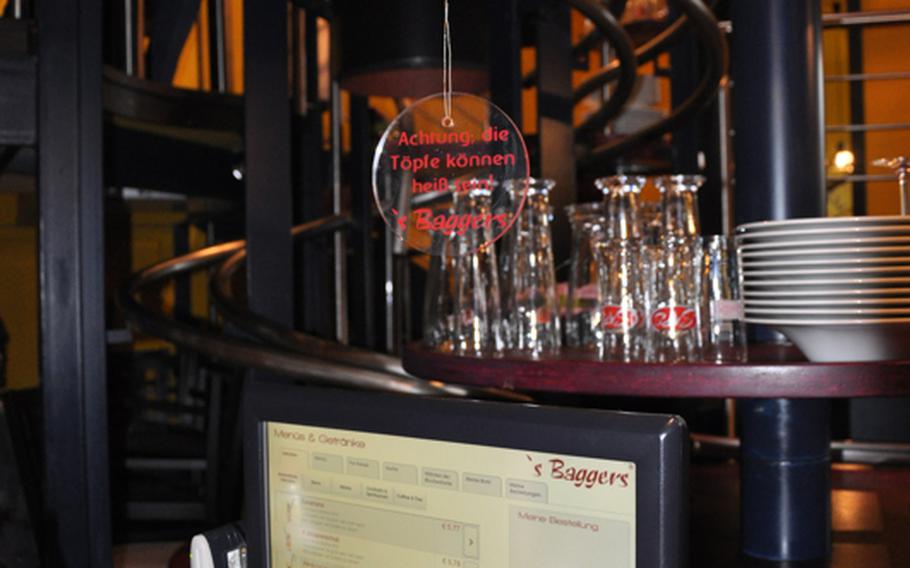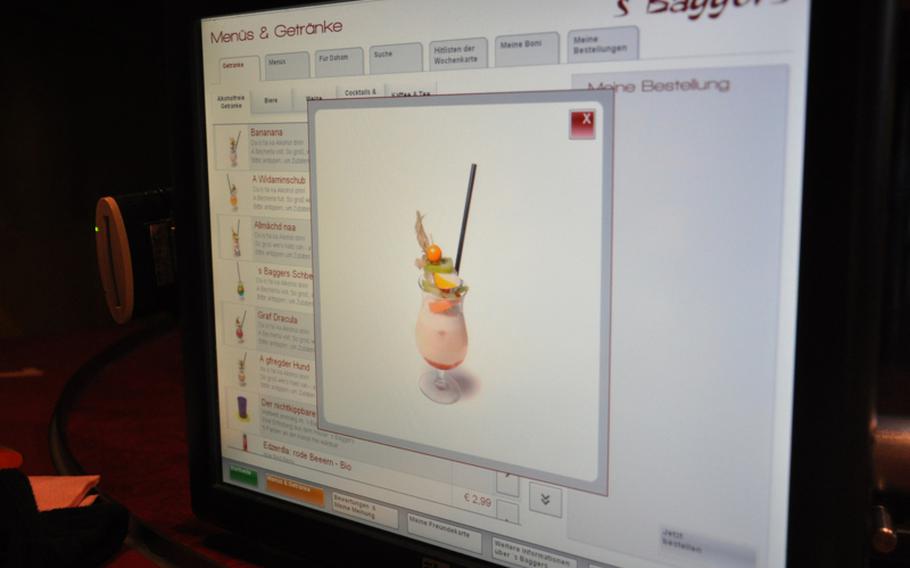 Americans are usually wowed by the European train system. Now just imagine that same system as the design for a restaurant. Near Nuremberg, 's Baggers is just that, and more.
At 's Baggers, patrons can feed their guts and at the same time feel like they are dining in the belly of a futuristic machine.
Customers enter their orders via computer at their table and wait for the restaurant's motherboard to do its magic. Within a few minutes, the food is sent to you on a miniature rail system that runs throughout the restaurant.
Equipped with conveyer belts, the rails are connected to every table with the second-floor kitchen being the main station.
Don't get startled by the clanking of plastic around you as your drinks and meals make their way to your table. The factory setting will have your eyes darting in an attempt to catch the next meal on its way down the track. Items will pass by overhead or down the long spiral columns to the unfortunate customers who have their tables on the less-than-exciting first floor.
The second floor is where the action happens, so if you can manage to reserve seats there, do so. Children will be fascinated at the different routes the food is delivered on. Some dishes are delivered with a sparkler attached, but if you sit on the first floor, the flame is out by the time it reaches you.
When you enter the restaurant, you receive a card that keeps track of all your purchases. Servers stop by only to pick up your empty dishes and assist you if the menu has you bewildered.
The menu is packed with options, all of which are traditional for this part of Germany. I ordered my usual cordon bleu and fries, while my wife and her sister each ordered a stuffed baked potato.
Side dishes are ordered separately — including Baggers, the local name for Kartoffelpuffer, the potato pancakes that are standards at German festivals.
None of us were overly impressed with the dishes considering the prices. For three adults and two children, the total was about 65 euros.
Unlike most restaurants in Germany, there is a sense of pressure once you take your seat. The clock starts when your reservation begins and remains on the menu screen as you eat. You have precisely 90 minutes to complete your meal. Later in the evenings, dinner reservations are available for up to three hours.
The place is constantly booked, so call ahead or make reservations online. Doing so is easy, as the website has an English version.
The computer menus at the restaurant are strictly in the Bavarian dialect of German, which can be difficult even for locals. I overheard one joking patron ask if the menus were available in German.
blottenbergerd@estripes.osd.mil
Know a restaurant or entertainment spot you'd like to see reviewed in After Hours? E-mail John Taylor at taylorj@estripes.osd.mil.
Location: Am Steinacher Kreuz 28, Nuremberg, Germany
Directions: Just off Autobahn 73 in the commercial district of Schmalau near the cities of Nuremberg, Fürth and Erlangen. Take the Fürth-Ronhof exit and follow directions available on the website.
Hours: From October to April, 5-11 p.m. Tuesday to Friday, and 11:30 a.m. to 11 p.m. on Saturdays, Sundays and holidays; rest of year 5-11 p.m. Tuesday to Saturday and 11:30 a.m. to 11 p.m. Sundays and holidays. Closed most Mondays throughout the year. To ensure a table, the best bet is to make reservations before making the trip.
Food and drink: A new menu each week with a variety of Franconian-style main courses, including roasts and wursts with potatoes, and generous desserts. There are drinks of all types from coffee to alcoholic beverages.
Prices: A typical meal, not including side orders, costs about 8 euros, while sides average at about 3 euros apiece. Keep in mind, coffee and hot tea are not available via the rail system.
Clientele: Mostly Germans.
Dress: Casual.
English menu: No, but there is an English menu guide to help with the computer available at the hostess stand. Some of the staff can help you through the process of ordering, but your best bet is to speak German or bring someone who does.
Website:sbaggers.de; an English version is available.
Phone: 0911-477-9090
---
---
---
---