After Hours: Rocky Mountain Tavern has warm, Canadian feel
---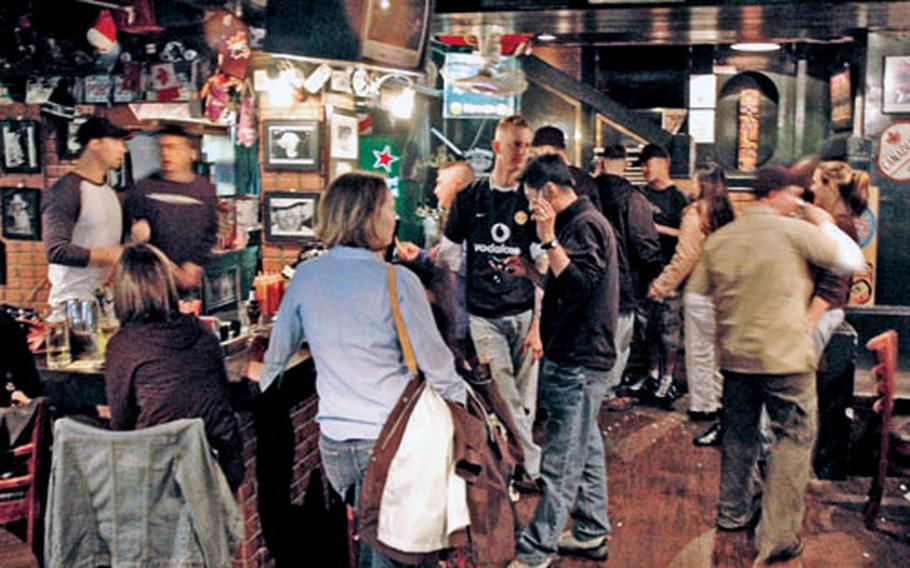 SEOUL — A recent Friday night at the Rocky Mountain Tavern in Itaewon left me and my friends asking this question: How would you pronounce poutine?
If your answer leaves you red-faced and giggling, you'd be wrong.
It's "pu-teen," according to Jamie Cottin, who owns this second-story Canadian bar about a block and a half west of the Itaewon subway station.
Yes, you never know what you'll find at Rocky Mountain, though they do try to keep a schedule: Monday night is trivia night, Tuesday night is 500-won wing night (about 50 cents) and acoustic music night, and Saturday and Sundays are devoted to a "truck stop" breakfast for 7,000 won (about $7.30) until 3 p.m.
That's in addition to a variety of live music (usually with no cover), a dedicated airing of hockey games (season permitting), and, during the holidays, a special menu of activities for every day in December.
In July the bar is offering a "ladies drink for free" night on Thursdays, Cottin said.
On the Friday night I spent at Rocky Mountain, I followed a plate of Nachos Grande up to the third floor.
"Are those the $15 nachos?" I asked their owner.
"I don't know how much they cost, but they're really, really good," she said, and I didn't doubt her. From my vast experience ordering snack food off-base, these looked like the real deal.
Rocky Mountain has other snacks, for much less than $15. Their small menu includes burgers, chicken strips and sandwiches, all served with hand-cut fries.
Which helps explain the poutine, a mix of fries, gravy and cheese that is a Quebec favorite and, though not scientifically proven, has salvaged many a Saturday or Sunday morning in Canada, some northern cities in the U.S., and, for at least the last two years, in Seoul.
Cottin and four of his Canadian friends opened the bar two summers ago, after they all got tired of teaching in South Korea, he said in May. Things are going well, and the same group recently opened Pita Time in Itaewon.
I skipped the poutine and the nachos but stayed late to hear the whole set from alternative country band Chester Story and the Glory Story, which is supposedly the only ex-pat country band in South Korea, or so Cottin's been told.
Whether others stayed out of loyalty to the band or the beer, I can't say. All I know is that with nachos, a banjo and the promise of gravy fries, I felt for the first time in my 18 months in Korea I'd found a place that felt like home.
As always, if you drink, do so responsibly. Don't drink and drive.
Rocky Mountain Tavern
Seoul, South Korea
Rating: Five beers out of a six-pack
Drink prices: Beers, $3 to $6, pitchers about $15
Cover: None
Food: Bar food — peanuts, sandwiches, fries, ribs, nachos — and Canadian specialty poutine
Entertainment: A mix of sports television, trivia nights and live music
Clientele: Mostly ex-pats from Canada, the United Kingdom and U.S. Servicemembers are welcome.
Dress: Casual
Location: About a block and a half west of the Itaewon subway station. On the second floor, just before the Poly M home furnishing store.
---
---
---
---