After Hours: Restaurant Asia near Kaiserslautern, Germany
by
Gregory Broome
October 3, 2013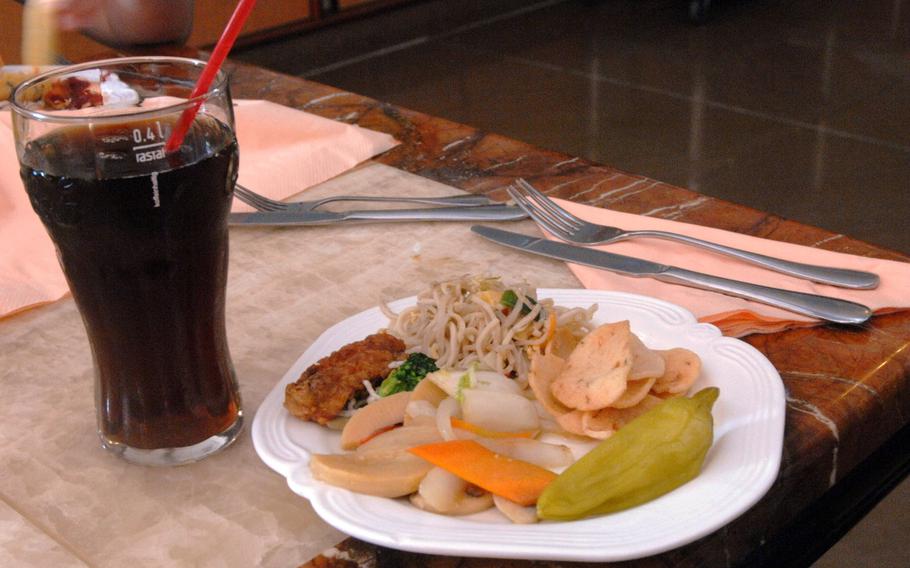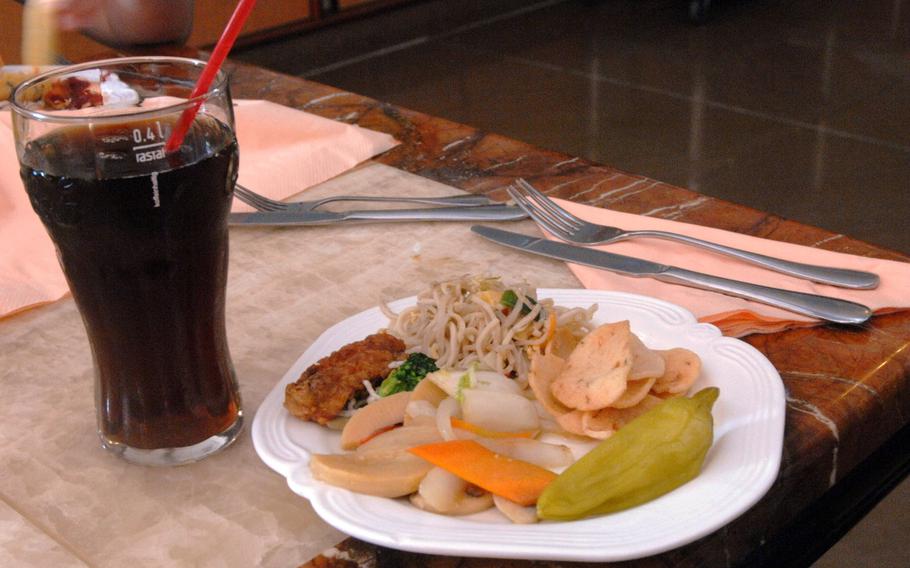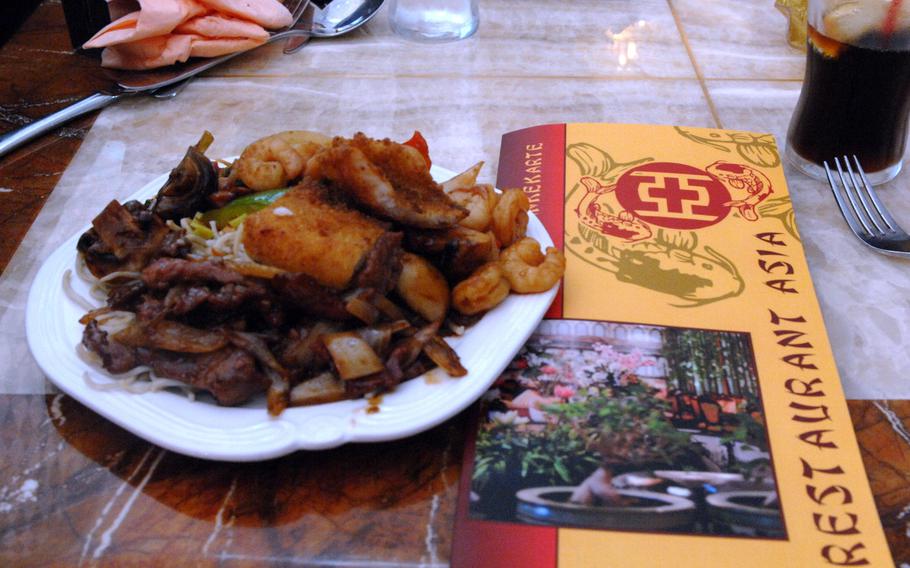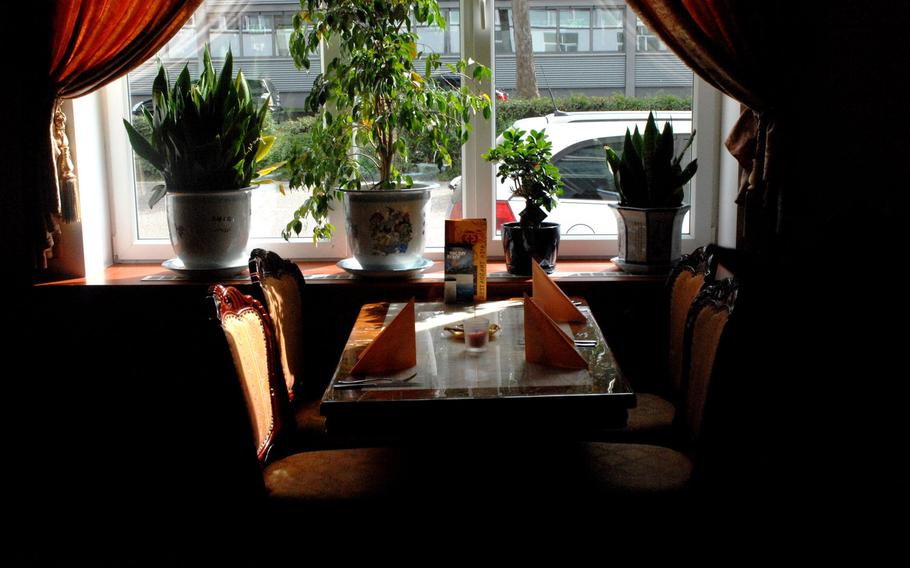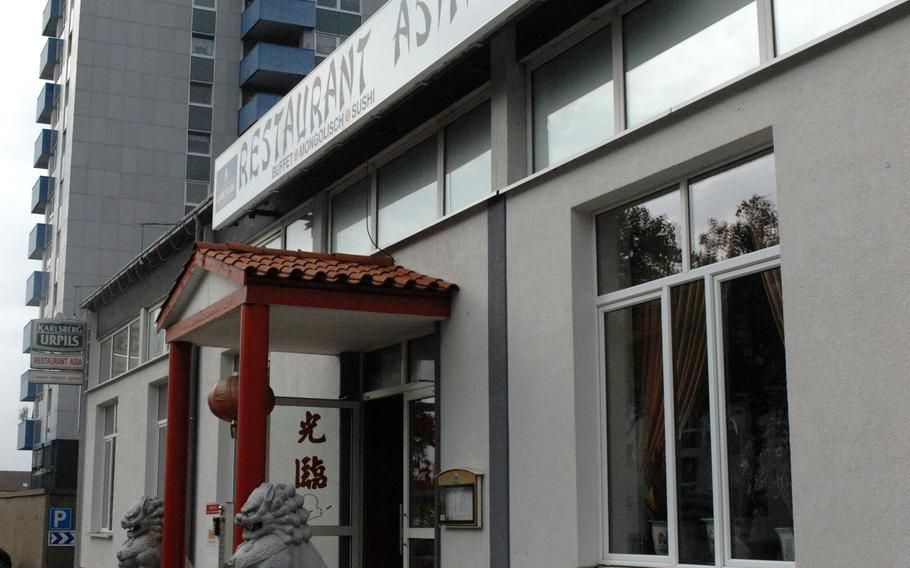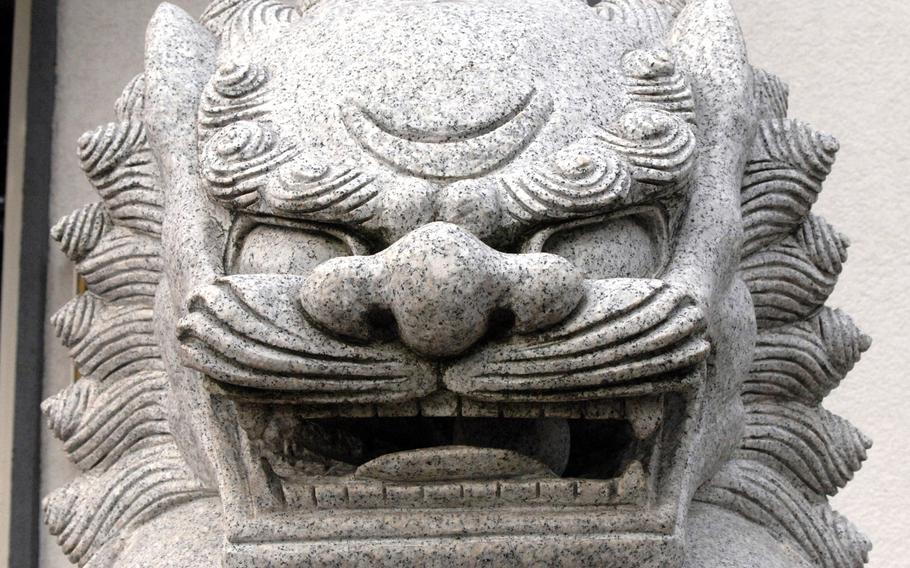 I  believe I am stating the old adage correctly when I say that the problem with Asian food is that it leaves you hungry again two minutes after eating.
That was exactly my experience at Restaurant Asia, an ornate jewel of a restaurant on the outskirts of Kaiserslautern. Happily, the eatery solves its own dilemma. Because, you see, it's a buffet.
Restaurant Asia is not the only Asian restaurant to serve its guests in this method. Nor are Asian eateries the only genre of restaurant to do so. But the concept is so logically and logistically perfect as to beg the question: Why isn't every restaurant a buffet?
Consider its benefits.
It eliminates waiting. For a hungry diner, the 15-20 minute interval between ordering and food delivery is interminable. Eating at a buffet is like skipping the line at a theme park. You sit down, say the word "buffet" while making an encompassing gesture around the table, and order drinks. You'll return to your table, first plate gripped between expectant hands, to find your drinks awaiting. Your meal is magically underway.
It replaces risk with certainty. A botched entree choice at a conventional restaurant is either a social catastrophe, in which you request a replacement dish while your tablemates decide how to proceed with their own now-compromised meal, or a fiscal one, in which you literally and figuratively eat the gruel you've been served.
Not so at a buffet. You might not like everything you try, but you'll like a few things. After identifying your preferences with an initial fact-finding plate, you can devote an appropriate percentage of future plates to those items.
Now consider the buffet's drawbacks. Oops; there are none.
So we've established the merits of the buffet in general. Now let's examine Restaurant Asia specifically.
First of all, it's huge. From the outside, it looks like a converted Sam's Club. Inside, with its sprawling, shiny floors and high ceilings, it looks and feels like an airport terminal. A shuttle between the buffet and the more distant tables would not seem wildly out of place.
But such comparisons belie the place's aesthetic charms. At the restaurant's center is a lovely koi pond. Sparkling chandeliers hang overhead. A Chinese dragon hovers over the buffet line. Each table is gracefully decorated, some enhanced with small aquariums at one end.
These efforts would go for naught if the food was found lacking. Fortunately, the food is outstanding. The buffet offers a nice mix of the Asian cuisine you expect, like sushi, noodles, fried rice, egg drop soup, grilled vegetables and meats arrayed with rich sauces, and the surprising but not unwelcome inclusion of non-traditional sides such as French fries and fruit cocktail.
If you're a purist angered by the presence of French fries on an Asian buffet, I'd suggest you simply not eat them. After all, it's a buffet, and there are other things to choose.
I had only a couple of noticeable problems with my experience at Restaurant Asia.
First, drinks are not included on the buffet. They are priced separately, they are expensive, and they do not come with refills. This is a problem for me. I did not come to a buffet to pace myself. I am at a buffet for unfettered access to food and drink, so please install a simple soda fountain next to the silo of hot and sour soup. But this is a constant problem in Europe and unlikely to change. Restaurant Asia doesn't deserve any particular criticism for conforming to societal norms, but I reserve the right to complain about it anyway.
Finally, the restaurant had trouble producing a supply of spring rolls sufficient to keep up with demand. To be fair, however, another husky American gentleman and I were skewing the arrow decidedly toward the demand side.
In summary, Restaurant Asia is a buffet. That already puts it halfway to awesome. Its excellent food and classy ambience brings it the rest of the way. Your plates are stacked and waiting. Just leave some spring rolls for the rest of us.
broome.gregory@stripes.com Twitter: @broomestripes
Restaurant AsiaLocation: Mainzer Strasse 105, near Autobahns 6 and 63 on the east side of Kaiserslautern. It's a five-minute drive from Kleber, Daenner and Panzer kasernes and 10 minutes down the autobahn from Vogelweh.
Hours: The restaurant is open Monday to Saturday from 11:30 a.m. to 3 p.m. and 5:30 p.m. to 11:30 p.m. and Sunday from 11:30 a.m. to 11:30 p.m. The buffets run shorter hours, however. Lunch goes from noon to 2:30 p.m. Monday to Saturday; the dinner buffets run from 6 p.m. to 10 p.m. nightly.
Menu: A wide selection of Asian cuisine, including Chinese and Mongolian choices and sushi. The buffet has the staple starches of fried rice and noodles upon which to pile grilled vegetables and seafood, chicken, duck, pork and beef selections. There's also soup and a salad bar. I'm not sure why you would, but you can order a meal a la carte during or outside of the buffet hours. Entree prices range from about 7 euros for lunch to between 10 and 15 euros for dinner. Drinks can quickly inflate your bill at 3.30 euros for a large soda. The dinner buffet includes ice cream; a menu of fruity desserts starts at 2.80 euros.
Prices: The lunch buffet costs 7.80 euros for adults and 4.90 for children. Dinner costs 13.90 euros or 7.90 for children. The dinner buffet jumps to 14.80 and 8.90 euros on Fridays, Sundays and holidays.
Dress: Casual.
Website:www.asia-kl.de
---
---
---