After hours: Queens Head Pub, Edmunds, England
---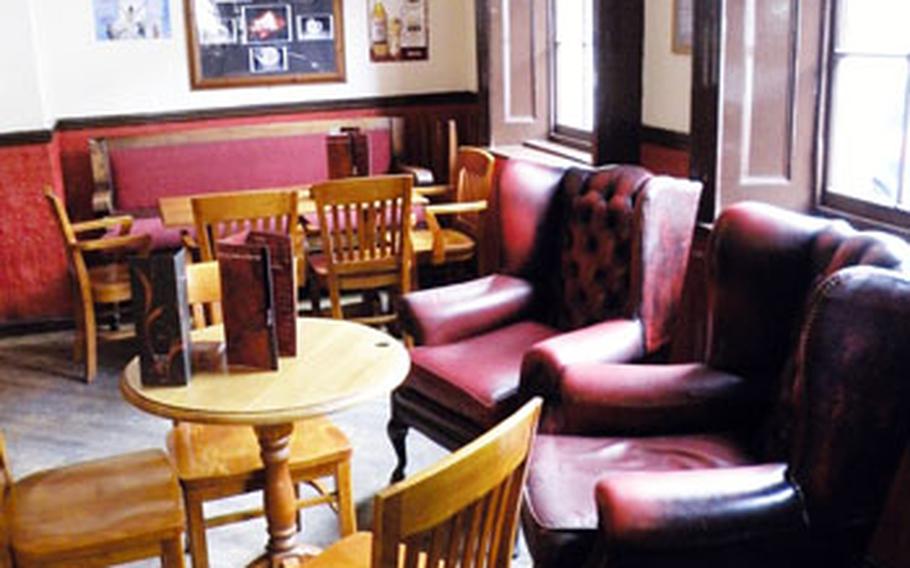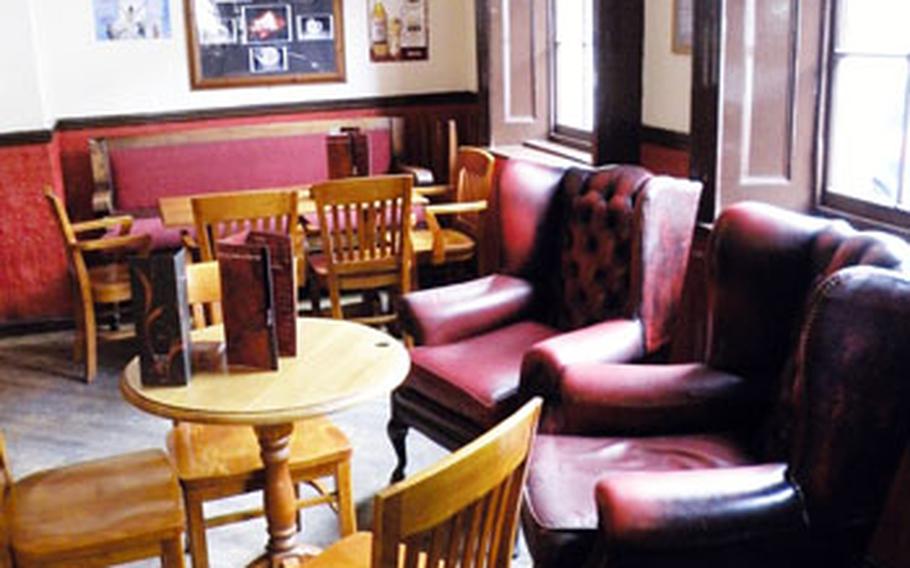 Whether you are new to the East Anglia region of southern England and looking for something new to eat or have worked up an appetite shopping at the local market, don't pass up the opportunity to delve into a British classic, such as steak-and-ale pie or bangers and mash.
If you know the regional cuisine — or spent any time in college — steak and beer with pie may not sound too far-fetched. But what about the oddly named bangers and mash — sausages with mashed potatoes? Chances are you have consumed a banger or two no matter what corner of the planet you call home.
The Queen's Head Pub in Bury St. Edmunds offers a broad range of eats for Britons and U.S. Air Force servicemembers stationed at nearby RAF Mildenhall and RAF Lakenheath. And it aims to do so in an enjoyable daytime or nighttime atmosphere.
Described by the barman, Joel Sheppard, as "traditional pub food," the variety of menu options and hefty portions are sure to outweigh your hunger and leave some pounds in your wallet.
Hamburgers with chips, lasagna, toasted or cold deli-style sandwiches and the popular curry-of-the-day means there's something for just about everyone to feast on. And it's fresh, too.
Sheppard, who has poured pints at the Queen's Head for four years, claims the dishes are made in the kitchen every day. "Even the steaks are cut right off a slab," he boasted.
Daily specials are scribbled on blackboards and hung on both ends of the bar. And while patrons are enjoying a bite, the seven flat-screen televisions show everybody's favorite sport, such as cricket, rugby, polo and football, even the American kind.
"We will put American football on if it is requested and we get the channel," Sheppard said.
This 14th-century building is a stone's throw from the town center, Abbey Gardens and one of Bury St. Edmunds' most notable slices of English history, the ruins of the St. James Cathedral, where in 1215 the Magna Carta was drafted.
Sometime during the 18th century, the building was converted into a pub. It underwent renovation a handful of years back, and now customers can sit at a table or comfy armchair inside and enjoy the air conditioning, or lounge outside on the terrace with a chilled pint of locally brewed ale.
A hearty meal, a pint of real ale, sports on TV and a cozy setting. Who could ask for more?
Just outside the pub is another great opportunity for newcomers. They can snap a photo of the red telephone booth. The "red box" was once a staple in the United Kingdom and could be the final piece for your scrapbook. Be sure to take pictures for your friends, too.
Queen's Head Pub
Location: 39 Churchgate St., Bury St. Edmunds, England.
Directions: From RAF Mildenhall: Take A1101 through Mildenhall and follow the signs for Bury St. Edmunds/A1101. At the first roundabout upon entering Bury St. Edmunds, take the second exit and veer left to stay on Northgate Street. Turn right on Mustow Street, and stay on the road as it curves left and becomes Angel Hill Street. Parking will be on the right side of the road immediately after Churchgate Street. Walk down Churchgate for one block and arrive at the pub on your left.
Hours: 11 a.m. to midnight daily
Food: Traditional pub food.
Prices: Appetizers range between 2 and 5 pounds, and main courses are priced between 5 and 10 pounds. Enjoy an ice-cold lager or pint of ale for an average price of 2 pounds.
Seating: Ample indoor seating with seven televisions dedicated to sports or other programming. Outdoor seating available, weather permitting.
Dress: Work clothes or business suits, all are welcome at the Queen's Head.
Phone: 01284-761-554.
Web site: None found.
---
---
---
---