After hours: Pub offers a little taste of gastronomic joy
by
Teri Weaver
November 6, 2008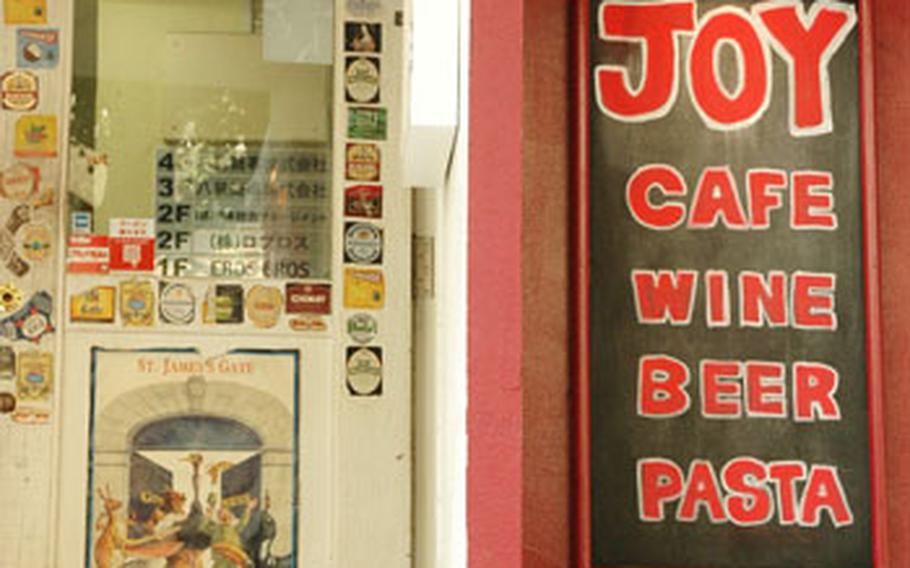 TOKYO — Each time I pop into Gastro Pub Joy for an after-work drink and a small meal, there's something new to be found.
Occasionally, it's a new dish, like deep-fried avocado fritters. Sometimes it's a new happy hour special, like a recent offering of a glass of wine for $5.
A few days ago, however, I found this neighborhood bistro is leaning more and more toward wine, a slant I can whole-heartedly follow. Since my last visit, the tiny place near Nishi-Azabu's main intersection removed a good portion of its tables in exchange for a mini-wine bar with more stools and more bottles to sample.
That was the good news. Less encouraging was discovering that the pub's English wine menu disappeared. Also, the few seats at tables now require a $3 per person cover charge, no matter how crowded the restaurant.
Of course, the fee is small when thinking about a night out in Tokyo and the reasonable prices on the menu. Still, my English-only heart sank a little upon hearing about the charge and seeing all those bottles, dutifully described in Japanese.
Thank goodness the staff, who speak only Japanese, remain as patient and competent as ever when suggesting wine to Americans like me. Strong or sweet? Red or white? Sometimes simple choices are all you really need.
The food, too, remains comforting. The menu is full of small plates — salads, sashimi, stews, pizzas, and cheese and meat platters The spicy fries are superb, my second favorite after those chunks of fried avocado.
Hungrier diners might go for the fish and chips, which comes in small and large portions. My friend ordered it a few months ago and raised her eyebrows when she found a piece of fried salmon, rather than cod, on the plate. Her wrinkled brow turned to a smile after the first bite. She pronounced it a brilliant idea.
The pub is best for a small group, of two to four, and a nice place for a single diner to enjoy a book and a glass of wine. It's also a good place to stop for one pre-dinner drink, especially if you're starving. And if you're looking to unwind after a hectic day, the pub lives up to its name — a little gastronomic joy.
To see previous After Hours reviews, go to: stripes.com/afterhours
Gastro Pub Joy
Tokyo
Hours: Lunch noon-5 p.m.; Dinner 6 p.m.-4 a.m.
Prices: Wine and beer prices start around $6 or $7, though a happy hour until 8 p.m. offers house specials for about $5 each. Most menu items are between $4 and $12.
Specialties: Gastro Pub Joy is a wine and beer bar that offers small plates with flavors from Italy, France and Japan.
English menu: Drink menu is mostly in Japanese; food menu has enough English to order.
Dress: Casual to business
Clientele: After-work crowd, and a late-night place for adults of all ages.
Location: Nishi-Azabu 3-24-23. It's on the main drag in Roppongi. From Roppongi Hills, walk down the hill along the main road. Gastro Pub Joy is about a dozen storefronts from Nishi-Azabu Crossing.
Web site:http://r.gnavi.co.jp/b719400/
Phone: 03-5413-6811