After hours: Papasote in Kaiserslautern
---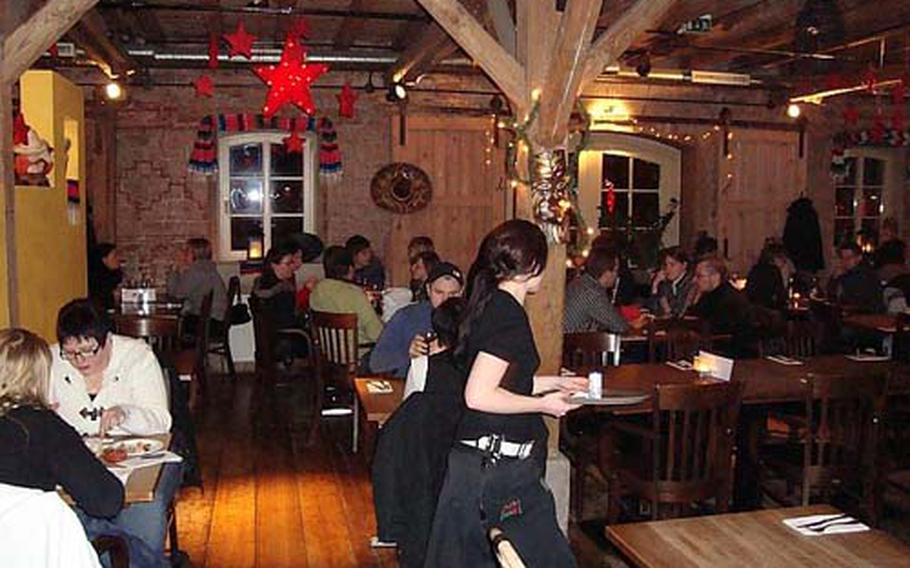 Trying to find a good Mexican restaurant in Germany can be like trying to find a train seat at rush hour in Shinjuku, Japan, said to be the world's busiest train station.
In my two months in Germany, I've been told to eat my heart out on schnitzel but to not expect to satisfy any cravings for authentic Tex-Mex. But I recently threw caution to the wind and headed with uncertain culinary expectations to Papasote at the Kammgarn cultural center in Kaiserslautern.
The evening started out promising. The hardwood floors, soft lighting, Spanish music and decorations of colorful sombreros and hanging red stars whetted my appetite for one of my favorite Mexican treats: homemade tortilla chips.
But alas, while the tortilla chips didn't taste like they were from a bag, they were bland. Fortunately, the guacamole I ordered to go with them was creamy and tasty.
Next up, was the tostada de carne, a flat, crisp corn tortilla layered with refried beans, onions, iceberg lettuce, cheese and tomatoes, topped with chicken strips. Presentation- wise, the meal looked great.
However, the sauce mixed with the chicken was unlike anything I had tasted. It didn't taste Mexican or Italian. I ate around it. My 4-year-old daughter also passed on her soft chicken taco.
Perhaps we need to switch to beef — or to chicken dishes that don't come with the brownish-red sauce. The chicken fajita that sizzled past our table looked delicious. At least my husband was a happy diner. He opted for the not-so Mexican barbecue ribs.
Owner Egidio Ferrante said Papasote caters to German taste buds, toning down the spice. No dishes at Papasote are flavored with cumin, for instance, he said. But food can be made hotter for those who desire it, he said, noting the restaurant's specialties are the chicken and beef fajitas.
It's definitely hard to judge a restaurant by one visit and one dish. I'd definitely go back to Papasote for the pleasant ambience and excellent service. I'd love to sample their drink menu.
Next time I'll try a mango margarita. Or if I get a wild hair, I'll take the "swimming pool," a concoction of vodka, rum, Curacao, ananas, kokos and sahne.
Papasote:Food: Tex-Mex. Specialties include beef and chicken fajitas. Beef dishes are especially popular, such as California beef burrito and carne asada, a northern Mexico dish of small strips of Argentina beef filet spread between two flour tortillas and garnished with green salsa. Prices are reasonable, from under 10 euros to more than 25 euros, per person.
Drinks: A wide-ranging drink menu, from cinnamon and nutmeg hot chocolate to mango margaritas. Both alcoholic and non-alcoholic beverages available.
Dress: Casual
Hours: Sunday to Thursday, 5:30-11 p.m.; 5:30 p.m. to 12:30 a.m. Friday and Saturday,
Location: At the Kammgarn cultural center; Schoenstrasse 15, 67659 Kaiserslautern
Web site: www.papasote.de
Phone: 0631-648-20
---
---
---
---