After Hours: Osteria L'Anfora in Padua, Italy
by
Kent Harris
March 9, 2011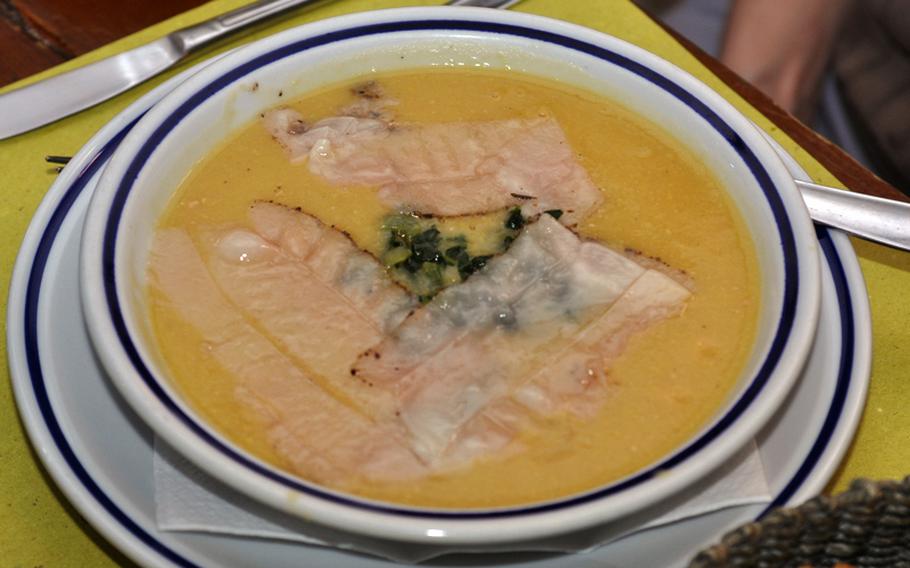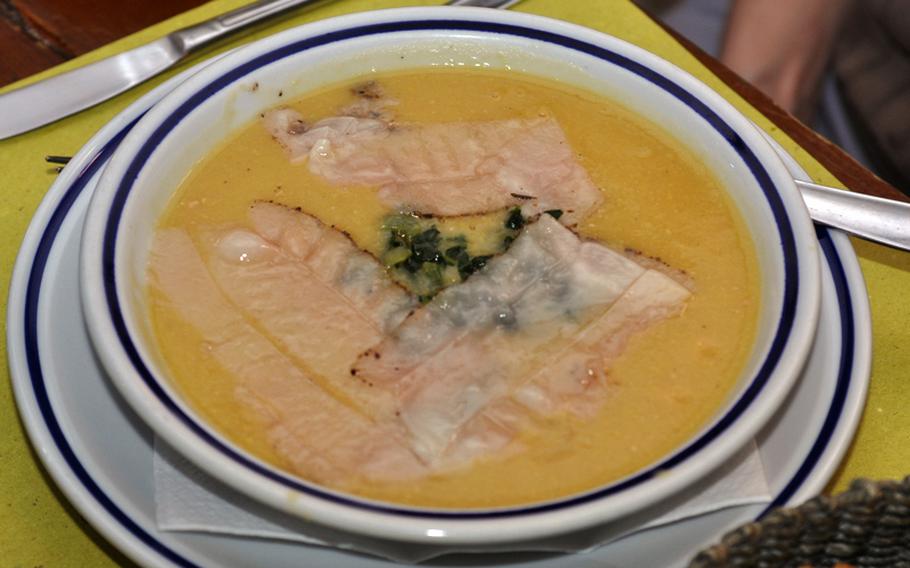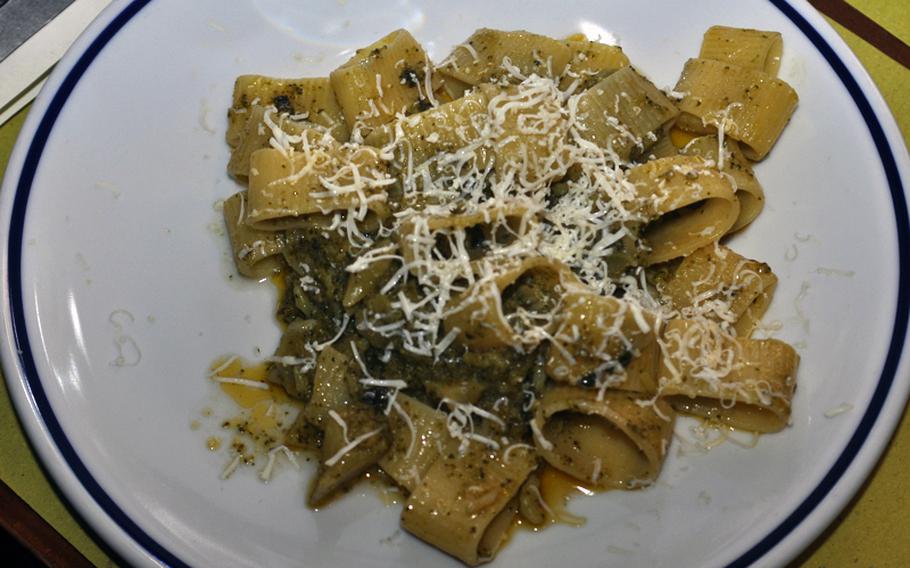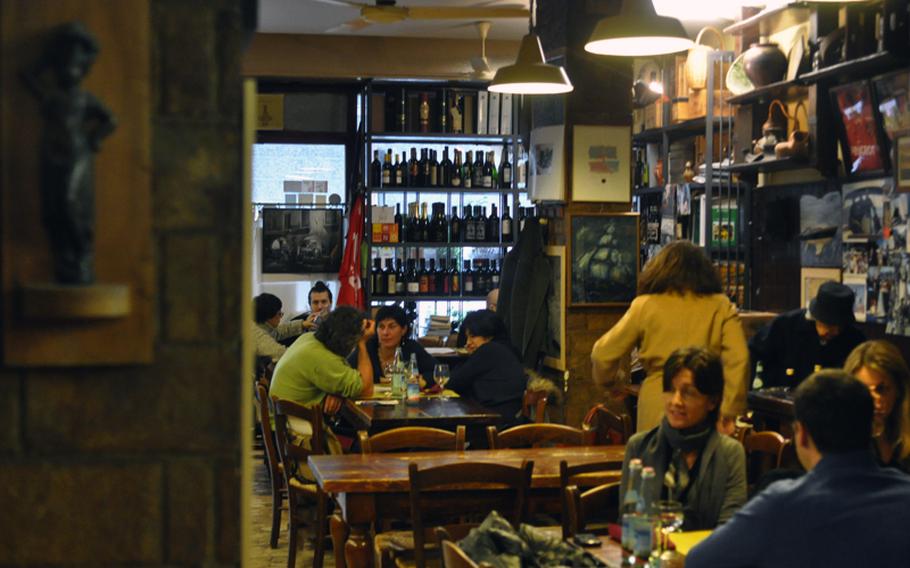 Alberto Grinzato's passions are on display all around his restaurant in Padua, Italy.
There's sailing, evidenced by a scattering of pictures and the longitude and latitude of Osteria L'Anfora that's listed on the daily menus. There's jazz, shown by more pictures on the walls and the music softly playing in the kitchen. And there's rugby, offered via a hanging featuring New Zealand's famed All Blacks squad.
But the one that's most evident is a passion shared by many of his countrymen: food.
"There are a lot of restaurants in Padua with great traditions," said Carlo Breda, a local resident and frequent customer, during a recent stop for lunch. "And this is one of the best."
The restaurant is open for lunch and dinner six days a week and the menu is different every day. Osteria L'Anfora sits a few blocks from Padua's daily food market and Grinzato is a big customer. Whatever looks (and tastes) good each day helps him determine the menu, which he writes every morning.
Food for his kitchens either comes from the market or local suppliers, he said. Dozens of wine selections — many available by the glass or by the bottle — come from Veneto or the surrounding regions of Trentino Alto Adige and Friuli Venezia-Giulia.
"The quality of the food and the value for the money, which I think is the best in Padua," Breda lists as his reasons for frequent visits. "And the atmosphere. After I started coming here, it just feels like home."
Granzito can entertain about 40 people at a time in that "home." Wooden panels line much of the walls, with paintings and pictures filling in most of the rest. Granzito has put many of his own touches on the place in the 18 years he's owned it. The restaurant, on a narrow side street just a few blocks from where many of the city's tourists walk, opened in 1967.
For the most part, the menu features choices familiar to local residents, with soup and varying pasta dishes to choose from depending on what's in season. The Adriatic Sea isn't too far away, so seafood is usually present. Second courses during a recent visit included a choice for vegetarians, veal kidney with brandy, and options familiar to those living in northeastern Italy — polenta with dried cod and frico (fried cheese).
A couple trying a few courses each can expect to pay about 50 euros total.
Location: 13 Via Dei Soncin, Padua, Italy
Directions: The restaurant is on a small side street a short distance away from Piazza delle Erbe — one of two adjoining squares in the downtown area known for a daily food market. From the southwest corner of the square, follow Via Daniele Manin for a block and turn left on Via A. Gritti. Osteria L'Anfora is at the end of the street.
Hours: The restaurant is open six days a week from 9 a.m. to midnight, but the kitchen is open only for lunch (noon to 3 p.m.) and dinner (7:30 to 11 p.m.). It serves various snacks, beverages and quickly prepared items the rest of the time. It's closed Sundays.
Food: Traditional dishes with locally produced ingredients. Many ingredients are purchased at the nearby food markets and others come from local suppliers. The menu changes daily depending on what's available at the market. Appetizers during a recent visit included mixed meats or cheeses and horse meat with polenta. First courses included spaghetti with seafood, black-ink squid linguine, and pappardelle with mushrooms. Second courses included a vegetarian plate; a "Friulano plate" containing fried cheese, polenta, cheese and cured ham; veal kidney with brandy; steak and baccala alla Vicentina (cod and polenta).
Prices: Appetizers from 8.50 to 9.50 euros. First courses cost between 7.50 and 9.50 euros and second courses from 12 to 16.50 euros. Small salads (4 euros), larger salads (9 euros) and various sides (4.50) also available. A dessert of the day costs 4.50. Wine is sold by the glass at 1.50 to 4 euros or by the bottle (6 to 25 euros).
Clientele: Local residents, with a few international customers who have read about the place in various guidebooks. Casual dress, with some in business wear.
Menu: Handwritten every morning in Italian. Some English spoken.
Phone: 049-656629.
Website: None.
Know a restaurant or entertainment spot you'd like to see reviewed in After Hours? E-mail John Taylor at taylorj@estripes.osd.mil.
---
---
---
---