After Hours: Nefertiti Tokyo
by
Tim Wightman
June 24, 2010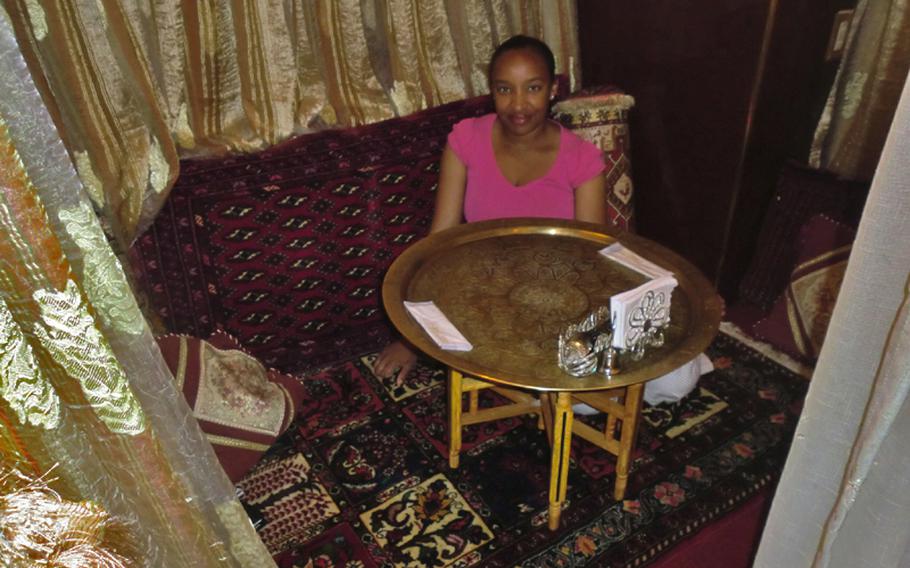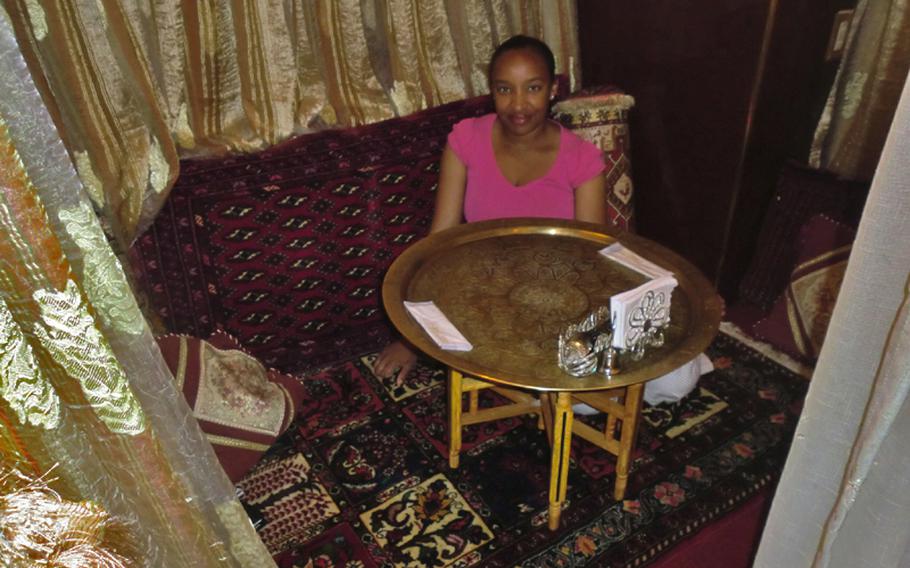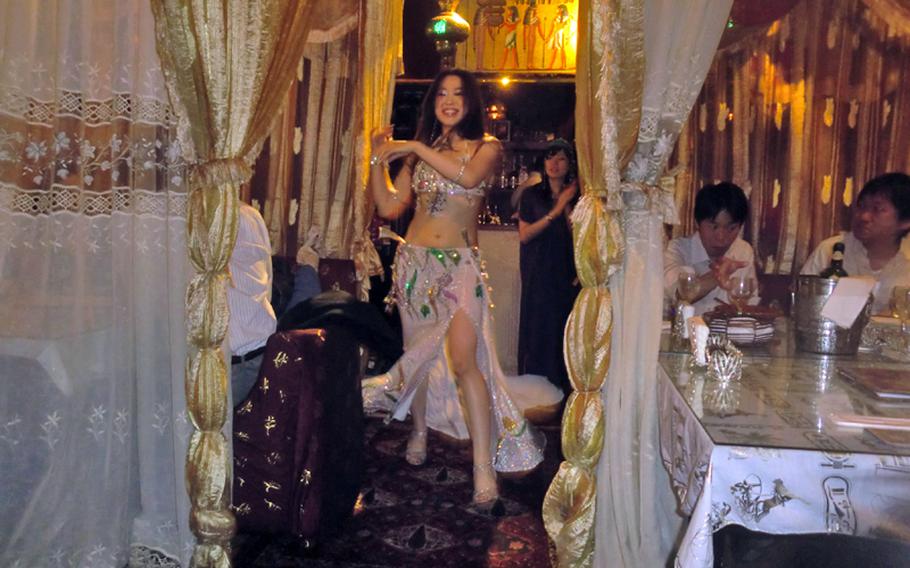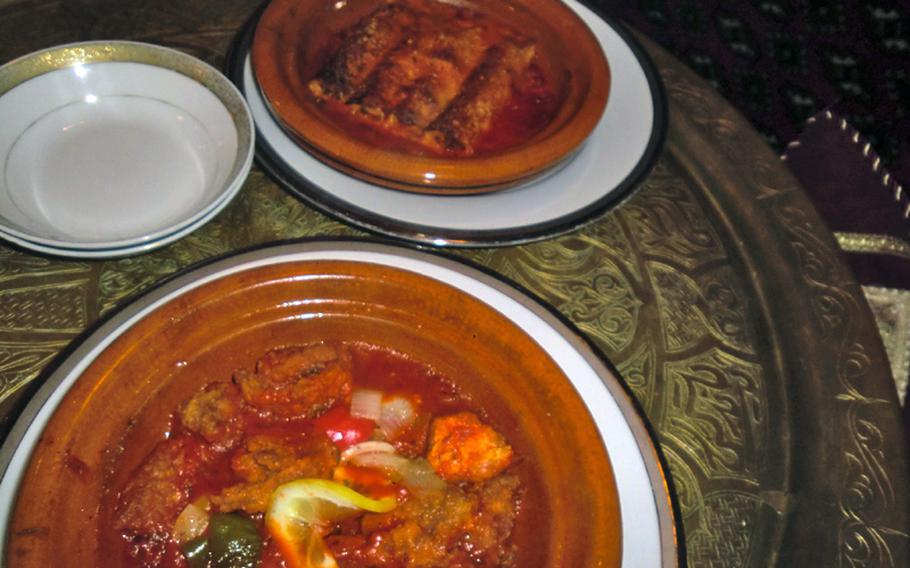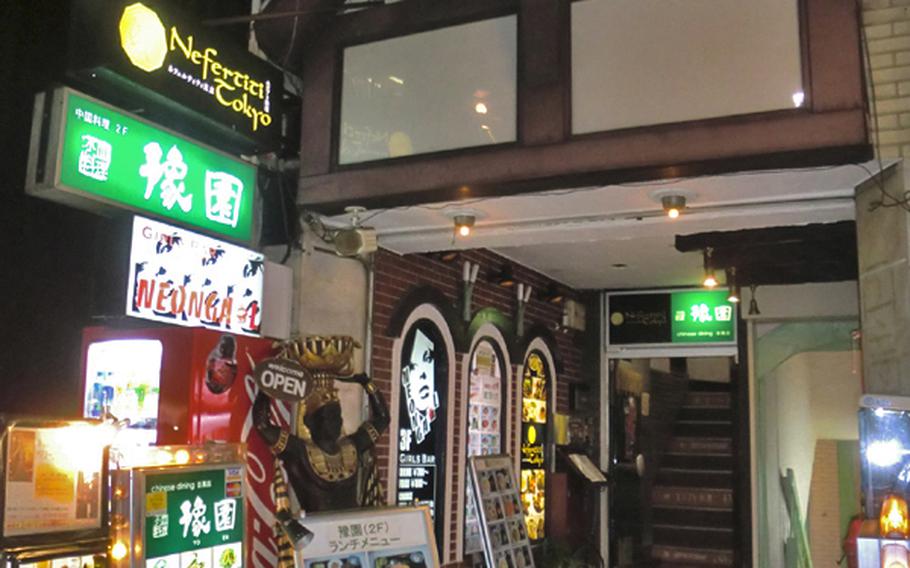 If you're going to boldly name a restaurant after a woman known as the most beautiful queen to rule Egypt, it helps to bring out a professional belly dancer a few times during dinner hours.
It's that kind of thinking that makes Nefertiti Tokyo really stand out.
I took my wife to Nefertiti, because I wanted to eat food I've never tried while surrounded by curtains. The effect succeeds in making the customer feel like royalty, a goal of Nefertiti's, according to the website.
The restaurant might be more about overall experience than food. One reason is the decor. The not-quite-knee-high tables are basically large, gold trays on legs. Gold and crimson make up a lot of the colors, especially in the mini-lounges like the one we ate in. For these, you leave your shoes behind and relax on the carpet that's lined with decorative pillows. Privacy seems like a point of emphasis. You can't really make out what's going on outside the curtains.
We both went with the first of Nefertiti's three set courses, which includes two appetizers, lentil soup, bread with hummus dip, one of 12 main dishes, dessert and mint tea. It cost about 4,000 yen. We also added three pieces of falafel a la carte.
Everything was great. My wife chose the Taggen Samak, which is a baked fish dish with tomato and garlic. The latter ingredients masked any fish flavor — always a requirement of mine when eating fish. My Egyptian enchilada consisted of cheese, white sauce and beef rolled up in thin crepes. It didn't taste all that different from a Mexican enchilada, but I enjoyed it nonetheless.
Another highlight for 1,000 yen is being able to order up a hookah pipe, which Nefertiti offers in a variety of fruit flavors. We didn't have time to indulge, however.
The place really comes to life on Wednesday, Friday and Saturday nights. The lights dim slightly, and then you hear (what I assume is) Egyptian pop music, which rocks! A belly dancer then appears dressed like "Return of the Jedi" Princess Leia, and she gets everyone in a frenzy. Everyone claps along and several people that tip her get up and dance right along with her.
Nefertiti succeeds in all its ambitions. You'll probably leave clamoring for a return visit.
Location: 2-17-4, Kamiosaki, Shinagawa-ku, Tokyo Mito building 2FGo out the West exit at Meguro Station and turn right; cross one intersection and you'll see the sign for it. It's on the second floor.
Hours: Lunch 11:30 a.m.-2 p.m. (reservation only); dinner 5 p.m.-11:30 p.m.; closed first and third Mondays
Prices: Meal sets 3,980 to 7,980 yen; appetizers 720 to 1,200 yen; main dishes 1,800 to 3,200 yen; desserts 580 to 700 yen
Specialties: Egyptian dishes with fish, poultry and beef; kebabs
English menu: Yes
Dress: Casual or dressy
Clientele: All
Phone: 03-5719-5455
Website: www.nefertititokyo.com
---
---
---
---