After Hours: Moong Chi, Seoul, South Korea
by
Alfredo Jimenez
January 10, 2010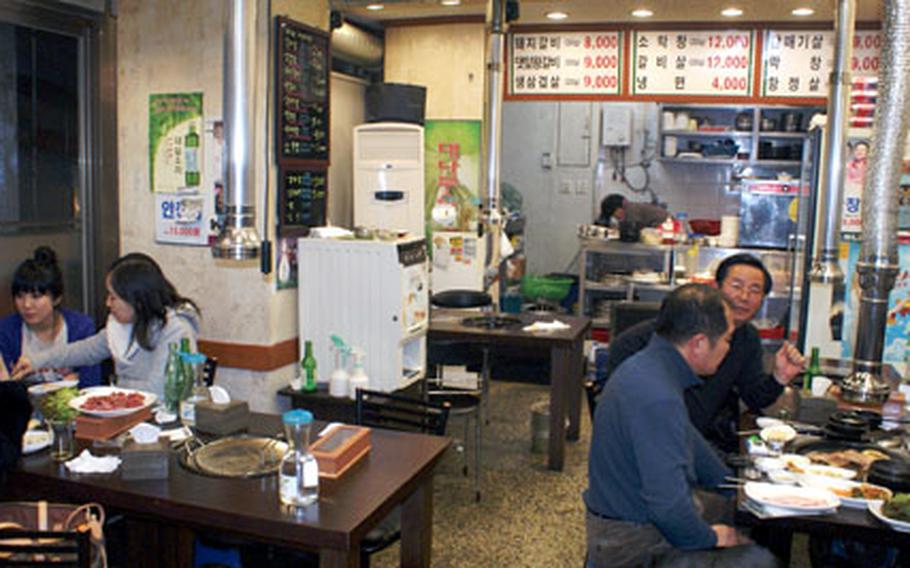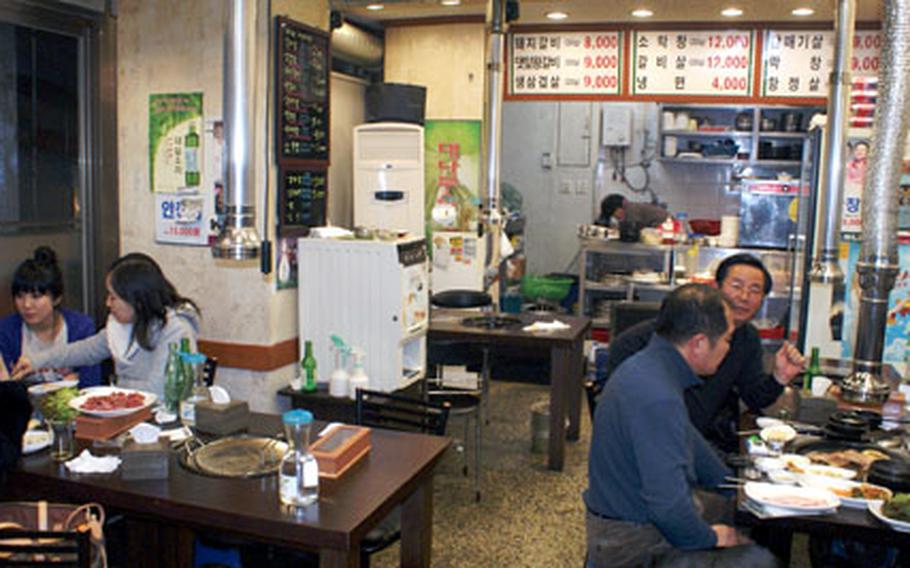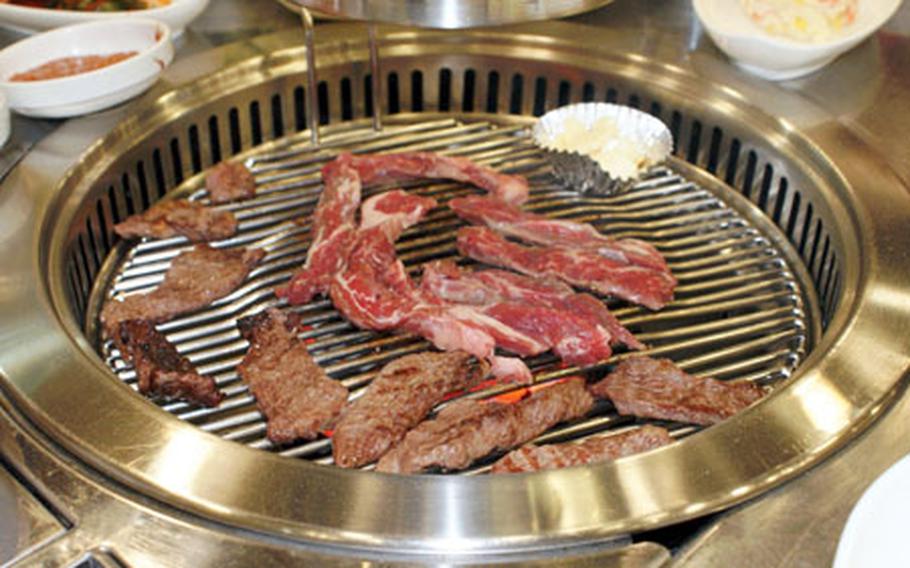 Taking my family out to eat at a Korean restaurant for the first time made me nervous, because I didn't know if they would enjoy the food.
But a homey atmosphere, proximity to the Itaewon neighborhood and attentive servers make Moong Chi restaurant, just across from Yongsan Garrison's Gate 3 on Itaewon II Dong street, an exceptional find for first-time visitors eager for a delicious Korean meal.
Inside the small, dimly lit building, a wide variety of people sat at their tables, smiling as we came in. We found a seat next to the door (my son likes to see people walking by), and an older Korean woman immediately turned on the charcoal stove at our table and brought us a cold drink.
We ordered two slices of beef rib, a skirt steak and a pork rib.
That wasn't all we received.
She brought bowls of kimchee, rice, lettuce, mashed potatoes and soup. We'd just started to enjoy the lettuce when she began to cut our meat for us.
Not once did we feel neglected or mistreated for our lack of Korean language ability, and they didn't seem to resent the presence of our kids. Yeah, my 2-year-old son crawled all over the place, getting a few glances from other customers, but the server quickly helped me catch him to sit him down at our table.
The skirt meat was juicy, the pork rib disappeared quickly (my wife is six months pregnant) and the beef ribs were so good that my son asked for another order.
In the end, despite the restaurant reaching its capacity, the staff didn't seem eager to get rid of our family, but stayed nearby to assist us in anything we needed.
Good thing, too, because my wife couldn't stop eating.
The menu offered her the opportunity to try beef outside skirt, a thin, fan-shaped meat known to absorb flavor, and a big pork rib. This was the best meal she'd had in a long time. We both recommend this gem of a restaurant.
Know a restaurant or entertainment spot you'd like to see reviewed in After Hours? E-mail Karen Willenbrecht, Pacific After Hours editor, at willenbrechtk@pstripes.osd.mil.
Moong ChiLocation: Seoul
Hours: 10 a.m. to 2 a.m. (Closed on Sundays, Chuseok holiday and Lunar New Year)
Prices: 8,000-12,000 won, depending on choice of meat.
Specialties: Beef rib, pork rib
English menu: Yes
Dress: Casual
Clientele: Variety of Koreans and Americans
Directions: Walk out of Gate 3, turn right, take steps down stairs, take steps up stairs on other side of street, turn right, walk straight until first street light, take left, restaurant is second building.
Web site: None
Phone: 793-1750