After hours: Misa Rosso, Sasebo, Japan
by
Travis J. Tritten
March 8, 2009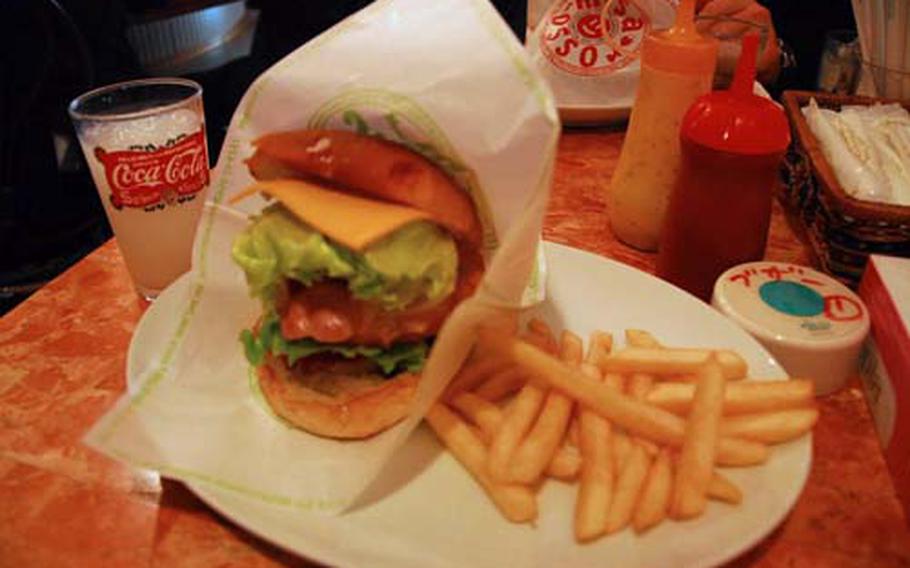 Sasebo might be most famous not for being a U.S. Navy port or a former Imperial Navy base but for producing something round and hot that comes wrapped in paper.
The Sasebo burger, a stacked hamburger spun out of decades of gaijin influence in the city, has garnered fame as far away as Tokyo and even developed its own mini-tourism industry.
Tour buses regularly disgorge hungry travelers at the main-drag burger joints such as Hikari and Log Kit. Visitor maps outlining the circuit of local burger shops are handed out in public spaces.
At Misa Rosso, one of the city's Sasebo burger dealers, you are more likely to see young salarymen and students perusing the restaurant's small manga library than burger-hungry tourists bused in from Oita.
The restaurant might get lost a bit in the Sasebo burger hubbub, but for burger lovers who are looking for a perfect specimen of the genre at a more quiet, out-of-the-way location, it is a fine choice for lunch or dinner. But beware, Misa Rosso is small and can get crowded, especially on the weekends when phone orders back up the kitchen.
The house standard is the Monster Burger, a fresh toasted bun stacked high with two beef patties, egg, bacon, lettuce, onion, tomato and cheese with a special sauce made with spiced mustard.
The buns are toasted until brown on top and the lettuce is fresh and firm, making a crunchy accompaniment to the moist and juicy toppings.
All Sasebo burgers are messy and Misa Rosso's might be particularly so — there is a reason the tables are stocked with wet napkins and tissues. Luckily, the burgers are wrapped in paper, which helps to catch the juices.
The sandwiches are usually bought in a set with a soda, which can be cola, melon, Calpis or ginger ale, and some thick-cut French fries.
For the truly hungry, there is the Jumbo Monster hamburger — "Challenge the monster!" is the restaurant's slogan.
The 1,300-yen behemoth weighs in at about 1.75 pounds and makes a gut-busting meal for the brave. You can see a video demonstration of the Jumbo Monster at the restaurant's Web site.
Misa Rosso doesn't rival the gaudy furnishings and celebrity memorabilia of Log Kit.
And it doesn't have the cult following of the late-night Blue Sky.
It does have tasty hamburgers and its own brand of "monster" flair.
Misa RossoHours: 10 a.m. to 8 p.m., closed Monday
Prices: 800-900 yen for a meal set
Specialties: Sasebo burger
English menu: No, but picture menus and placards make ordering easy
Dress: Casual
Clientele: Mixed, with counter and table seating and a small manga library
Location: Mantoku-machi 2-15
Directions: Take Route 35 from the arcade district toward Sasebo city hall. Take the first left after the city hall. Cross the river and take the second right. Misa Rosso is about a half block up on the left. The sign is written in English and brightly colored.
Web site:www.misarosso.com
Phone: 0956-24-6737