After Hours: Maharaja serves tasty Indian food in Ramstein-Miesenbach, Germany
by
Jennifer H. Svan
December 5, 2013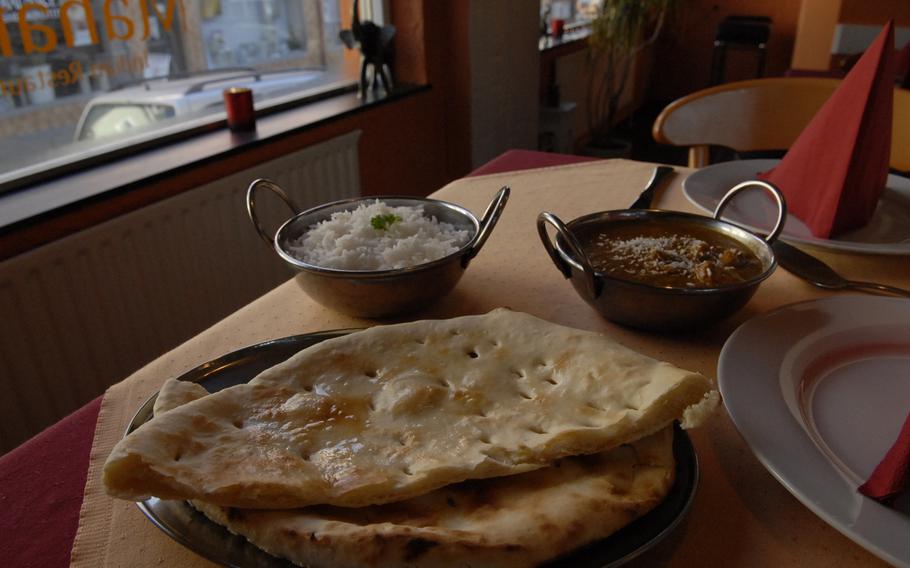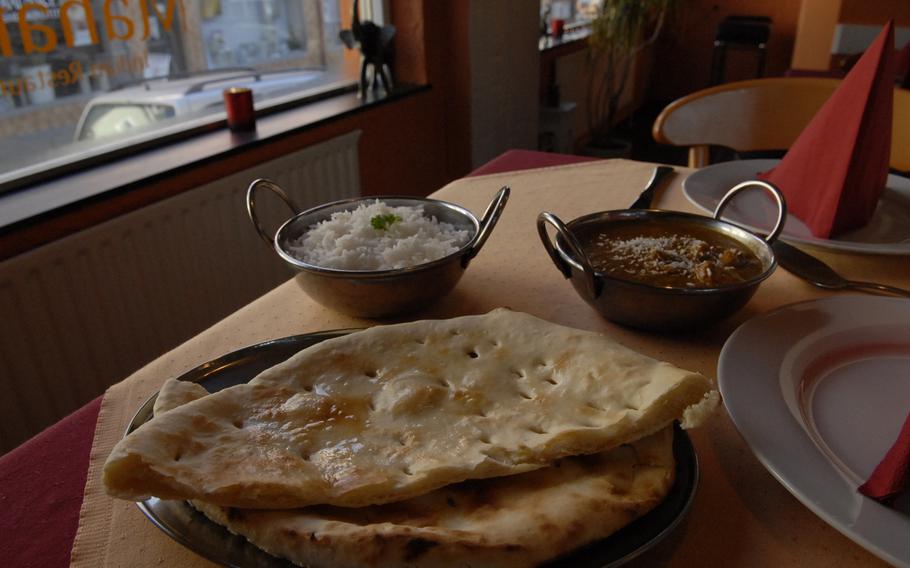 Thanksgiving was two days away and yet I felt uncomfortably full, the kind of feeling brought on by continuing to stuff one's face while stuffed.
I was about to bust a button.
But how could I not eat the naan, its browned, buttered side glistening on the plate?
And how could I not finish the chicken korma, its mild yogurt sauce with just the right amount of spice?
So I finished it. All of it.
Despite being so stuffed, I was happy to have found a terrific restaurant that serves something other than German food in the Kaiserslautern area.
A reader suggested via email that we try Maharaja Indian Restaurant in Ramstein-Miesenbach. I went on a weekday for lunch, arriving just as the restaurant opened at 11:30. Like the village on that cold November day, the restaurant was empty, save for Waseem Kamal, who opened the restaurant with his father, Tariq, a year ago in September, and presumably a cook in the kitchen.
The inside was cozy, with bright linen tablecloths and big windows that let in plenty of natural light. If the decor had a theme, it would be elephants.
Choosing a meal would have been hard if it had been dinner time. The menu has a variety of chicken and lamb dishes, some seafood and vegetarian choices, and even two beef selections. The chicken mango curry and the tandoori items — dishes baked in a special tandoor oven — were tempting. But the prices on the limited lunch menu were hard to beat. The lunch-special chicken korma was a bargain at 9 euros, a price that included rice, naan and a small drink. The same meal from the regular menu would have cost 12 euros just for the chicken korma and 2 euros for the naan.
The food arrived quickly, the rice and chicken both steaming in their separate bowls.
Kamal, soft-spoken and polite, said he was born in Germany and has family from India and Pakistan. The restaurant was his father's idea, he said. "There aren't many Indian restaurants around here. I think it was a good idea. I see American people love the Indian food."
Most customers are American, he said. Sure enough, the second customers of the day were also American.
After discovering Maharaja, friends Buddy Horton and George DeGrella — civilians working at nearby Ramstein Air Base — haven't been back to other Indian restaurants they used to favor.
"I've been here for 31 years. This is one of the finest restaurants in the area for Indian food," Horton said.
DeGrella opted for the spiciest selection on the menu: chicken chili masala, served with a hot red chili pepper. But spicy at Maharaja doesn't have to come with a hot pepper.
"I say to our guests, 'we can make everything spicy' " — or not, Kamal said. "We are very flexible in the kitchen."
Maharaja indian restaurantLocation: Spesbacher Str. 1b (City Center), Ramstein-Miesenbach, 66877.
Hours: 11:30 a.m.-2 p.m. and 5-10 p.m. Tuesday-Friday; 5-10 p.m. Saturday and Sunday; closed Monday.
Dress: Casual
English menu: Yes
Special services: Home delivery to surrounding villages for orders costing more than 15 euros. Takeout is also available. Lunch buffet every Friday for 10 euros.
Prices: Special lunch menu starting at 6 euros for vegetarian dishes and 9 euros for chicken entrees, including naan, rice and drink; regular menu prices start at about 8 euros. Only cash is accepted, in euros or dollars.
Information: Phone: (+49) (0) 6371 95 28 910 or 911; web: www.facebook.com/Maharaja.Ramstein.