After Hours: L'Impératif'Ment Belge, Mons, Belgium
---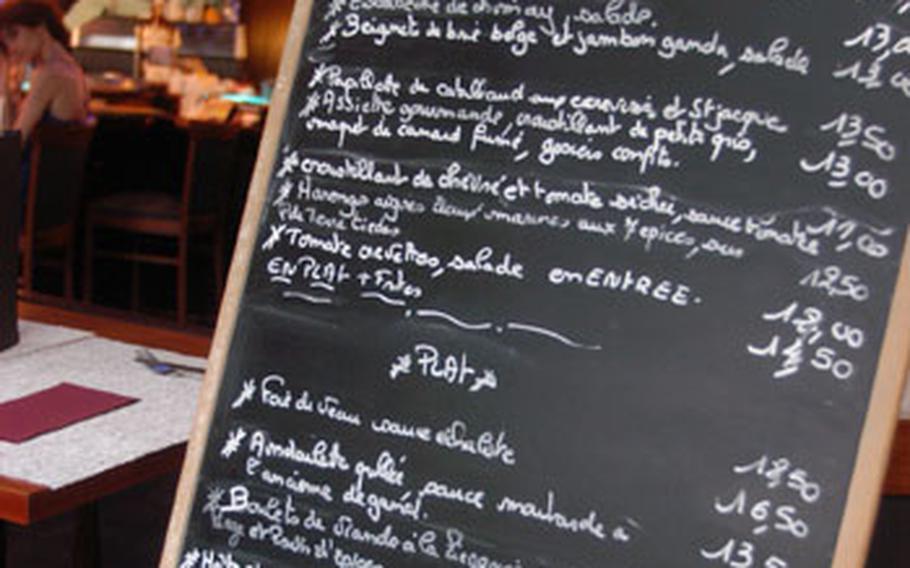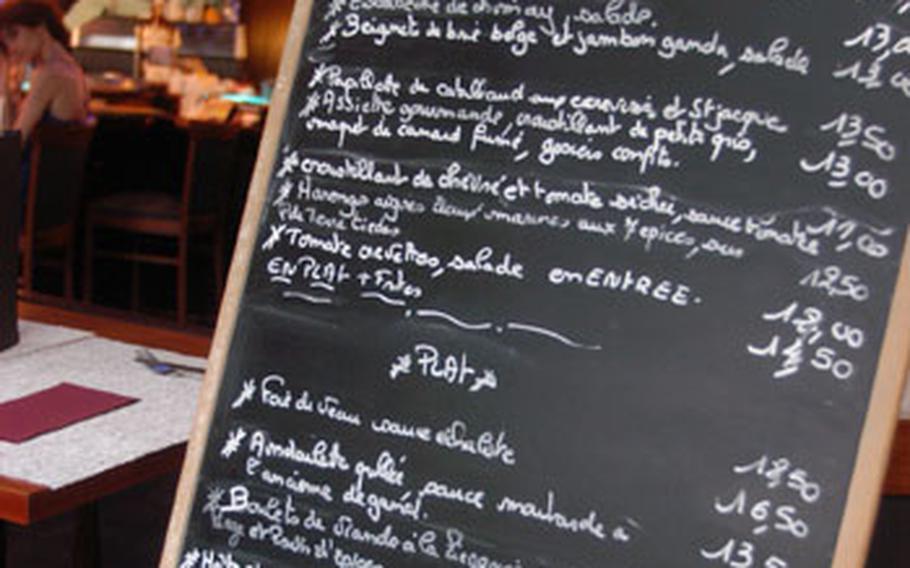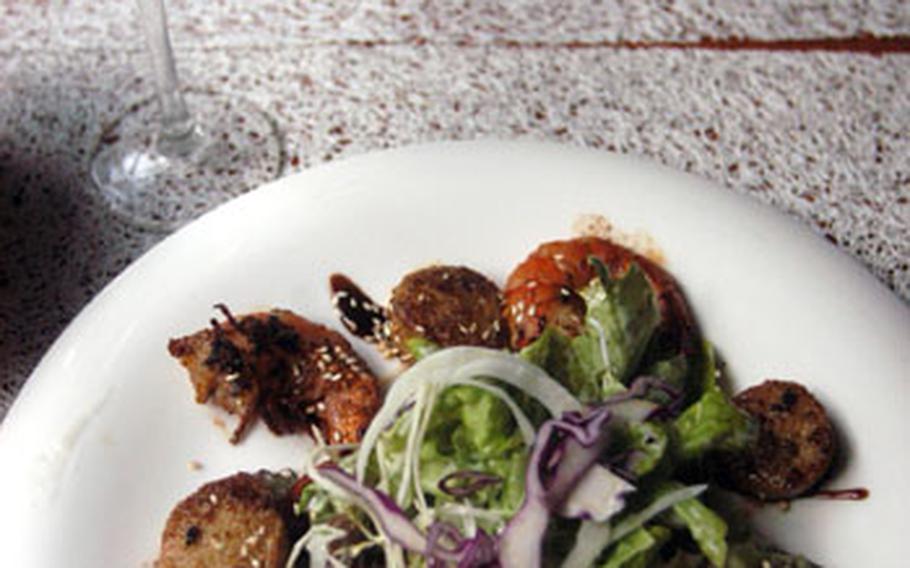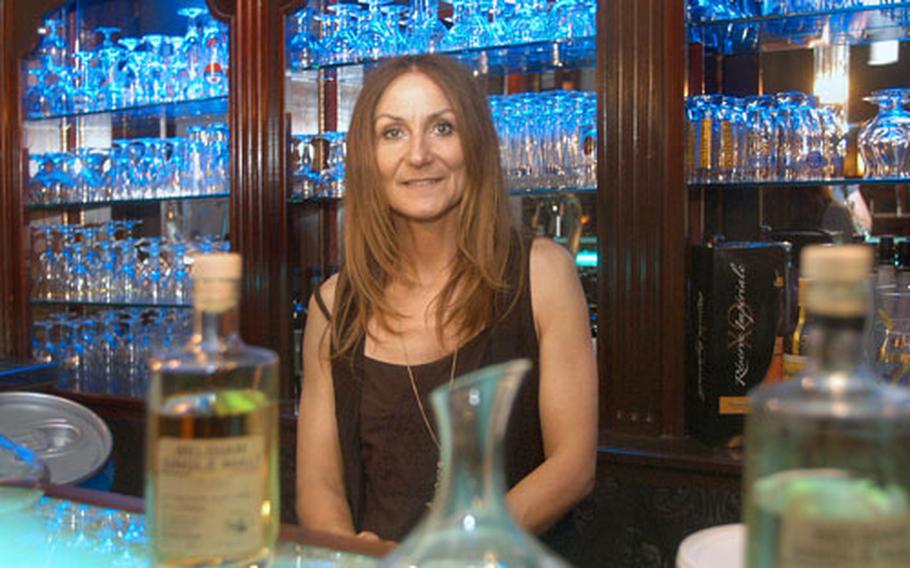 The chunk of fresh eel arrived at the candlelit table neatly prepped for the tentative taster.
Eel is an acquired taste, to be sure, but this one wasn't half bad. Light, white and flaky, it wasn't overly pickled or fatty, as it can be.
Eating eel is common in many parts of the world. In Leonardo da Vinci's painting of "The Last Supper," Jesus and his apostles, according to at least one historian, are dining on eel. In Japan, consuming an eel — or unagi — is thought to raise a person's stamina, particularly at the height of summer, such as late July and early August.
In other places it is still unusual. At the upscale brasserie L'Impératif'Ment Belge in Mons, Belgium, eel was just one of the out-of-the-ordinary featured dishes this night.
Etched in French on a chalkboard, the night's menu listed nine appetizers and eight main courses, including Belgian Brie croquettes with smoked ham, meatballs in an apple-pear syrup, marinated herring with lukewarm potatoes, and codfish, crawfish and scallops en papillote — cooked in a sealed pouch —with a dash of red pesto sauce.
The operators of L'Impératif'Ment Belge are Benoit Neusy, his sister, Sabine, and Françoise Jarinski. Neusy also operates a restaurant called L'Impératif on Rue Grande, which specializes in fish.
"My partner is from this area," Jarinski said through a translator. "He really wanted to share the cuisine of his mother and grandmother."
The cuisine of southern Belgium near the French border tends to be flavorful and on the saucy side, Jarinski said.
L'Impératif'Ment Belge is a reliable choice for anyone interested in sampling authentic food from Wallonia, the French-speaking part of Belgium. It's not cheap, though. A tab can run upwards of 40 euros for a couple of drinks and a three-course meal.
Stepping from the cobblestone street into the dimly lit brasserie, the first view is of the bar tastefully illuminated in blue hues. Hung on walls throughout the establishment are several black silhouettes of regional icons. They include the Lion of Waterloo, singer-song writer Jacques Brel and Manneken Pis, the famous Brussels statuette of "a little man peeing." The far wall features a replica of the Atomium monument from the 1958 Brussels World's Fair.
The establishment was once known for being a popular meeting point for patrons of the small movie theater next door. Many filmgoers would stop by before, during or after the show for a drink and a bite to eat, Jarinski said. On occasion, then as well as now, the theater features English-language films.
Music figures into the building's history as well.
"It was a place musicians would come to play jazz," Jarinski said. Patrons "liked the atmosphere."
For even more atmosphere after dinner, head left out the door to the Grand Place, choose a sidewalk cafe and take in the rhythms of the night.
L'Impératif'Ment BelgeLocation: Mons, Belgium. Situated on the edge of the Grand Place at Rue de Nimy 14.
Directions: Mons is off E-42, the east-west through Wallonia. Look for an exit sign that includes SHAPE. At the bottom of the ramp, go left, which is in the opposite direction of SHAPE. Signs will direct you to the nearby city center.
Hours: Closed on Sunday evenings, all of Monday and Saturday noontime. Opens early evening and closes around midnight.
Food: Belgian regional specialties, featuring seasonal specialties.
English menu: No. Bring a French-speaking friend or a pocket-size translation book.
Cost: Main courses typically cost between 13-20 euros, while appetizers are just a bit less.
Dress: Relaxed, but don't go too casual.
Phone: (+32) (0)65-31-2188
---
---
---
---