After Hours: Kugelofen has flavor variety
---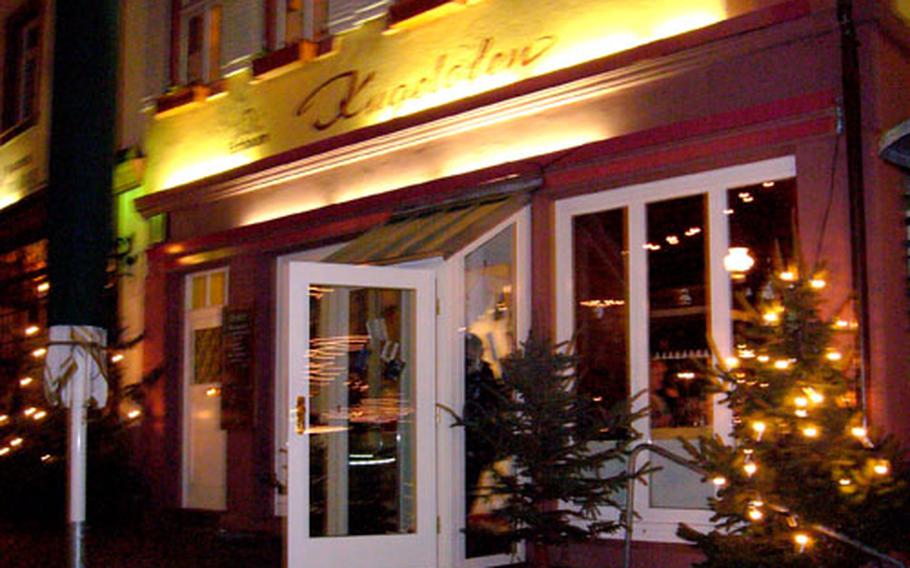 WEINHEIM, Germany — Maybe it's just me, but it was hard to imagine that a pasta dish featuring raw celery as a main ingredient would taste very good.
But I tried it anyway.
Not that I had to. The menu at Kugelofen in Weinheim's Marktplatz reads like a gastronomic novella. I could just as easily have had the rosemary lamb or the Argentine rumpsteak, but what fun is that when there's celery pasta to be had?
With pages of Mediterranean, Italian, French and German cuisine, it's hard to nail down a place like Kugelofen. Even the restaurant's employees have a hard time summing the place up in a sentence.
A few weeks ago one of the bartenders, Sebastian Heinzelbecker, was asked by some tourists who had walked in "Is this the restaurant with the famous pasta?" He wasn't sure how to answer, but he figured why the heck not?
Of course, you and I know that when you start throwing celery in pasta, people start talking.
But after two years behind the bar, Heinzelbecker still can't put his finger on what draws people to Kugelofen. When I ask him, he turns to a waitress, Marion Zähler and asks if she knows. As she's breezing past with an armload of dirty dishes she says without missing a beat, "our great service."
A week earlier Zähler spent the evening taunting one of my wife's younger relatives who was glued to a portable video game. He was concentrating on driving through the streets of some made up city, and Zähler kept sticking her hand over the screen and laughing a deep German laugh as she walked past. She's probably the friendliest waitress in Germany.
Even with the free entertainment, a night out at Kugelofen can be a little on the pricey side — or not.
With a diverse menu featuring more than a dozen kinds of pizza, at least as many pasta dishes, a variety of meat dishes and a slew of salads, it's relatively easy to keep from breaking the bank.
Probably because of its wide-ranging menu, Kugelofen draws a diverse crowd of locals and tourists.
Though Weinheim's town center is a little off the beaten path and navigating to the Marktplatz requires a map and a German-English dictionary.
The town is close to both Heidelberg and Mannheim, but lacks the one thing that can turn a night out into a nightmare in either of those cities: traffic.
That's not to say that Weinheim isn't busy. The scenic Marktplatz is bustling most nights, and Kugelofen is probably the busiest restaurant around. You'll need a reservation to get in on the weekend, and if you want to bring more than a foursome, Heinzelbecker recommends calling two weeks in advance.
See previous After Hours reviews here.
Kugelofen
Weinheim, Germany
Prices: Pizza, salads and pasta in the 8 to 11 euro range. Meat in the 12 to 20 euro range.
Specialties: Pasta, pizza and flammkuchen
Drinks: The on-tap beer selection is a little disappointing, but a lengthy wine list and lots of liquor, including some fine whiskey and bourbon, make up for the lack of brews. The beer is 2.30 for .2 liters. Wines range from a low of about 2.80 a glass to very expensive.
Menu: English menus available
Dress: Slacks and sweaters are safe in this weather
Clientele: About half the patrons are tourists, mostly Americans and other English speakers.
Directions: From Heidelberg take the A5 toward Frankfurt. From Darmstadt take the A5 south toward Heidelberg. From Mannheim take the A659 East toward Weinheim. Get off the A5 at Weinheim. The exit brings you briefly onto the A659, which changes immediately to the B38. At the first light take a right onto Mannheimer Strasse. Take this about 1.5 miles and turn right onto Bahnhofstrasse. Less than a quarter mile later, take another right onto Ehretstrasse. Take a left at the end of the street onto Dr. Bender-Strasse and follow the signs toward the Marktplatz. Parking is available on the street, in parking lots and in underground parking garages. You can also take the streetcar from Benjamin Franklin Village toward Weinheim and get off at Luisenstrasse — it's about a 15-minute ride. Then walk up the Bahnhofstrasse and follow the signs to the Marktplatz.
Web site:www.kugelofen.de
---
---
---
---