After Hours: Hitting the town in Fussa? Stop by Media Town first
---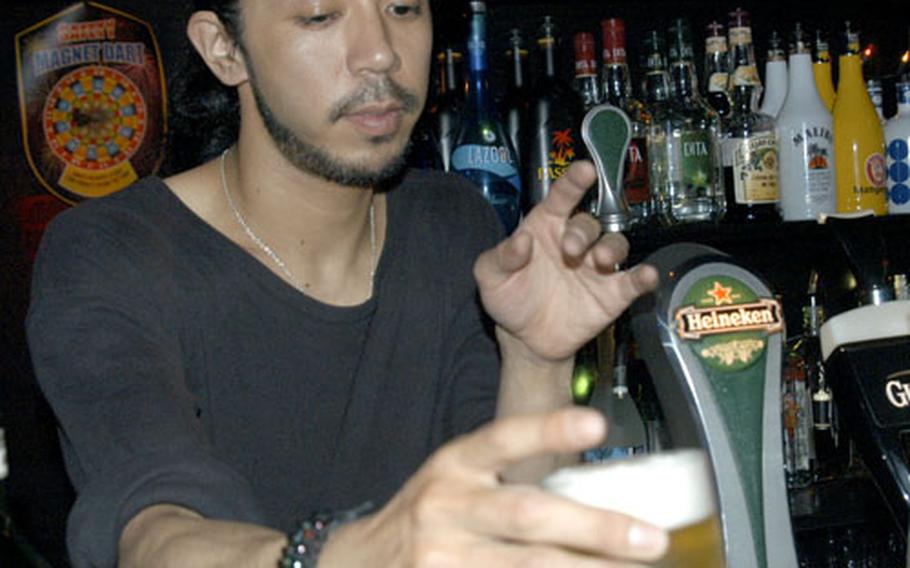 FUSSA, Japan - Four nights a week you can stop by Media Town and have your fortune read. Luckily, a cocktail won't cost you one.
The bar is a bit cramped, with only eight stools inside, but the place also features a yakitori booth on the street that serves up food and drinks - almost all of which is 500 yen or less. Within walking distance of Yokota Air Base and not far from the Fussa train station, it's a great launching point for a night outside the gates.
As long as your night will end early, that is - the bar is within Yokota's nightly 1-6 a.m., three-block restriction area for nearby "Bar Row."
Despite its small size, there's some buzz surrounding Media Town. The pub has connections with a handful of nightclubs in the area and offers special deals on cover charges and hosts several special events throughout the year. More than 130 people turned out last New Year's Eve for a countdown celebration that overflowed into the streets.
It's called Media Town because a Japanese Internet TV and radio station broadcasts from upstairs. But ironically, it didn't go on the air until two-and-a-half years after the bar opened in 2001.
"I've been coming here about four years. There was no Fussa TV then, just yakitori and the bar," said Ed Baldos, who works for a base contractor at Yokota and chimed in with some translation relief during my recent visit. "It may take a while for them to get to know you, but everybody's all friendly in here. This is actually where my Japanese language skills grew."
FM Fussa 88.0, the on-premises radio station, is occasionally piped into the bar. On most nights, however, Naoyuki Ohba, one of Media Town's bartenders, pumps out a lively mix of music from his CD stash. Might be hip-hop, jazz, pop, easy listening, disco, a rock tune - it just depends on his mood.
For 2,000 yen a year, you can pick up a bar membership that gives you discounts on Media Town's special events and mobile phone alerts - presumably in Japanese.
Given my relative deficiency in Japanese, I'll just have to settle for a draft of Guinness or Heineken at 500 yen a mug. Such sacrifice.
As always, if you drink, do so responsibly. Don't drink and drive.
Media Town, Fussa, Japan
Rating: Five beers out of a six-pack.
Drink prices: Tough to beat — they don't take credit cards, but all drinks are 500 yen.
Cover: One-drink minimum.
Hours: 8 p.m. to 3 a.m. weekdays, open 'til 5 a.m. weekends. Closed Sunday.
Food: Yakitori, salads, noodle dishes and rice included on menu, which is in Japanese but has pictures. Most items 500 yen — less if purchased from the yakitori booth on the street.
Entertainment: Good music mix featuring hip-hop, jazz, pop and easy listening. There's a tiny slot machine and a Japanese fortune-teller reads tarot cards Monday through Thursday for 500 yen. Might wanna bring a translator, though.
Clientele: Lots of locals with a few patrons from nearby Yokota Air Base.
Dress: Nothing fancy.
Location: Go out Fussa Gate and take a right. At the first traffic light, go left. Continue downhill past the pachinko parlor on the right and "Bar Row" on your left. Media Town is about 50 yards farther on the right, not far from Fussa train station.
Web site:http://fussa.tv (Japanese only)
---
---
---
---