After Hours: Hit the chicken motherload at Bamboo Cafe
---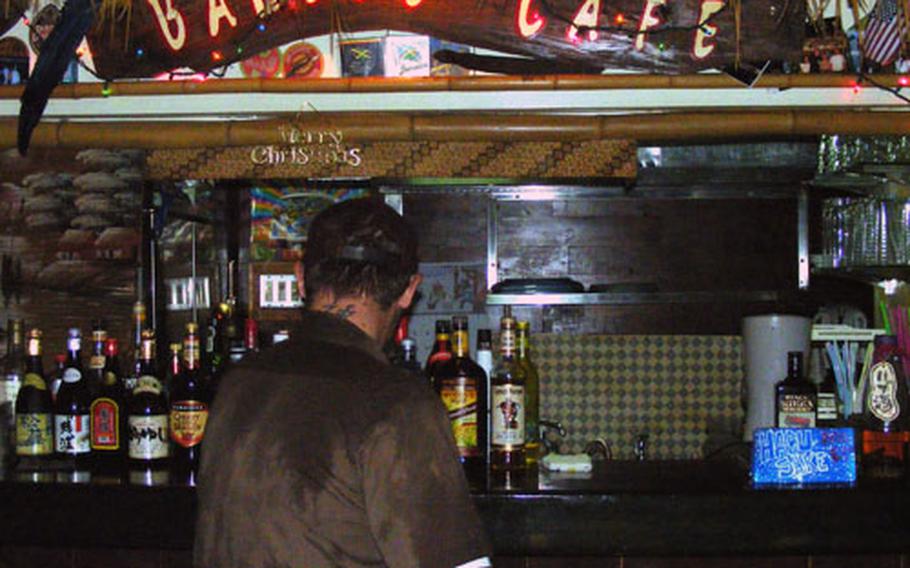 OKINAWA CITY — For about a year I've been looking for chicken as good as the "crack chicken" a friend of mine introduced me to at a small shop in Seoul.
That's "crack" as in, "It's so good it's addictive."
Well, at the Bamboo Cafe I finally found it. Chicken so good, so tasty, so damn spicy that the bland wings at KFC and Popeyes will never taste the same.
The Bamboo Cafe is on Park Avenue — formerly B.C. Street — in Okinawa City, just a block from busy Highway 330.
We hit the motherlode. For appetizers we ordered a plate of Jamaican jerk chicken, mozzarella spring rolls and a mugs of locally brewed Orion draft beer.
"Man, that's great," one of my guests said the instant he bit into a spring roll. But the overpowering fragrance of the Jamaican jerk chicken demanded my attention. I grabbed a wing and bit in.
The unbelievably delicious wing was cooked in a fiery sauce that lingered on the back of my tongue, demanding a healthy swig of my ice-cold beer to put out the fire. I made sure to dip the next wing in the accompanying cup of ranch dressing to cool my palate. The main course was a sweet bowl of coconut soup and more Jamaican jerk chicken with rice and coleslaw.
The owner of the Bamboo Cafe, Takae Yokoyama, stopped by.
"Is everything all right?" she said, smiling broadly.
"Oh yeah," I answered. "This is so good — did you spend some time in Jamaica?" I figured Yokoyama must have lived in the Caribbean to come up with the ultimate Jamaican jerk recipe.
"No," she answered. "We just wanted to offer several different ethnic foods — like Vietnamese rice pepper rolls, and the Thai curry."
"But the jerk chicken — where'd you get the recipe?" I asked.
"From the Internet," she said. She would not reveal the ingredients. "At first we served Cajun chicken, but jerk chicken is so popular now that we switched. You like?"
Oh yeah!
See previous After Hours reviews here.
Bamboo Café, Okinawa CityHours: Open Tuesday through Friday from 5 p.m., Saturdays and Sundays from 3 p.m. Last orders at 11 p.m. Closed Mondays.
Prices: The cost was reasonable: Appetizers 350 yen to 700 yen; soup 630 yen; Jamaican jerk wings 500 yen. The main courses included a half jerk chicken for 950 yen, jerk chicken dinner 890 yen, Thai curry 950 to 980 yen. Beer from 400 to 600 yen, soft drinks 300-400 yen.
English Menu: Yes.
Dress: Casual.
Clientele: Mix of Okinawans and Americans.
Location: On Park Avenue a block or so from Highway 330 and a few streets north of gate Two Street.
Phone number: 098-934-5471.
Web site: None
---
---
---
---