After Hours: Have a barrel of fun at Okinawa City's Tonneau Bistro & Bar
---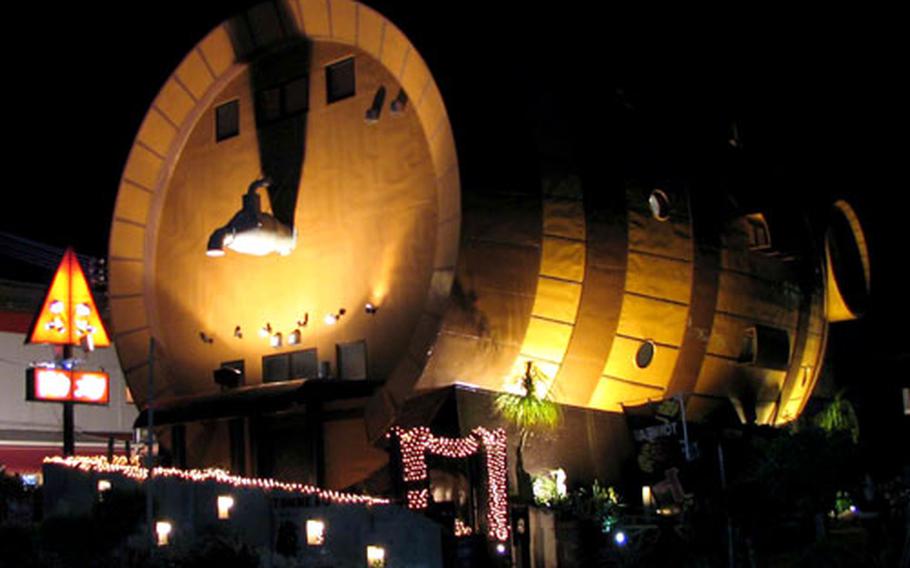 OKINAWA CITY — How can you drive by a four-story wooden keg and not stop to investigate what's inside?
The answer is you can't. Not if you're an Izakaya Ranger and the orange lamp is lit.
Most of Okinawa's izakayas are small, hole-in-the-wall joints with four tables and a mama-san quick with the light snacks.
But there are also monster drink establishments that provide a much wider menu of Okinawan and Japanese food and dozens of different labels of awamori, sake and beer to wash it down.
Tonneau Bistro & Bar, in the Teruya district of Okinawa city, is one of the largest izakayas on the island. "Tonneau," a French term for a large cask or keg, gives the place a European feel. But the name may be the only thing French about this izakaya.
Although four stories tall, Tonneau has two floors of booths and bar space inside the keg. The outer décor is carried on inside — you really do feel like you're sitting inside a giant wooden keg.
Far out!
Not only was I inside the barrel, but welcoming me were hundreds of bottles of sake and Okinawan awamori lining the walls.
A note to the uninitiated — awamori, a liquor distilled from rice, packs a punch. It is typically 60 proof, but it grows stronger with age and some 15- to 20-year-old bottles of the stuff can be 100 proof and can catch fire if your cigarette's too close. The most popular way to drink it is with water and ice, and Tonneau provides both, served in Okinawan handcrafted glass.
Tonneau offers 24 different brands of Okinawan awamori. We ordered a half bottle of Black Zampa for 590 yen. It didn't disappoint and it was plenty for two people. There were all kinds of soft drinks for our designated driver.
Good as the booze was, the best thing about Tonneau was the food. There's plenty, and it's cheap and very tasty. There's a variety of sashimi, sushi, salads, yakitori, Okinawa-style spaghetti and pizza, tempura and yakisoba.
We ordered a bowl of shrimp in a sweet and sour sauce (680 yen), beef and pork yakitori (290 yen and 390 yen), cheese karikari (fried cheese in a crispy batter for 470 yen) and Okinawa tempura (690 yen).
"I like how the inside is like the outside," said Ayano, my Okinawan guest for the evening. "And the prices are reasonable."
Our whole meal for three was less than 6,000 yen, not bad for a good night out.
See previous After Hours reviews here.
Tonneau Bistro & Bar
Teruya, Okinawa city
Drink prices: Mugs of beer from 299 yen to 620 yen. Awamori ranges from 590 yen for a half bottle to 2,300 yen for a bottle of their finest. Sake costs 745 yen to 2,750 yen; cocktails are 380 yen and bottles of wine start at 2,900 yen.
Cover: None.
Food: Okinawan and Japanese dishes with some weird-looking pizza thrown in for show. Reasonably priced.
Entertainment: The good friends you bring.
Clientele: Mostly Okinawan. There were two other tables of Americans when we went there. English menus are available.
Dress: Casual.
Location: From the intersection of Highway 330 and 329, turn south on to Highway 329 and left at the first light. Then turn left at the third stoplight. You can't miss Tonneau — it's a giant wooden barrel.
Hours: Open 5 p.m to 3 a.m., 7 days a week.
Web site (Japanese only).
---
---
---
---