After hours: Hanaya Yohei, Fussa, Japan
by
Charlie Reed
January 17, 2010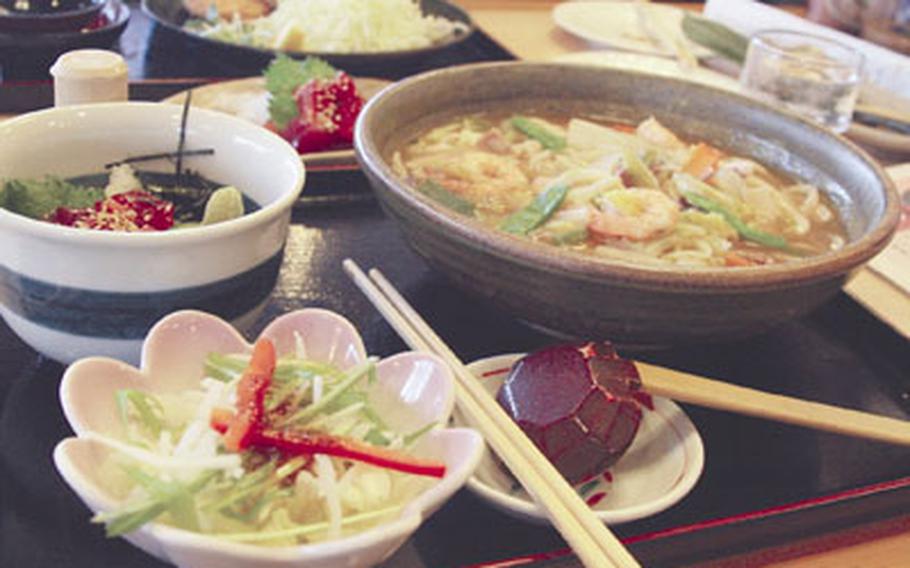 Pictures are worth a thousand words, particularly when it comes to eating out in Japan.
Menus adorned with glossy photos of food don't exactly signal fine dining, but they prove invaluable when English menus are not available.
However, as my dining companion and I discovered on a recent visit to Hanaya Yohei, a Japanese restaurant near Yokota Air Base, looks can be deceiving. But more on that later.
With pages and pages of traditional Japanese dishes to choose from, Hanaya Yohei is sure to satisfy those looking for anything from sushi to soba. About the only thing not offered on the extensive menu is gyoza, which for a connoisseur like myself was a disappointment.
Dishes range from 1,100 yen to 1,500 yen, with smaller lunch portions available for between 800 yen and 1,200 yen. And of course you can order your meal as a "set" (the Japanese seem to love sets), which includes your choice of side dishes such as salad with ginger dressing and tempura vegetables.
The shrimp udon I ordered was mediocre, not the worst but not the best. The bean sprouts, cabbage and other vegetables were droopy and lacked the crispness needed to balance the soft noodles and tender meat. But the small bowls of salad and raw tuna that came on the side more than made up for the udon.
My lunch date ordered what he thought was tonkatsu, fried pork cutlets dredged in Japanese panko — a lighter and airier version of American bread crumbs. Two of the four large golden brown nuggets he was served were indeed filled with a meat patty, but the other two contained a mushy combination of minced fish and nori, or seaweed. These two mystery nuggets were not bad, per se, but when you expect meat and get squish it can be a little off-putting. Again, although pictures of food give you an idea of what you're getting, they are not always foolproof.
Hanaya Yohei also has a variety of small appetizer-sized dishes ranging from 200 yen to 600 yen. It's like Japanese tapas. You can get soba, tofu, a basket of chicken nuggets, French fries, edamame. My friend and I shared the yakitori to start and thoroughly enjoyed the sizzling skewers of chicken. The eatery also offers a variety of sushi and sashimi, available by the piece or in a set.
The hearty portions are a good value, but try to save room for dessert. The green tea ice cream float and other frozen desserts are worth a try.
The service is fast and friendly, making Hanaya Yohei a great place for lunch or a casual dinner. Though the entire menu is in Japanese, the prices and, funny enough, the calorie counts for each dish are clearly denoted in English. The photos on the menu make ordering fairly simple, but they aren't a guarantee. However, it's all part of the adventure of living in Japan.
Know a restaurant or entertainment spot you'd like to see reviewed in After Hours? E-mail Karen Willenbrecht, Pacific After Hours editor, at willenbrechtk@pstripes.osd.mil.
Hanaya Yohei
Location: Fussa, Japan
Hours: 11 a.m. to 10:30 p.m. daily.
Prices: Meals range from around 1,100 yen to 1,500 yen, with slightly smaller lunch portions running between 800 yen and 1,200 yen.
Specialties: Try ordering some of the small appetizer-sized dishes to get a taste of everything.
English menu: No
Dress: Casual
Clientele: Mostly Japanese
Directions: Just off Route 16 on the left if you're heading toward Tokyo from Yokota Air Base, near the turn for the Hachioji bypass.