After hours: Grappolo D'Oro in Colle, Italy
by
Kent Harris
November 26, 2010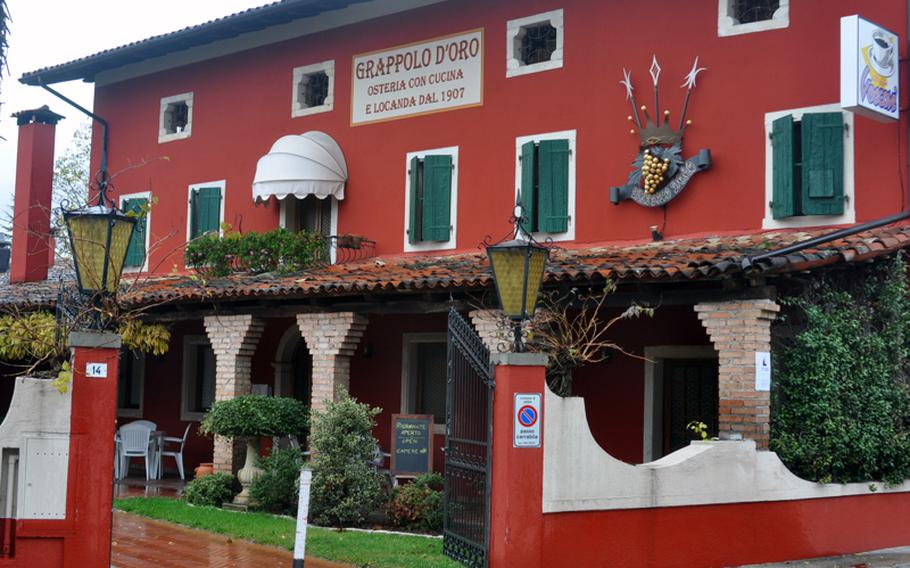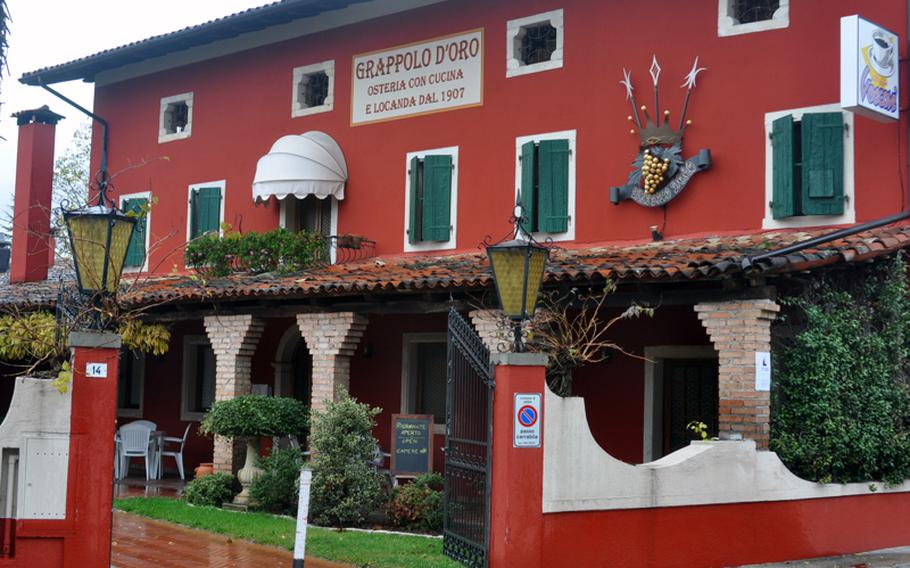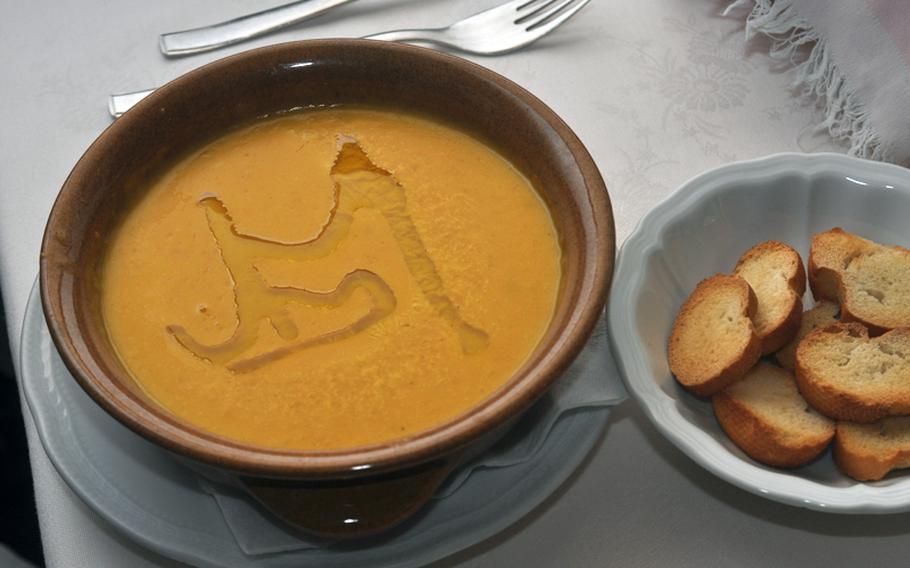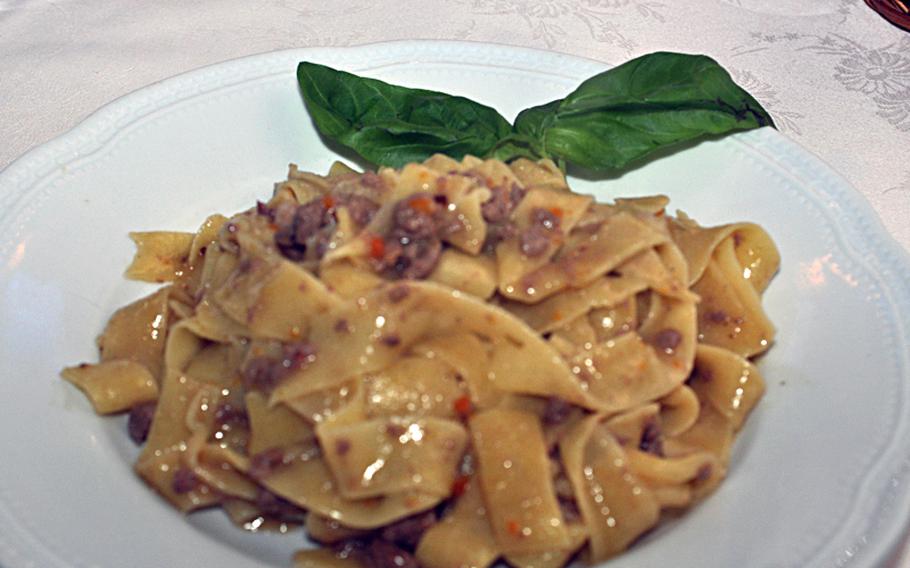 Modern transportation networks have made it relatively easy for restaurant owners to get food produced around the world into their dining rooms.
But while that gives customers a chance to sample fare they might not otherwise get without traveling abroad, not all restaurants are willing to take that approach. They prefer to stick with locally produced ingredients, often citing freshness and quality.
Grappolo D'Oro is one of those restaurants. Located in the small village of Colle, Italy, about 18 miles northeast of Aviano Air Base, the osteria/trattoria doubles as a small hotel. It's been in business since 1907.
Guglielmo di Pol, like his father and grandfather before him, serves as host. While holding a two-page menu featuring hand-written descriptions of various first and second courses, he advises customers they might want to try a few things that are not on the menu. This is the season for pumpkin, mushrooms and chestnuts, and his chef will prepare a few dishes with those ingredients if asked. So pumpkin soup, while not on the menu, is soon on the table — with a drizzle of olive oil on top to add character.
Grappolo D'Oro is one of many small restaurants located across Italy that attract not only loyal local customers — who often don't have many dining choices nearby — but also those from nearby towns. Italians who seem to be horrified by the idea of driving a few hours to check out the sights of an unfamiliar city don't appear to have the same aversion to a 20-minute drive when a good meal is involved.
Not that Colle, not much more than a few buildings located along the SR 464 between Maniago and Spilimbergo, is that long a drive from Aviano or the largest city in the area, Pordenone.
It's certainly accessible by delivery truck coming from the port or airport near Venice.
But the only item on the menu that looked like it had to travel some distance was a filet of tuna. Just about every other meat on the menu is produced domestically in Friuli-Venezia Giulia or caught in the wild. That holds true for duck, hare, lamb, veal, wild boar, venison and beef. Colle is only a short drive from San Daniele, which produces some of the top cured ham in Italy. Pastas such as pappardelle are made on site, with the sauces changing depending on the season.
As in many such restaurants, the menu selection is relatively small, with only a handful of choices for each course. But they're varied enough to suit most tastes.
And remember to look into the possibility of items not listed on the menu. Especially if you're looking for something in season.
Grappolo D'OroLocation: Piazza IV Novembre 14, Colle, Italy
Directions: From the Aviano industrial park, head east toward Maniago. At the traffic circle, take SP 19 toward Barcis and pass through the outskirts of Maniago. Continue along the road as it changes into SR 251 until it connects to SR 464. Turn right toward Udine and Spilimbergo. Colle is on SR 464 and the restaurant is on the village's only piazza. Park on the street adjacent to the small park. It's about 18 miles from the gates of Aviano Air Base.
Hours: Open for lunch and dinner five days a week and breakfast for those staying at the six-room hotel. Closed Saturdays for lunch and all day Mondays. Posted hours are 7:30 a.m. to 2:30 p.m. and 5 p.m. to midnight.
English-language menu: No. Menus are handwritten in Italian and change depending on what's available locally during the various seasons. If your Italian is good enough, the manager will tell you about a few items not on the menu. Currently, those include dishes with pumpkin, mushrooms or chestnuts.
Food: Expect dishes featuring predominantly locally- produced ingredients. First courses during a recent visit included soup with beans and orzo (an Italian grain), pappardelle (wide-noodle pasta) with duck sauce, or mushrooms and gnocchi with cheese sauce. Second courses included veal, lamb, roast beef, ham, wild boar, venison and tuna. Owner Guglielmo Di Pol will raise an eyebrow if you don't order wine, but a bottle of water appears to be an acceptable choice as well. You'll have to use some Italian to ask about desserts.
Prices: First courses cost 7 euros. Second courses range from 11 to 17 euros. Credit cards accepted.
Clientele: Local Italian residents.
Atmosphere: Casual dress. The main dining room seats about 40 people (including a table for 10 in a small loft) and has a small fireplace. An adjoining room seats another 20.
Phone: 0427-93019. Reservations not needed for lunch, but recommended for weekend dinners.
Website: www.grappolodoro.191.it/default.htm (in Italian)
---
---
---
---