After Hours: Good Italian food finds its way to Kunsan
by
Erik Slavin
April 12, 2007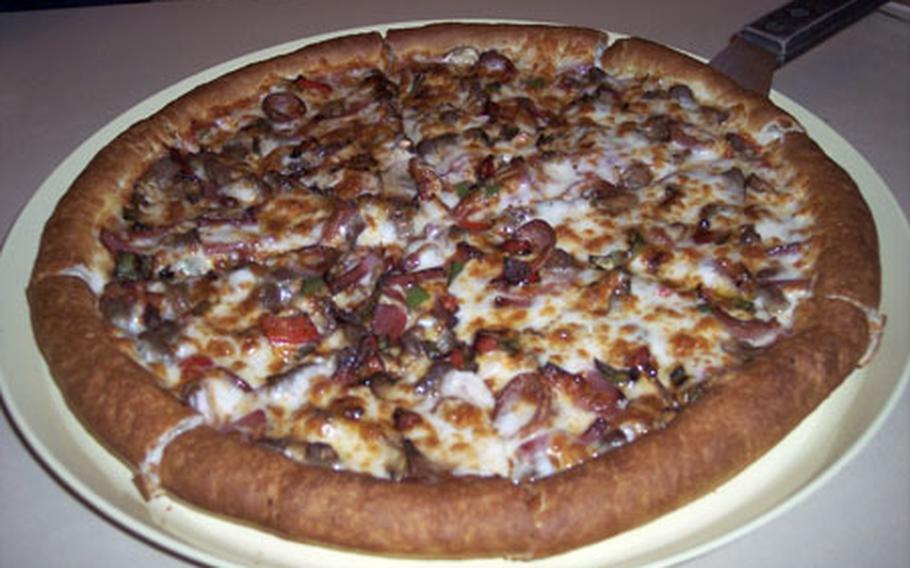 KUNSAN, South Korea — South Koreans like to point to their booming economy, their giant companies and their sophisticated heated toilet seats as proof that after years of hardship, they've finally made it big.
Personally, I can think of few better yardsticks of South Korea's progress during the past 50 years than the fact that you can find enjoyable Italian food, even in the sticks.
Valentine's is still Italian food with a Korean twist — I doubt Rome will be hawking bulgogi pizza or offering kimchi on demand anytime soon. But it's much closer to the familiar, Americanized version of Italian fare than many Korean Italian restaurants.
A simple dish like oven-baked spaghetti is done just right, said a dining guest who preferred to be known as "Kim the crusty old fighter pilot."
"The mozzarella cheese is layered on top, baked to the right consistency. It's very good," Kim said.
The pasta basilica got high marks from another American diner for its pesto cream sauce, broccoli, tomatoes and "a good range of flavors."
Kim also liked a shrimp risotto with what seemed to be a tomato cream sauce and Spanish rice inside a casserole dish. Quirky, not quite what you'd expect, but tasty, he said. A combination pizza with lots of toppings and a cheese-filled crust far surpassed anything you'll find at the military bases I've been to in the Pacific.
The order was well handled by an English-speaking Korean who didn't need a pen to take notes. When you leave, he'll also give you a free bottle opener that doubles as a refrigerator magnet.
Kim gave Valentine's an overall rating of "better than Olive Garden, not quite up to Macaroni Grill."
For a part of the world where corn and mayonnaise is considered appropriate pizza toppings, that's saying a lot.
To see previous After Hours reviews, go to: stripes.com/afterhours
Valentine's in Kunsan, South Korea
Prices: Pasta dishes run from 6,000 won to 11,000 won; pizzas run up to about 20,000 won for a large with six or seven toppings.Specialties: Pizza and pasta.English menu: Yes, with pictures.Dress: Casual, maybe a button-down shirt.Clientele: Mostly Korean, some Americans.Location: Located in the Wharf area. Head down the main road from Kunsan about 5-7 miles. There will be a KT sign on the right hand side. One block later, turn right at the traffic light. Pass Cheers on the left. Valentine's is across the street from clubs Robin Hood and Cowboy. Hours: 10 a.m. to 11 p.m., most days.Phone: (063) 442-4886