After Hours: Get your Sasebo burger fix at Uncle Sum
---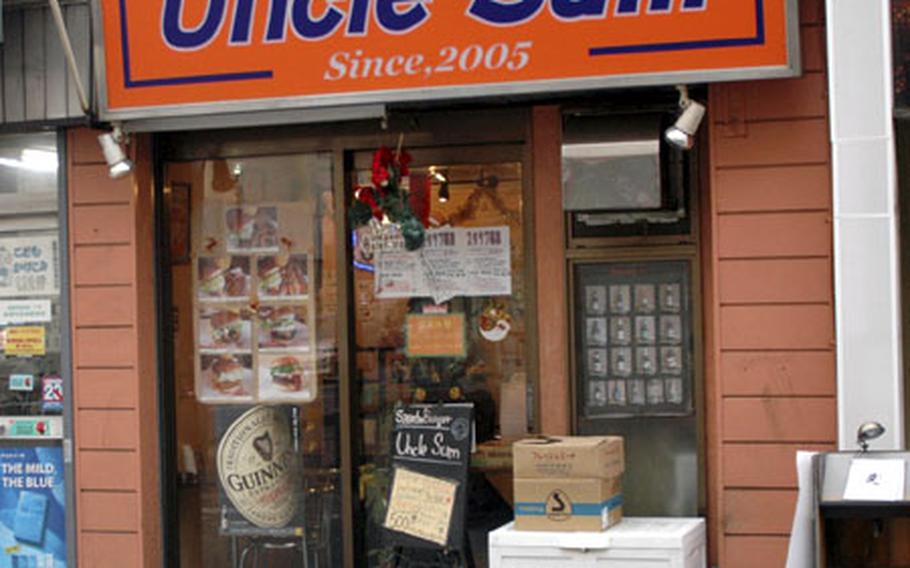 CAMP ZAMA, Japan — Cute isn't necessarily a word associated with a restaurant, but Uncle Sum, just outside of Camp Zama, is a cute little place offering good food at cheap prices.
Whether Uncle Sum is named after the gray-whiskered, patriotically dressed man we know as Uncle Sam is unclear. But here's a strong hint: A large "I want you for the U.S. Army" poster greets you at the door.
A tiny little burger joint located on the corner across from the Sobudai-Mae train station, Uncle Sum seats maybe 20 people at most within its Americana-decorated walls.
The menu focuses on hamburgers, specifically Sasebo burgers — a Japanese-style burger named for the city where they were created. Known for being handmade with fresh ingredients, and sometimes topped with a fried egg, these burgers have become popular throughout Japan.
The burgers at Uncle Sum taste great, and contrary to its welcome mat, which advertises "Slow Food," they are ready pretty quickly. There are about a dozen or so burger varieties on the menu, from a regular hamburger to a few more exotic, egg-topped choices. It's a pretty no-frills menu, so if you are not in the mood for a burger or maybe some onion rings, you might want to eat elsewhere.
Showing a little more variety is Uncle Sum's beer selection, which includes Bass, Heineken, Red Stripe, Guinness, Budweiser and even Coors Original. There's also a small selection of liquor behind the counter for mixed drinks.
By far, two of the most appealing things about Uncle Sum are the prices and the hours. Nothing on the menu — including beer — costs more than 550 yen. A bacon and egg burger with a large soda cost a total of 560 yen — a great inexpensive lunch.
The restaurant, which also does takeout, is open from 10 a.m. until 1 a.m. every day except Sunday, when it closes at 10 p.m.
Whatever the hour, Uncle Sum is a great place within walking distance from Camp Zama. Cheap, high-quality food, a decent selection of beer in a cozy, comfortable environment makes Uncle Sum a place worth checking out.
See previous After Hours reviews here.
Uncle Sum
Prices: Nothing over 550 yen, most burgers cost between 300 and 450 yen.
Specialties: Sasebo burgers.
English menu: Yes, although there is only one copy up at the counter.
Dress: Casual (it's a burger joint).
Clientele: Anyone, everyone (again, burger joint).
Location: Head straight out Gate Four (the walking gate) at Camp Zama towards the Sobudai-Mae train station. Uncle Sum is on the right hand corner across from the station.
Web site: None.
---
---
---
---