After Hours: Former Navy chief's bar envokes 'Good Times'
---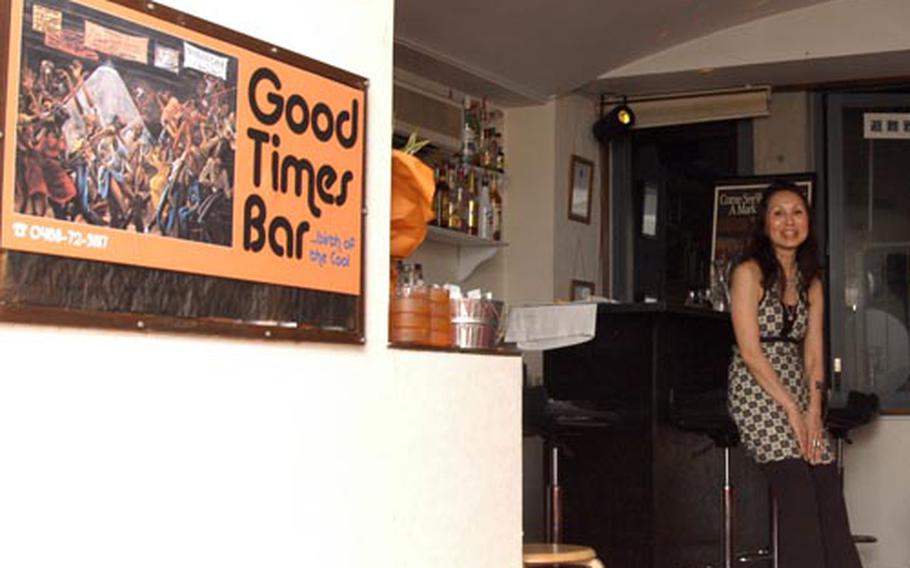 ZUSHI CITY, Japan — Good Times, any time you meet a payment.
Good Times, any time you need a friend.
Good Times, any time you're out from under. (or, in this case, under way as Navy life would have it).
The lyrics hail from the 1970s-era TV show "Good Times." They also work for its namesake bar in Zushi, Japan, popular with sailors and owned by a former Navy chief.
"Oh my God! Everything on this menu is spelled right!" exclaims a Good Times first-timer, one who had obviously ordered her share of Japanese "scorn on the cob" washed down with "cacktails."
Thomas Curry laughed. It's his menu, his bar. Raised in Ohio, Curry spent the last 18 years in Japan with the Navy. After retiring, Curry opened the friendly little nightspot in December where both cultures mingle, Curry said.
"I wanted a place where everyone would feel welcome and talk to each other," Curry said.
It's easy to do — in a 430-square-foot space, all conversations are inclusive. The bar is so small that when there's a DJ, people end up dancing everywhere — including the kitchen and bathroom, Curry said.
There are a few seats at the bar, but most customers sink into the low-slung couches and feel the chill power of Curry's Motown, soul, funk and old-school music collection. The bar is low lit, with a disco ball, and decorated with album covers and photos of happy customers.
Mike Favors, Curry's longtime friend and a Yokosuka civilian, calls the place "nice and cozy" and happily unlike the Honch nightlife district outside Yokosuka Naval Base.
"You have more freedom here, more privacy since it's away from the base," Favors said. "It's also a smooth, relaxing environment — there's more mature adults here."
The Good Times menu is eclectic American, sporting items like "Momma's gumbo," barbecued ribs and BLT sandwiches.
It's a place that reminded Lt. Matt Hamm of college, but he also took his parents there.
"Everybody has a good time," Hamm said.
---
---
---
---