After hours: Find Brazilian cooking in the heart of Naples
---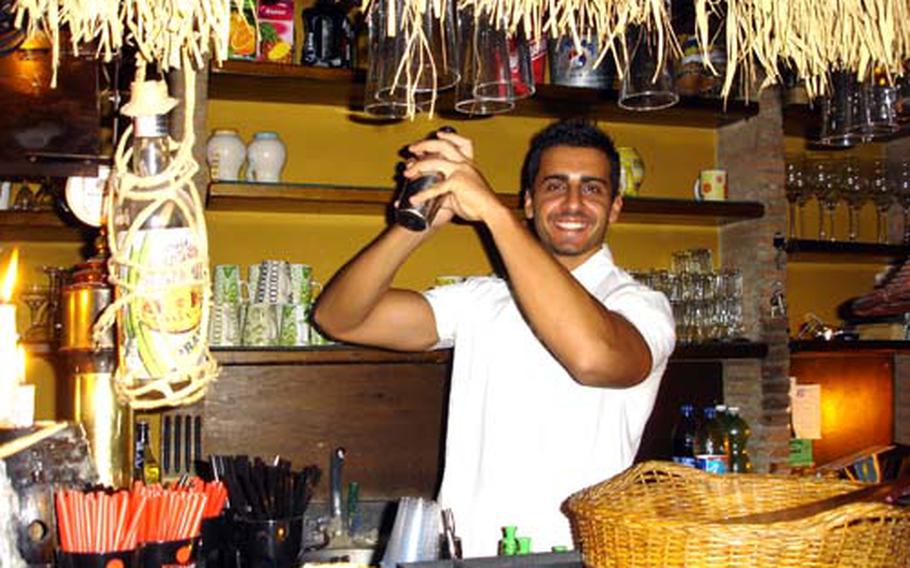 Home-cooked food in Naples isn't exactly in short supply. Home-cooked Brazilian food, though ... not so easy to find.
Tucked away in a lively little street in downtown Naples near Riviera di Chiaia is Corcovado. The street is known to some as "restaurant row," and is home to many Spanish restaurants, as well as pubs and bars.
Both Brazilians and landmark enthusiasts will recognize the name. Corcovado is the area in Rio de Janeiro where the famous statue of Christ the Redeemer is located.
If you go to Corcovado, don't expect one of those sizzling meat-orgies associated with many Brazilian restaurants. This is down-home food you might get if your neighbors were from Sao Paolo.
The restaurant is one of those indoor/outdoor places that have the look and feel of a bungalow. As you walk in, you see bamboo decor on the outdoor section of the restaurant and a Brazilian flag that's hard to miss.
The sangria is served in ceramic pitchers and mugs, the kind you might find shoved in the back of your own kitchen cabinets if you looked hard enough. The bar is also fully stocked with wines and liquors. Lots of tropical drinks are available.
The food is very traditional, and menu items are listed in Spanish, with descriptions in Italian. There are no English menus and limited English spoken by the staff, but it's easy enough to muddle through.
Prices are very reasonable, considering the area is close to the pricey part of the city. Entrees average about 8 euros, and include the rice and beans.
There are lots of pork and beef and seafood items on the menu, but what makes Corcovado typically Brazilian, are the side dishes. The white rice is sweet, and the black beans are deceptively spicy. Make sure that your sangria mug is full before trying these. They serve manioc and plantains — both indigenous to South America.
Although the restaurant opens at 8:30 p.m. for dinner, you'll have the place to yourself if you show up any time before 10 p.m. Closing time, like most restaurants in Naples, is optional, but usually around 2 a.m. On Saturday nights, they have a DJ, and on days with big football matches they show the game on TV.
To see previous After Hours reviews, go to:stripes.com/afterhours
Corcovado, Naples, Italy
Hours: 8:30 p.m.–2 a.m. (roughly) Tuesday through Sunday
Prices: Very reasonable — a full meal complete with appetizers, wine and dessert comes in under 20 euros. Bring cash.
English menu: No.
Dress: Casual.
Clientele: Mostly Italian.
Location: Via Giovanni Bausan, 18, Naples. If you're in downtown Naples, the street is located just off Riviera Di Chiaia, opposite side of Villa Comunale gardens. The best landmark is the gazebo in the gardens. Walk with your back to the gazebo and you'll see the street. It's small, but does have a marble sign on the corner wall. The nearest Metro is Piazza Amadeo.
Phone: 348-0069-518 (only a mobile number is listed)
Web site: http://www.hostariacorcovado.it (Yes, it's in Italian.)
---
---
---
---