After Hours: Enjoy an English film at cozy Corso theater
by
Charlie Coon
December 28, 2006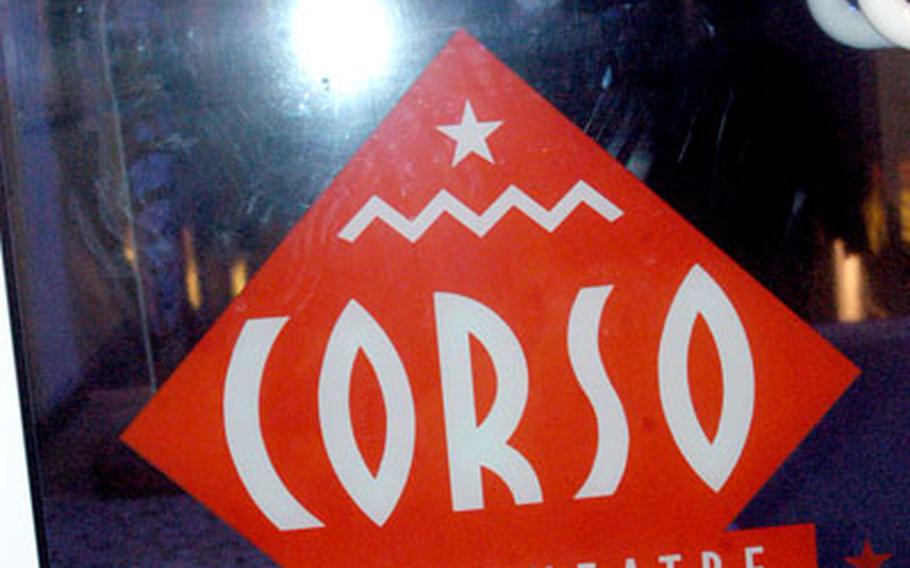 STUTTGART, Germany — There's a shiny, practically new movie theater on Patch Barracks and it's a beauty. It's got a really big screen, big sound and comfy blue seats that have cup-holders large enough for a jumbo pop.
But this isn't about that place.
This is about a smaller theater with some age on it. It's called the Corso, and it shows a wide variety of U.S. and other English-language movies. From the front gate of Patch Barracks, it's a straight 1.9 kilometer (or 1.2 mile) drive, down the Hauptstrasse and into downtown Stuttgart-Vaihingen.
The Corso is one of those old-school theaters of Germany.
Inside, it has an artsy feel to it. The lobby walls are covered like wallpaper with movie posters. There is a lone counter where the same person sells the tickets and the popcorn. (To avoid bottlenecks, come either early or late. Always be ready to wait a few minutes.)
The two cinemas are small and lived-in, but comfortable. Sound and picture quality are good.
The Corso mixes up its fare to include films from Germany, Italy and Spain. Sometimes it runs films with subtitles. The theater has a Web site (www.corso- kino.de) that breaks down what is showing and when, as well as the coming attractions.
The Corso is pricier than the Patch Theater, with tickets costing 7.20 euro, or about $9.50 each, except on Tuesdays, when tickets are 3.50 euro, or about $4.60. Students pay the cheaper price seven days per week. Longer films cost a little more money.
In addition to the no-butter popcorn, one can buy Ben and Jerry's or Haagen-Dazs ice cream, plus Mentos, Twix, Snickers, Pringles and other snacks.
To drink, well, there's beer (it's Germany, after all), and Apple Schorle, Fanta and bottled water, among other offerings.
Even though it's a straight drive from Patch, moviegoers will need to keep an eye out for the Corso when trying to find it. It's a small place nestled among bigger stores. A good strategy is to find a parking place once in the vicinity, then get out and ask.
The Corso also isn't a big secret to Americans living and working in Vaihingen. You can usually hear them talking while standing in line for tickets at the theater.
Therefore, people can ask others around one of Stuttgart's bases — Patch, Kelley and Robinson barracks, and Panzer Casern. Odds are there will be someone who knows about the Corso and describe how to get there.
Or moviegoers can discover it for themselves and decide whether it rates a thumbs-up.
See previous After Hours reviews here.
The Corso
Prices: Tickets are 7.20 euro, except on Tuesdays, which is 3.50 to 4.50 euro, depending on the film. Ticket reservations, which are advisable for busy nights, can be made by phone at 0711-734-916.
Food: The theater itself offers a variety of movie snacks, but if you are looking for real food there is a döner-pizza stand on the next block and a Chinese restaurant nearby.
Clientele: About two-thirds English-speaking Germans and one-third Americans.
Location: From the front gate at Patch Barracks, it's 1.2 miles, or 1.9 kilometers, straight down Hauptstrasse (Main Street) into downtown Vaihingen. At 1.2 miles, look to the left for the yellow sign for Lidl grocery store. The Corso is next door. Parking garages are nearby. Free parking can be found with a little hunting and pecking. By train, the U-1 Shillerplatz stop, or S-Bahn Vaihingen stop. Both are within walking distance of the theater. The address is Hauptstrasse 6, Stuttgart-Vaihingen.
Web site:www.corso-kino.de (in English).