After Hours: Dine royally at Hirschhorn castle
---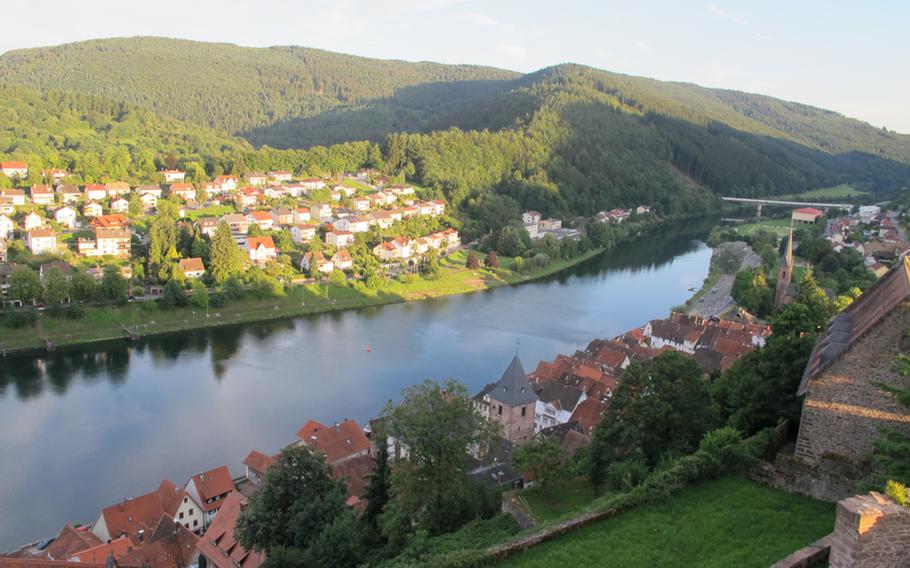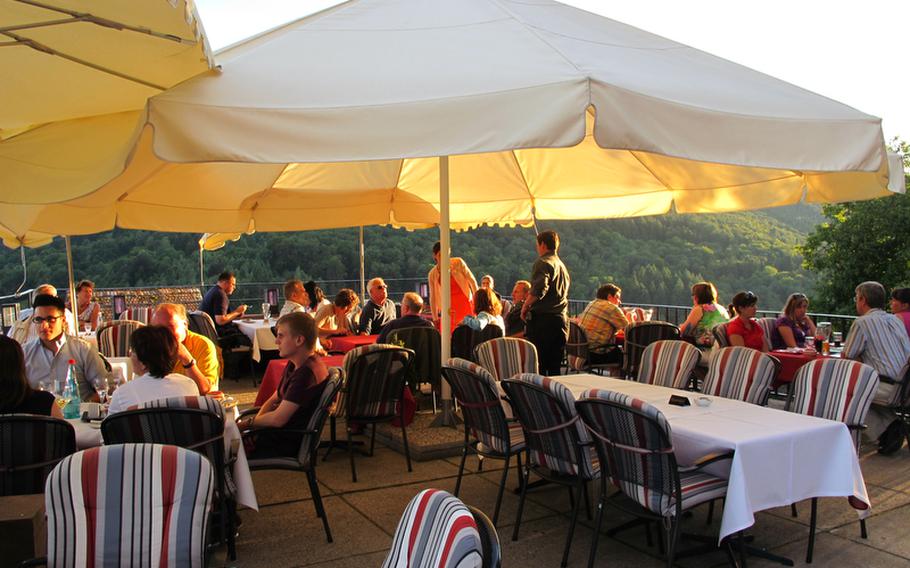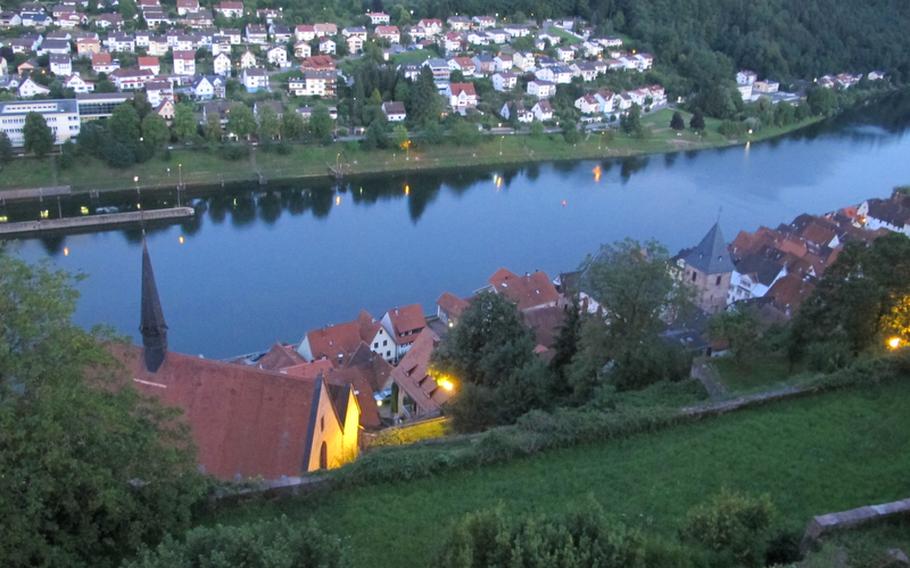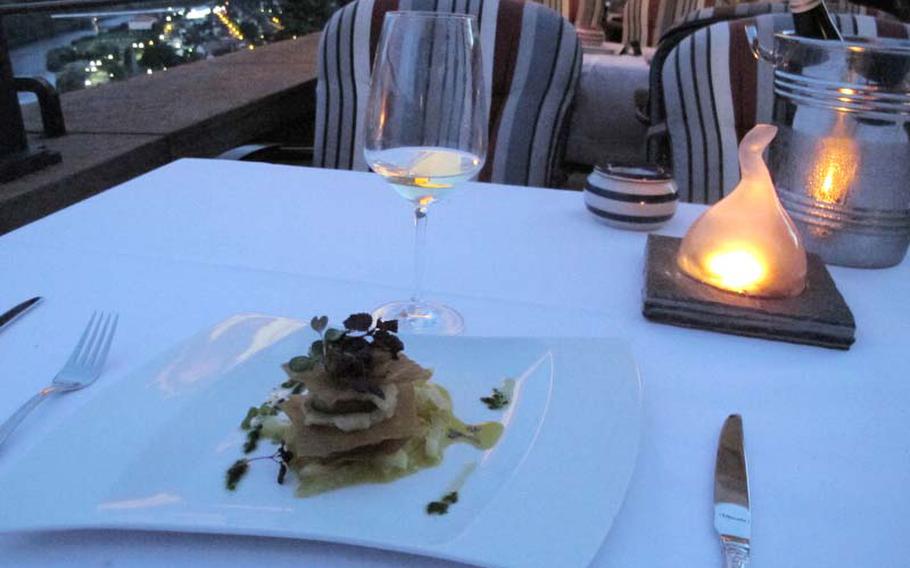 Remember that time we dined at the castle?
Few Americans can truthfully say that sentence. There are no real castles in the U.S., let alone real castles with restaurants.
But in Germany, you can't throw a rock without hitting a castle. Dozens have restaurants, among them one about 15 miles from Heidelberg that offers an idyllic experience any evil queen or wealthy huntsman would enjoy.
The Hirschhorn Castle restaurant, with a spacious, sunny terrace providing spectacular views of locks and boats and white swans on the Neckar River below, and to the side, the deep, wooded hills of the Odenwald, is somewhere special.
The restaurant, along with a small hotel, is built on the ruins of a castle dating to the 13th century, when the Hirschhorn princelings built their fortress high on a hill and offered protection that let the town of the same name grow and prosper.
The road there, the B37, winds alongside the Neckar, first one side, then the other, then turns into the woods and up the hill before passing through a stone archway to end in a cobblestone courtyard.
Don't leave your wallet in the car. And be prepared to enjoy rich, undeniably fancy dishes that are also creative and even a little whimsical.
Yes, the food is wonderful. But the view and the ambience are magical.
On a recent Sunday evening, with the sun still shining on the river, we began with a pretty peach-colored house cocktail and another made with a hibiscus flower.
We ordered the restaurant's appetizer sampler, and each was more delicious than the next, including a creamy soup with slivers of orange zest and chili and ginger foam on top. It was served in a cup and looked exactly like a cappuccino.
The menu is large, featuring assortments of appetizers and desserts, with fish and chicken, beef and lamb — and, for a simpler taste, a Wiener schnitzel served with potato salad or roasted potatoes. There are also three vegetarian dishes, including eggplant lasagna, the least expensive entrée on the menu at about $18.
My entrée was called Saltimbocca Rinderfilet, which translates from the Italian and German as "jump in the mouth" and "beef tenderloin," respectively. It involved, I think, a thin beef filet stuffed with prosciutto or bacon and herbs, possibly including sage. It did not, however, make my mouth jump as much as what it came with: slices of truffled polenta. Two of my favorite things, together at last.
My companion had the lamb, with roasted vegetables and a sort of complicated potato tot, mashed and reassembled with onions and herbs, in a honey-thyme sauce, for $34. Soon it was gone, probably to his midsection.
I didn't finish my Saltimbocca, and it's clear the restaurant isn't accustomed to doggy-bag requests. My leftovers were placed in a used mascarpone cheese tub covered with aluminum foil.
Location: Schlossstrasse 39-45 69434 Hirschhorn. About 15 miles from Heidelberg.
Hours: 11:30 a.m. to 10 p.m. Tuesday through Sunday. Hot meals from 11:30 a.m. to 2 p.m. and 6 p.m. to 9:30 p.m. Closed Mondays.
Prices: Expensive. Appetizers average from $8 to $20. Desserts run from $9 to $13. Entrees start at $18 and top out at $34. There is also a tasting menu from about $56 for three courses to $89 for six courses, and an extensive wine list.
English menu: Yes.
Clientele: Germans, tourists, lovers, celebrants.
Dress: Casual.
Information: For reservations, call 06272-92090. Website: schlosshotel-hirschhorn.de/restaurant.html in English.
---
---
---
---