After hours: Cold and hungry? Fill up at Myung Dong Kyoja
by
Teri Weaver
December 11, 2008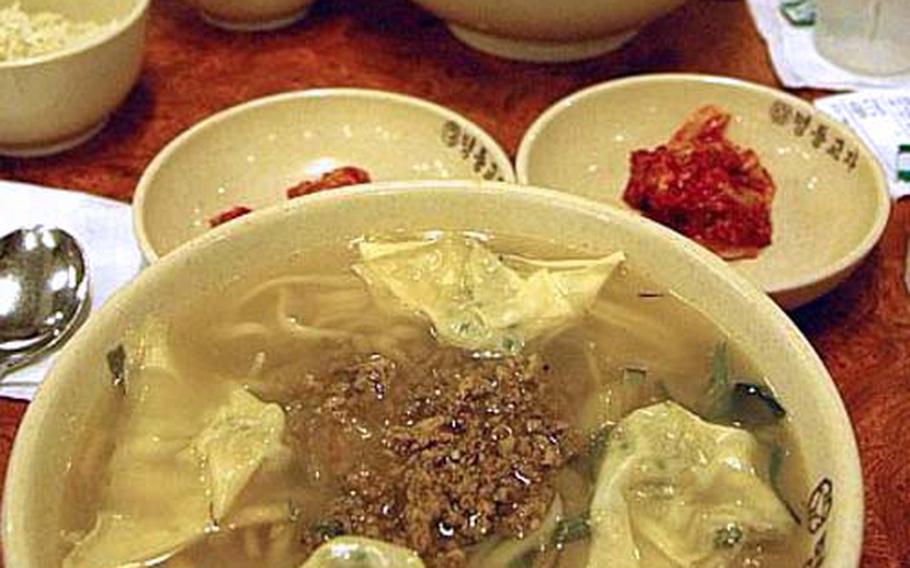 SEOUL — When you are really hungry and really cold — common occurrences in winter in Seoul — get yourself to Myung Dong Kyoja.
This restaurant in the Myeong-dong neighborhood in Seoul serves bottomless bowls of hand-cut noodles, steaming broth and pork-filled dumplings for about $7 per bowl. I am not making this up. In fact, if it were possible to dive headfirst into a bowlful, I'd be first on the diving board.
Myung Dong Kyoja, a rather odd spelling meant to indicate the neighborhood and gyoza, the Chinese word for dumpling, has been around for more than 40 years. But any oddity about the place stops there. Its straightforward service and menu attract tourists, students and locals — nearly anyone willing to wait in line with 7,000 won ready to spend.
The doors open at 10:30 a.m. each day, and if you get there after noon, expect a line despite two dining rooms that claim to seat 180 people.
Furthermore, you should expect no English and few smiles. Look at the menu and point to one of three things — a plate of dumplings (mandu), a bowl of noodle soup with four dumplings, (kal guk su) or a bowl of spicy noodle soup with four dumplings (pi pim guk su).
Pay upon ordering and wait. For about three minutes. Then bask in a steam of beefy broth and try not to burn your tongue.
Kal guk su translates literally as "knife noodle." Myung Dong Kyoja cuts each noodle by hand before boiling them and piling them heavy into each bowl. The noodle soup comes with dumplings stuffed with pork, leeks and sesame seeds.
The rich, salty broth soaks into each noodle while the sweet sesame oils enhance the pork. If there are two better friends than sesame seeds and pork, I've never met them.
Spicy kimchee and rice come with each meal, though it's hard to save room for either. Because when you get low on noodles, you can motion to a worker who will dump another serving of noodles and broth into your bowl.
Personally, I've never made it past one bowl. But I can dream.
To see previous After Hours reviews, go to: legacy.stripes.com/afterhours.
Stars and Stripes reporter Hwang Hae-rym contributed to this story.