After hours: Checkpoint, Grafenwöhr, Germany
by
Seth Robson
March 22, 2009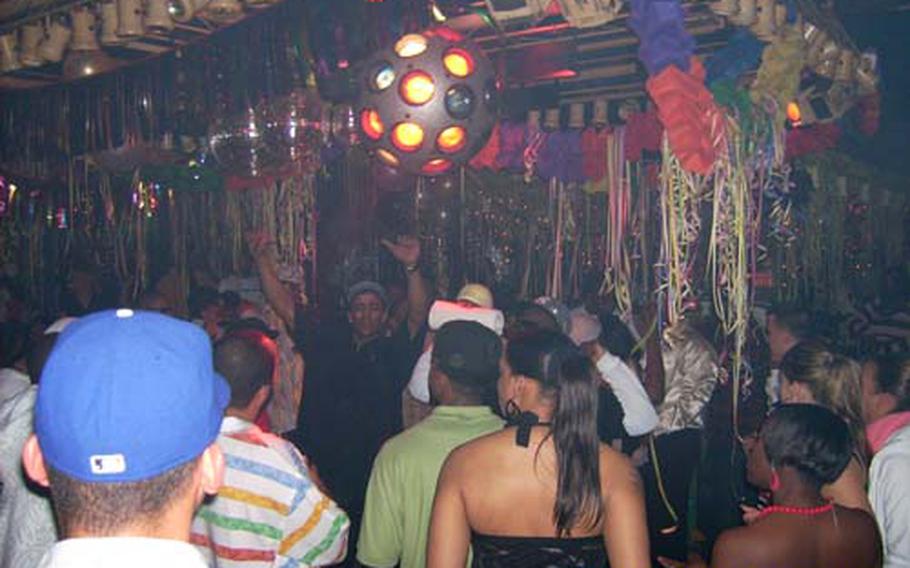 Black soldiers in baggy jeans, gold necklaces, giant baseball caps and oversized T-shirts, and young blond German women wearing short skirts and high heels form a circle around the dance floor.
The GIs take turns in the center, limbs flying in every direction or even writhing and spinning on the floor to the beat of the music as they perform dance moves that seem to say, "You got served" to the other participants.
It's a typical Friday night at Checkpoint, which vies with Ed's bar for the bulk of after-hours traffic in Grafenwöhr, Germany.
Here and at other German nightclubs that specialize in "black" music, the soldiers are the stars of the show, since they look and dress like the musicians idolized by local- national patrons.
Ironically, according to "Roach," a former soldier who works as a DJ at Checkpoint, some of the so-called "black" parties at other German nightclubs limit the number of black GIs they allow through the door.
"Sometimes they advertise it as 'Black,' but guess what — there's no black people in there," he said. "They are just playing black music."
These days, the soldiers who frequent Checkpoint prefer to dance to hip-hop, Dirty South and crunk — American music that has a wide following among the young Germans who mingle with them.
"The ladies watch TV and see hip-hop and R&B and crunk, and everybody is having a good time. They want to interact with a different culture," said Roach, who is married to a local national whom he met at a club.
Checkpoint's owner, Brigit Johnson, 49, met her husband, a black soldier, at a soul club in Bavaria. She started Checkpoint in 1988 in Bayreuth, near a U.S. base, Christensen Barracks, which closed years ago. She reopened in Grafenwöhr, operating near Gate 3 for a while before moving to an old movie theater outside Gate 1.
She says her heart is with the soul music she fell in love with as a teen in the 1970s, but she plays hip-hop to draw the crowds.
"In 1975, some people liked rock bands like Kiss and others liked ABBA. I liked soul music — people like Barry White, Marvin Gay and Teddy Pendergrass," Johnson recalled.
Reggae was popular for a time before it was replaced by dance hall and, these days, Dirty South and crunk, she said.
"Most soldiers are between 20 and 25," Johnson said. "If we didn't play that, they would go to other places."
Location: Right outside Gate 1, Alte Amberger Straße 33.
Opening hours: Thursday, Friday and Saturday, 10 p.m. to 3 a.m.
Clientele: German/American.
Dress: Casual.