After Hours: Chang Pwuck's authentic Thai cuisine has following at Osan
by
Franklin Fisher
October 26, 2006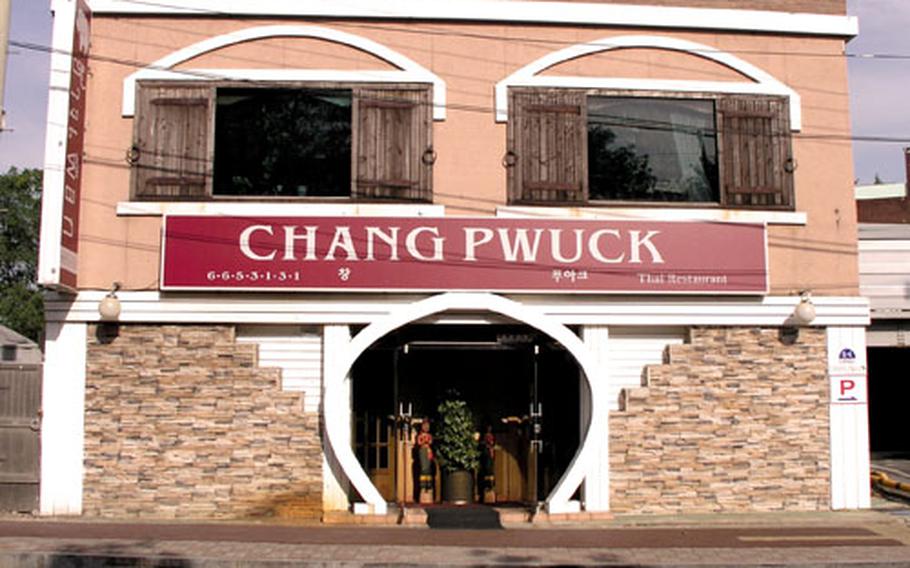 PYEONGTAEK, South Korea — Less than a minute's walk from Osan Air Base is a Thai restaurant with a Thai kitchen staff, English-language menus with color photos of each dish, exotic desserts and a Southeast Asian décor that emphasizes natural wood and traditional Thai designs.
About 80 percent of Chang Pwuck's customers are Americans, most of them from Osan Air Base and other U.S. military communities on the peninsula, said owner Kim Chong-pun, who uses the English name "Catherine." The two-story restaurant is open for lunch and dinner, from 11 a.m. to 9:30 p.m. seven days a week.
Chang Pwuck means "white elephant," Kim said, and the décor employs an elephant motif in the form of wall hangings, paintings and other images. The walls and ceiling are mainly in a natural walnut-like finish. Tables and chairs are of dark brown wood.
When we dropped in for lunch the other day we found a clean, pleasant atmosphere and polite service.
We ordered curried prawns, served with chili paste, fish sauce, shallots, celery, egg, Thai basil leaf, ground peanuts, chilis, coconut milk, and bamboo shoots among other ingredients, and a separate plate of white rice. We found the meal flavorful and filling.
Chang Pwuck's menu indicates "level of spiciness" by the number of chili peppers that appear next to each item on the menu.
The menu offers such appetizers as spring rolls or chicken in peanut sauce, a variety of noodle and rice dishes and special dishes like the curried prawns we had.
But especially intriguing was the menu of Thai desserts: tapioca with melon in coconut milk, phuak tong kheng bhuad (pumpkin with coconut milk and brown sugar); bhua loy nga dum (black sesame seed dumplings in ginger sauce); and khwai kay chuam (banana with sweet syrup in coconut milk).
There are plenty of beverages on the menu — local and imported beers, whiskey, scotch, coffee, tea, and soft drinks.
Large groups such as those holding unit hail and farewell gatherings can be seated in the upstairs dining room, which includes a bar. For groups larger than 20, Kim can cater a buffet.
See After Hours for more reviews of restaurants and nightclubs in South Korea.
Chang Pwuck
Prices: Food runs from 4,000 won (about $4.17) to 15,000 won (about $15.66); alcoholic beverages 3,000-8,000 won (about $3.13-$8.36). Nonalcoholic drinks 1,000-3,000 won (about $1.04-$3.13).
Specialties: Thai food, served more or less spicy at the diner's request. Some house favorites are the seafood dishes and pad met mamuang (stir fried chicken, pork, beef or prawns with cashew nuts and red chili).
English menu: Yes, with color photos of each dish.
Dress: Casual.
Clientele: Bills itself as a "family restaurant." Draws couples, small groups of friends; also large parties and functions put on by military units.
Location: From the Osan Air Base main gate, cross the street in the direction of the Seven Eleven convenience store, but once across immediately face left and proceed up the sidewalk that runs parallel to the street. Within a minute's walk you'll reach Chang Pwuck, a beige building with white trim and a large red sign.
Phone: 031-665-3131 or 011-9942-3336
Web site: None.