After Hours: Casa Verde Restaurant, Kitanakagusuku, Okinawa
---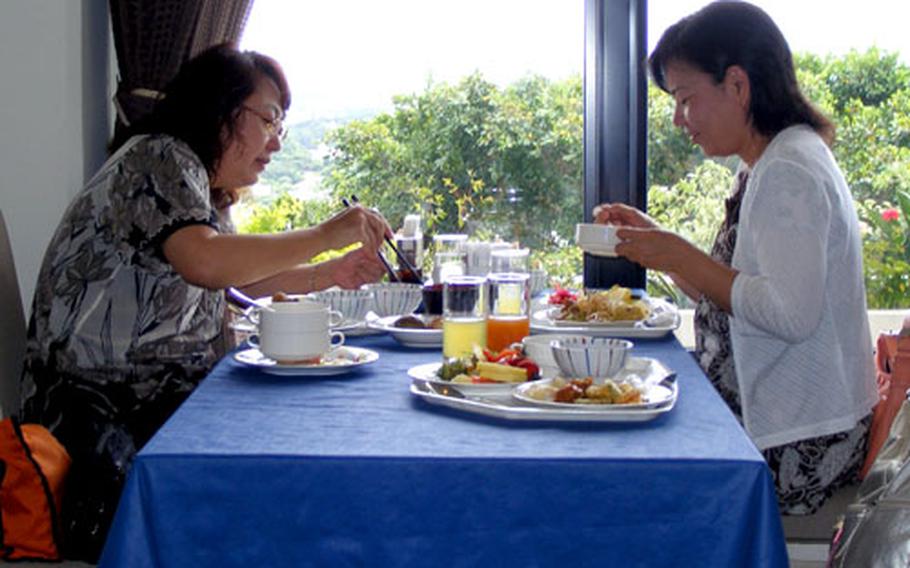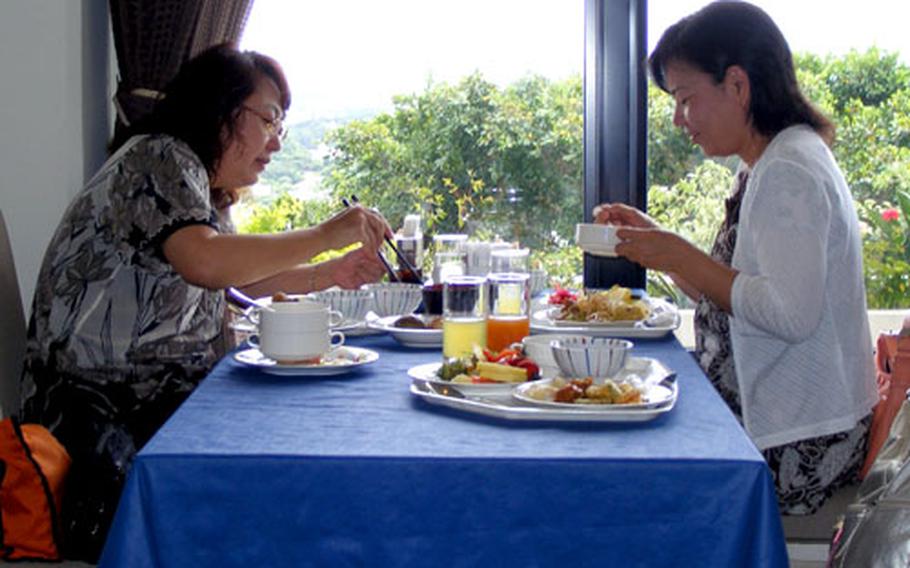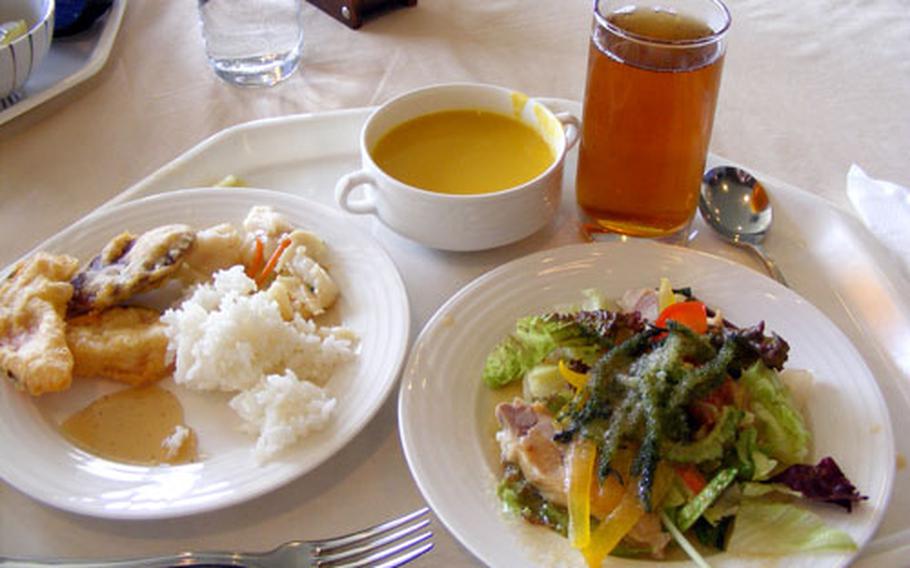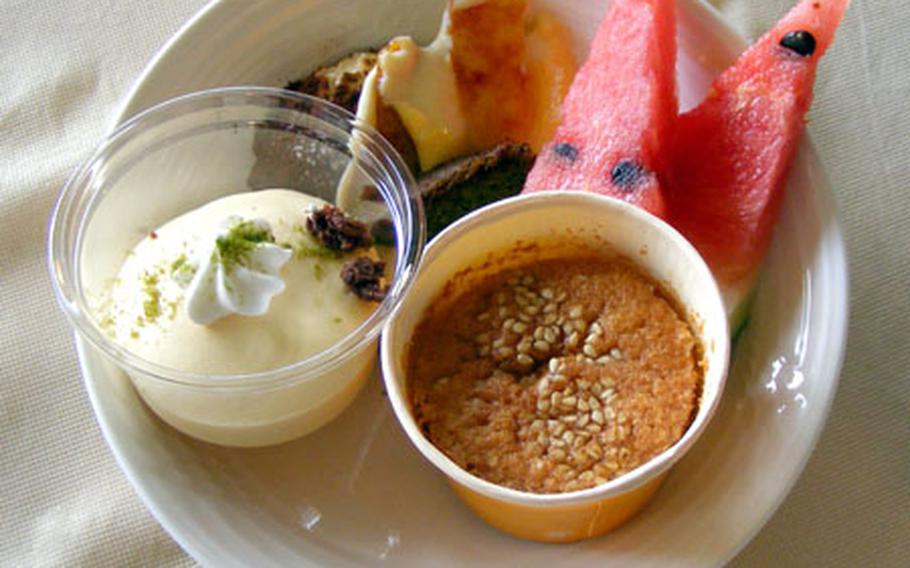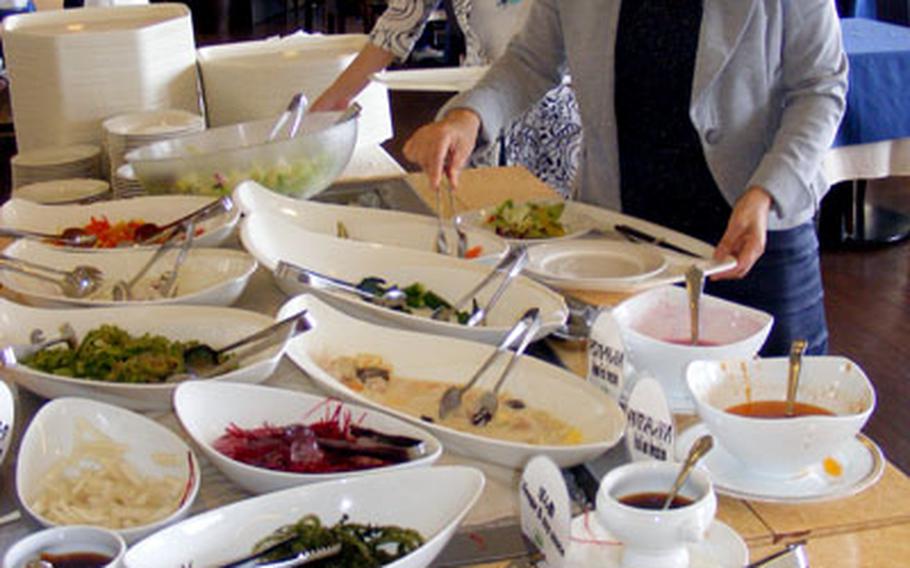 My idea of a great lunch is a fat, juicy cheeseburger with lots of mayo, bacon, lettuce and tomatoes on a sesame-seed bun with a side of fries or onion rings and an ice-cold beer.
But I learned in April that it's not my heart's favorite lunch. A mild heart attack and three angioplasties later, I've been banned from artery-clogging cholesterol factories and restricted to no-salt, unfried, no-fat, low-calorie fare.
That makes eating out more of an adventure. When you can't drive in the fast-food lane and porterhouse steaks are verboten, your dining choices are limited.
Fortunately, Okinawa has several healthy alternatives. One of the finest is the Casa Verde Restaurant in the Costa Vista Hotel and EM Wellness Center.
EM stands for "Effective Microorganisms," an idea developed by Japanese horticulturist Teruo Higa of the University of the Ryukyus. He believes that food grown in compost containing a combination of dozens of different microorganisms enriches produce in a "life-promoting" process.
"Our restaurant serves the dishes prepared under the concept of Isyoku-Dohgen, meaning that medicine and food have the same origin. Our guests can enjoy healthy but tasty dishes," the hotel's Web site states. "Most are prepared with EM-produced ingredients, along with organic tea and coffee."
"All the vegetables are either organic, or near-organic," said chef Tsutomu Miyagi, 52. "Also, the pork is specially raised with EM technology and the soup and tofu are made with water treated with EM technology.
"Vegetables grown with EM technology are very fresh and tasty," he said. "It's so good I became a big vegetable eater since I started working at this restaurant.
"The dishes are vegetable-centered, and the food is cooked in cholesterol-free olive or canola oil," he added. "Our restaurant's theme is to offer food that contributes to the health of our customers."
It's all gobbledygook to me. But lunch tasted great. I had a salad of sea grapes, peppers, lettuce, daikon radishes, okra and a light sesame seed dressing. My main course was broiled fish, rice, tuna sashimi, goya, and an Okinawan tempura with pumpkin and sweet potato slices.
I also had a savory cup of pumpkin soup, several cold glasses of oolong tea and passion fruit mousse for dessert.
It wasn't quite like gorging myself on a juicy cheeseburger, but my heart didn't complain.
Casa Verde RestaurantLocation: Costa Vista Hotel and EM Wellness Center, Kitanakagusuku, Okinawa, between Camp Foster and Plaza Housing.
Hours: Open daily; lunch from 11:30-12:30, dinner from 17:30-9:30
Prices: Lunch buffet — 1,700 yen for adults, 900 yen for children 4 to 12; dinner buffet — 2,500 yen for adults, 1,500 yen for children.
Specialties: Organic food in an all-you-can-eat buffet.
English menu: Buffet dishes are marked with cards in Japanese and English.
Dress: Casual
Clientele: American and Okinawan
Directions: Driving north on Route 330 from Camp Foster, turn right at the Yagibaru traffic light and drive to the top of the hill. The hotel is on your right.
Web site:www.costavista.jp/en/index.html.
---
---
---
---