After Hours: British Community social club, Pozzuoli and Vomero, Italy
by
Sandra Jontz
April 23, 2012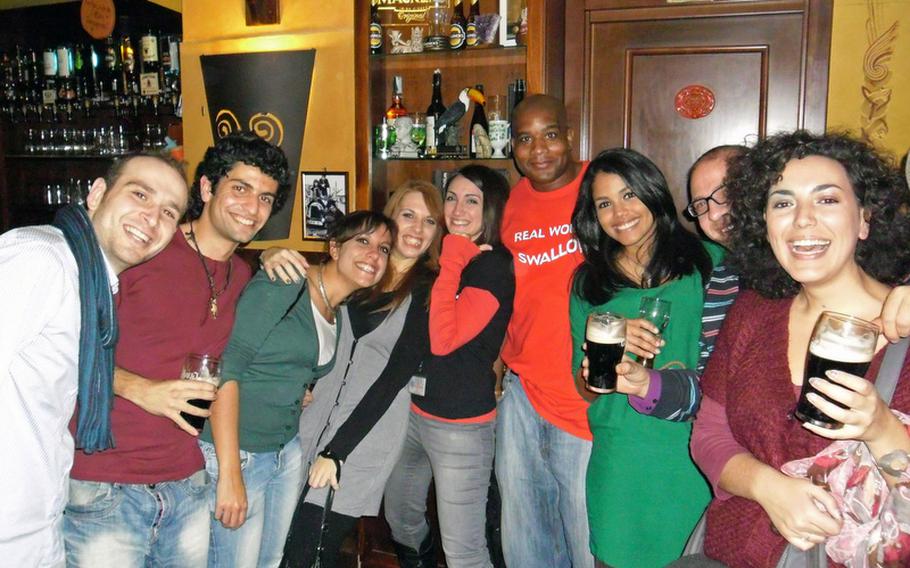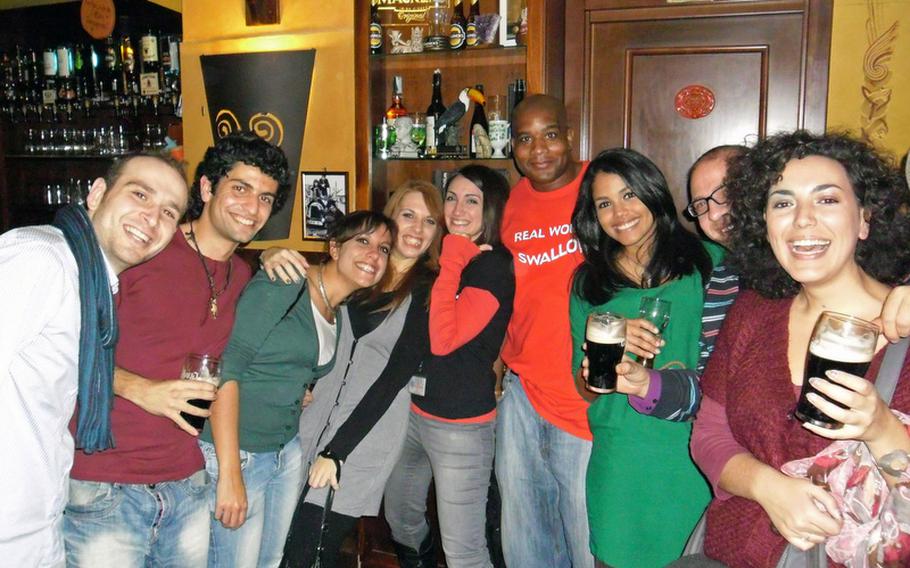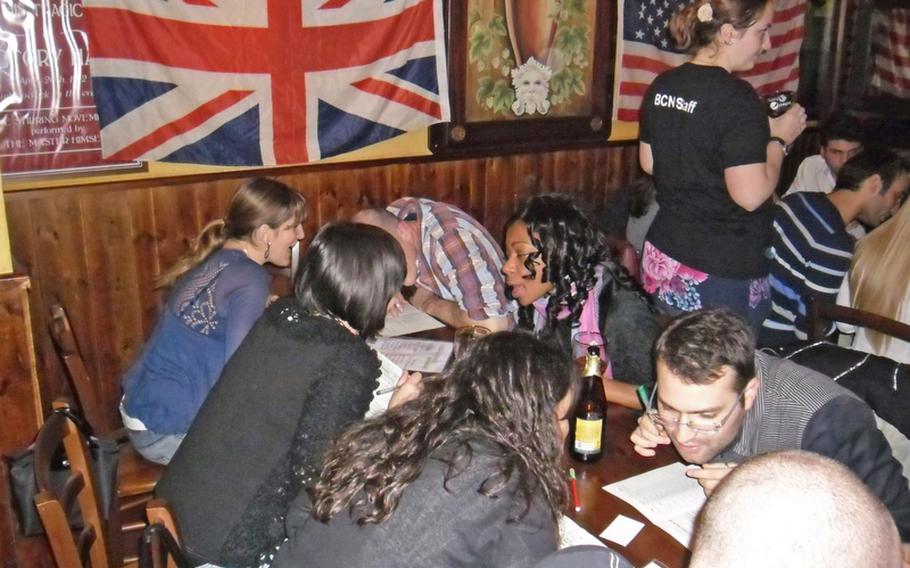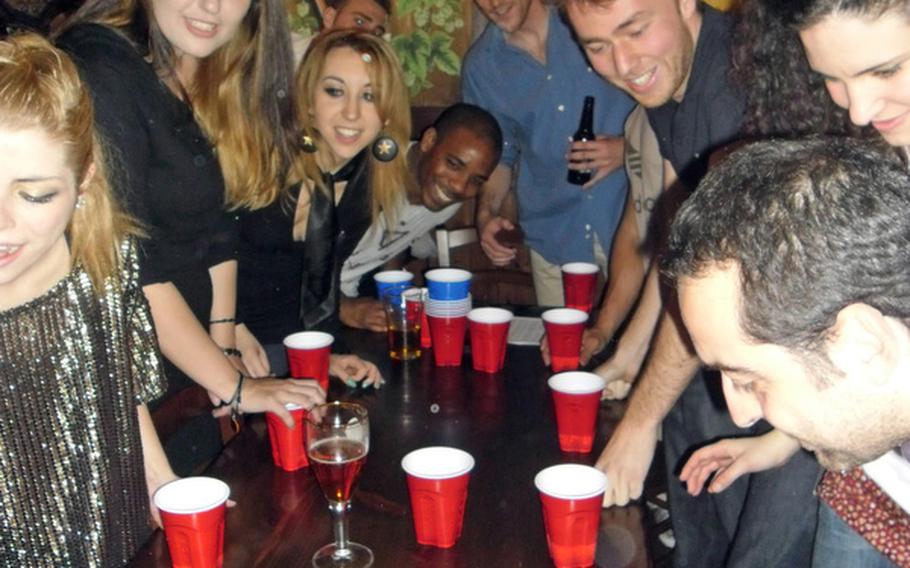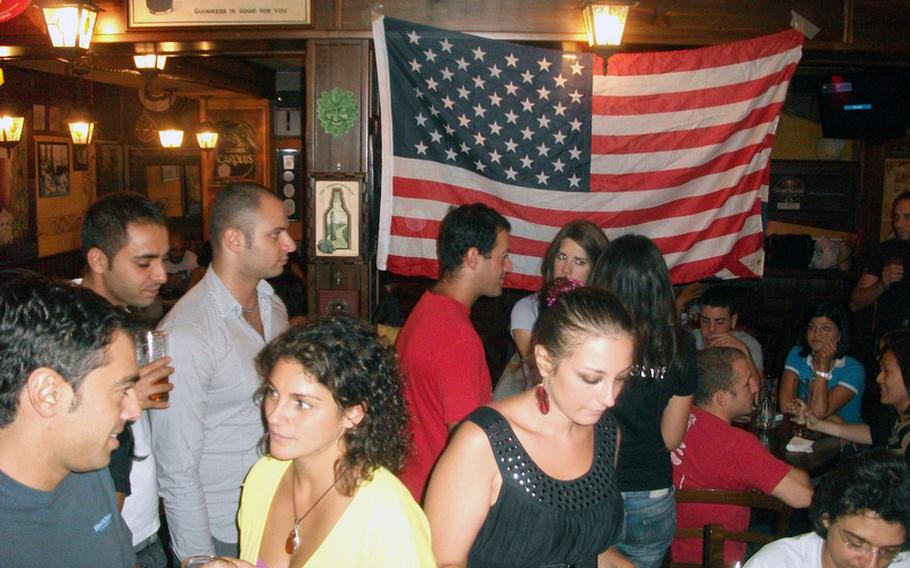 Packing a charming Irish pub at the port of Pozzuoli, Italy, on Wednesdays is an ever-growing eclectic group of Brits, Americans and Italians who come together in a relaxing environment and speak English — with the occasional side dish of lessons in Italian hand gestures.
It's a veritable international salad, if you will.
"First of all, my adventure with the British Community [social club] started in December 2010, when I needed a place that could let me feel like I had never left London," said Federica Amore, a 25-year-old Italian who spent three months in England for an international work-study program and fell in love with it. "I've had the chance to meet lots of people as a member of the community, and, of course, improve my speaking skills."
The group began meeting at a pub in the Vomero district of Naples. In three years, Vomero's gathering at Morrigan Pub now draws about 100 people weekly, and the Pozzuoli gathering at Druid Irish Pub, founded just over a month ago, draws between 20 and 30.
"Both Wednesday and Thursday … nights offer native speakers — English, Americans, Indian, Australian, Scottish, some Irish — pub games, good people and conversation," said British-Italian organizer Steven Palumbo. "The idea is to have fun, make friends and speak English."
The British Community has expanded from one meeting every two weeks to two weekly meetings, Cult Cinema evenings, charity gatherings, summer events and even karaoke.
"The best part is seeing your friends, relax, play some pub games but also meeting new people," Palumbo said. "I've made so many incredible friends through the community that I can't imagine what things would be like without them. Plus, the fact that I see Italians speaking English both amongst themselves and with the native speakers is just great. People really practice and learn the 'authentic' language that you don't usually get from a textbook."
Jerome Ragadio found entertainment, friends and even love through the community get-togethers, said the U.S. sailor who works at the Naval Hospital.
"I go to meet new friends, meet Italians that can speak or want to speak English," he said. "I think it's a great opportunity to meet the local Italians, to immerse myself in the Italian culture. It's also a ton of fun. I met my best friend and my girlfriend from the community."
The after-hours events let Americans serving in Italy meet Italians without the initial intimidation of a language barrier, said sailor Joshua Auel, 28.
That was a plus also noted by Amore, who spearheaded the forming of the Pozzuoli gatherings.
"One of the best parts is the opportunity to speak with different people with so many different backgrounds and stories to tell," Amore said. "And one positive thing as a part of the team, for example, is encouraging shy people to talk, and it feels so good when they start talking and enjoying [each] other."
BRITISH COMMUNITY SOCIAL CLUBLocation: Druid Irish Pub, Piazza della Repubblica 130, Pozzuoli, Naples, on Wednesdays; Morrigan Pub, Via Morghen 72/A, Vomero, Naples, on Thursdays.
Hours: Events begin at 9 p.m., but don't be surprised if most of the Italians are "fashionably late," so things really get kicking around 10-10:30 — and last til whenever.
Food: Both pubs offer pub/bar food such as sandwiches, deli platters and french fries. But frankly, people go for the beer, wine and conversation.
---
---
---
---