After hours: Bolero is good, very popular – so call ahead
by
Mark St.Clair
December 18, 2008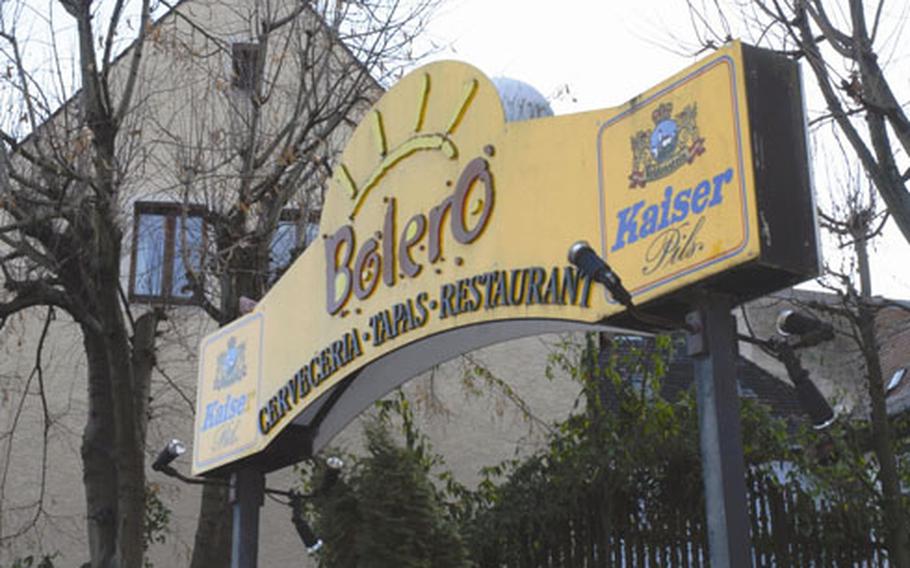 BAMBERG, Germany — One of the more popular destinations in Bamberg's old town is the tapas restaurant Bolero.
Open since 2000, the Spanish-style eatery prides itself on its excellent food and laid-back Mediterranean atmosphere.
Serving more than 30 different tapas (a Spanish word for certain appetizers) at 2,95 euros per, Bolero lets diners pick and choose tailor-made meals. Many traditional tapas, such as gambas (sauteed prawns) and calamares (battered squid) are featured, as well as Bolero specialties.
For those wishing to eat one or two tapas followed by a full meal, a nice selection of pasta dishes (5,90 to 7,20 euros) or seafood and meat entrees (8,90 to 16,80 euros) are available. Especially good is the Spanish rumpsteak, a thin, lean cut of beef over mixed vegetables.
Due to the great food and communal atmosphere tapas-style eating provides, Bolero is frequently busy. Reservations, especially on weekend evenings and for the great Sunday brunch (11,80 euros), are strongly encouraged. Early diners can take advantage of the daily Happy Hour from 5 to 7:30 p.m.
Parking may also prove tricky, as there isn't any in front of the restaurant. But the Geyersworth Parking Garage is just a block away and can be seen from Bolero's front door.
Bolero has nice outdoor space, but since it is not alfresco season, it also has plenty of room inside. English menus and a very friendly and helpful wait staff make dining both easy and enjoyable. Plus the tapas are really, really good.
To see previous After Hours reviews, go to: stripes.com/afterhours
Bolero, Bamberg, Germany
Operating Hours: Opens weekdays at 5 p.m., Saturdays at 11 a.m. and Sundays and holidays at 10 a.m.
Drinks: Beer, wine, spirits and a full espresso menu. Daily Happy Hour from 5 to 7:30 p.m.
Prices: All tapas are 2,95 euros. Entrees from about 6 to 17 euros.
Clientele: Runs the gamut.
English menus: Yes, and many of the staff speak great English.
Specialties: Spanish cuisine featuring "tapas." A great Sunday brunch is 11,80 euros.
Dress: Casual
Directions: Address is Judenstr, 7, 96049 Bamberg. From the main gate on Warner Barracks (gate 3), go straight out on Zollnerstrasse and follow it until it ends. Go left toward the Bahnhof and right at the light on to Luitpoldstrasse. Follow the priority road through several lights until it bears right twice. When the road bears left, Bolero's bright yellow sign is straight ahead. There isn't any parking at the establishment, but the Geyersworth Parking Garage is a block away.
Telephone: 0951-5090290
Web site: www.bolero-bamberg.de