After hours: Baker Bounce in Tokyo
by
Hana Kusumoto
April 25, 2010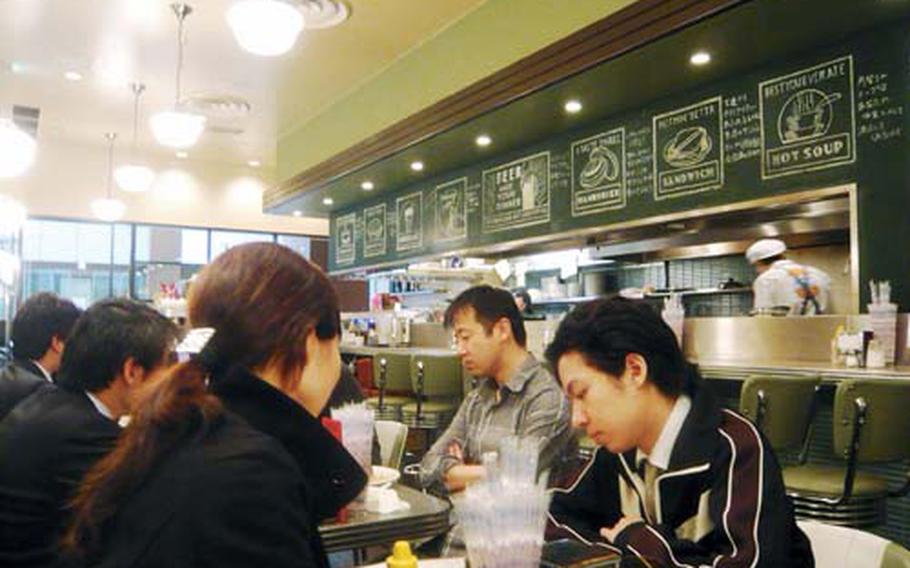 Baker Bounce is an American-style diner with Japanese prices.
It's a small restaurant with a dozen tables, and counter seats that face the kitchen. Decorated with steel-legged tables and green vinyl chairs, Baker Bounce works hard to make the feel of an American diner come through.
When you walk into Baker Bounce, the first thing you notice is the smell of burgers grilling in the kitchen. The restaurant boasts that many of its menu items, including hamburger patties and ketchup, are homemade.
Their recommended menu items are hamburger dishes, the patties for which are charcoal-grilled one by one. The burger comes with lettuce, tomato, onion and pickles. You can order extra toppings such as mushrooms, fried eggs or avocado for an additional price.
The most popular are the bacon cheeseburgers.
But the cost for hamburgers at Baker Bounce is mostly more than 1,000 yen. However, you aren't getting a small Japanese portion, and the taste of homemade patty grilled on the charcoal grill is worth the cost, especially if you get the lunchtime deal, which comes with fries, coleslaw and a drink.
Along with their burgers, Bounce's sandwiches are also worth a try. At lunchtime, they usually serve two kinds of sandwiches and wraps.
For dinner, they offer various sandwiches such as smoked salmon, avocado salad, and the steak-and-roasted-mashed-potatoes sandwich. The sandwiches are also charcoal-grilled and come with side dishes at lunchtime.
The restaurant also has other American-style menu items such as rib-eye steaks, omelets and spare ribs.
Their smoked salmon and corned beef are homemade and are definitely worth a try.
Baker Bounce
Location: 9-7-4 D-B113 Akasaka, Minato-ku, Tokyo. Located in Tokyo Midtown shopping complex's Garden Side building. Tokyo Midtown is connected to Roppongi station on the Toe Oedo and Tokyo Metro Hibiya lines.Hours: 11 a.m. to 10 p.m. Closed on New Year's Day. Lunchtime menu ends at 5:30 p.m.Specialties: Hamburgers and sandwichesPrice: Plain burger lunch combo is 945 yen, bacon cheeseburger lunch combo is 1,050 yen. At dinner time, plain burger is 976 yen, BLT sandwich is 903 yen, steak-and-roasted-mashed-potato sandwich is 1,270 yen and rib-eye steak is 2,310 yen.Dress: CasualEnglish menu: YesClientele: Mostly JapanesePhone: 03-5647-8311Web site:http://www.tokyo-midtown.com/en/shops_restaurants/detail.php?id=72s