After Hours: At Bamberg pub, a combo of cultures under the Irish flag
---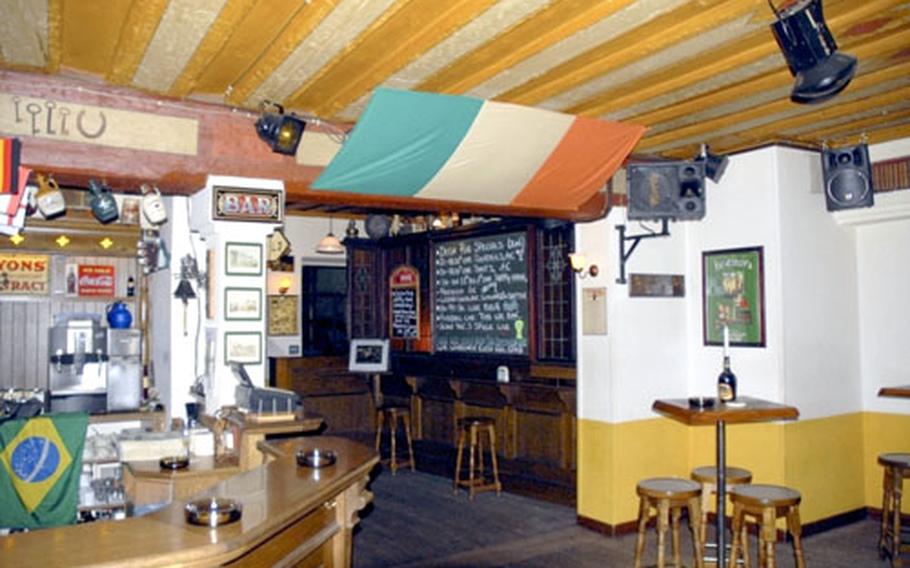 BAMBERG, Germany — It's near midnight on a World Cup Tuesday, and most everyone's gone home. France has just booted Spain, and judging from the meandering gait of the folks who recently left the bar, I'm sure some coffee will be in order come morning.
Nursing a pilsner, I sidle up to the bar to chat with Enrico, one of the bartenders at Bamberg's Emerald Isle Irish Pub. Enrico's Italian, and from what I can tell, he speaks at least five languages with varying degrees of success. Happy that one of those is English, I learn that although eight people work at the Isle, only one of them is Irish.
Perhaps that's the best way to describe this pub: A mélange of languages, backgrounds, and nationalities. That being said, it still feels a little like home. It's clean, doesn't have a too much goofy clutter on the walls, and the windows provide all the mood lighting you'll ever need (except when the late-afternoon sun was compromising the projection TV and all the Brazil vs. Ghana World Cup excitement).
Out back, the River Regnitz is moving quietly by. Out front, a sea of tables and umbrellas for hot afternoons, where the wait staff gladly ferries drinks and full menu items back and forth from the pub's portion of a small, fountain-centered plaza.
The kitchen's closed now, but the food selection was very good, if mildly artery-clogging. I tried the Irish Stew, and felt it was well worth my 6.50 euros. Drinks? Draft beer, and lots of it. Even if you happen to order something in a bottle, you'll get it in a glass. Of course there's Guinness and Jameson's, but by no means does the selection stop there.
Having never been to Ireland, I don't really know what an authentic Irish Pub is supposed to look like. I guess I was expecting a cross between the set of "The Quiet Man," the 1952 John Wayne movie about a disgraced American boxer who retires to Ireland, and some knock-off chain restaurant in the States. I was much happier with what I found here. Lots of wood, lots of brass, lots of beer.
As always, if you drink, do so responsibly. Don't drink and drive.
Emerald Isle Irish Pub
Bamberg, Germany
Location: Obstmarkt 1, Bamberg. Just off Lange Strasse, a block away from the river and between the two stone bridges of Old Town Hall.
Drinks: Standard draft, 2.50 to 4 euros. Dollar shot nite Thursdays, 4 euros cocktails Tuesdays (6 euros normally).
Food: At least seven steps above what could be normally categorized as "bar food." Shepherd's Pie and Irish Stew are under 7 euros; a triple cheeseburger just slightly more. There's also a tempting selection of rumpsteaks with colorful names like "Paddy's" or "Green Island," which will set you back about 12-16 euros.
Clientele: Runs the gamut, and it will most likely be a pleasant surprise.
Perks: There's a pool table behind the bar if that's your thing, otherwise live music on the weekend when the World Cup's not in town.
Phone number: 0951/201015
Hours: 11 a.m. - 1 a.m. daily, closes at 2 a.m. Saturdays.
---
---
---
---