After Hours: Antica Trattoria Moreieta near Vicenza specializes in truffles
by
Nancy Montgomery
December 18, 2013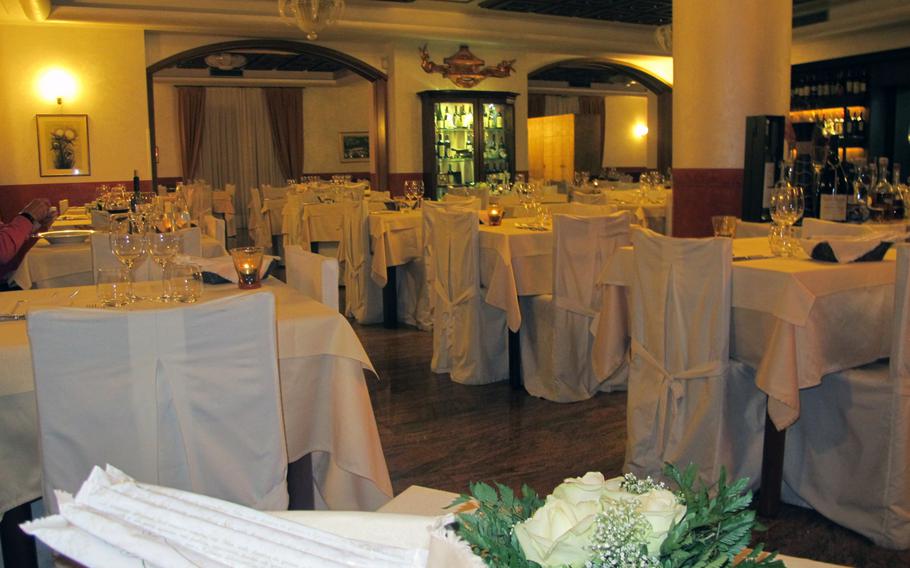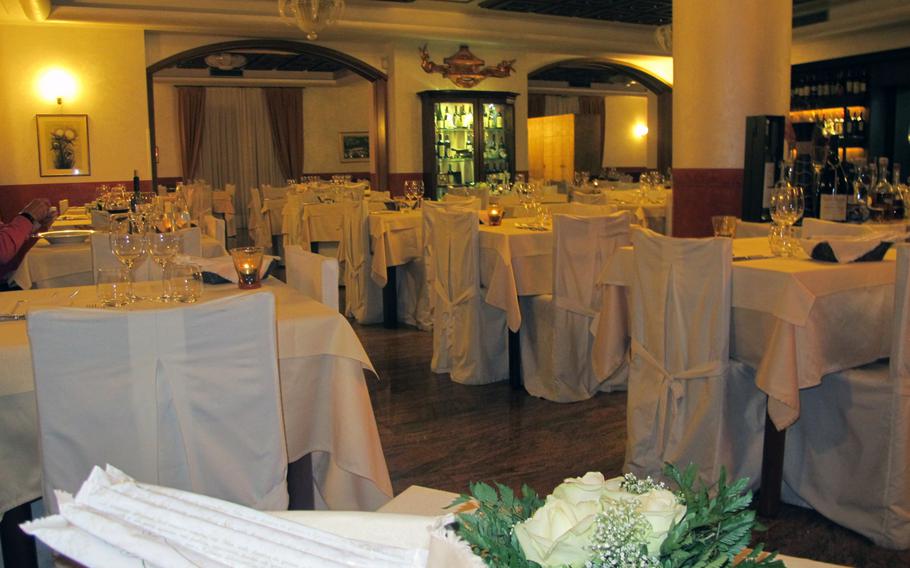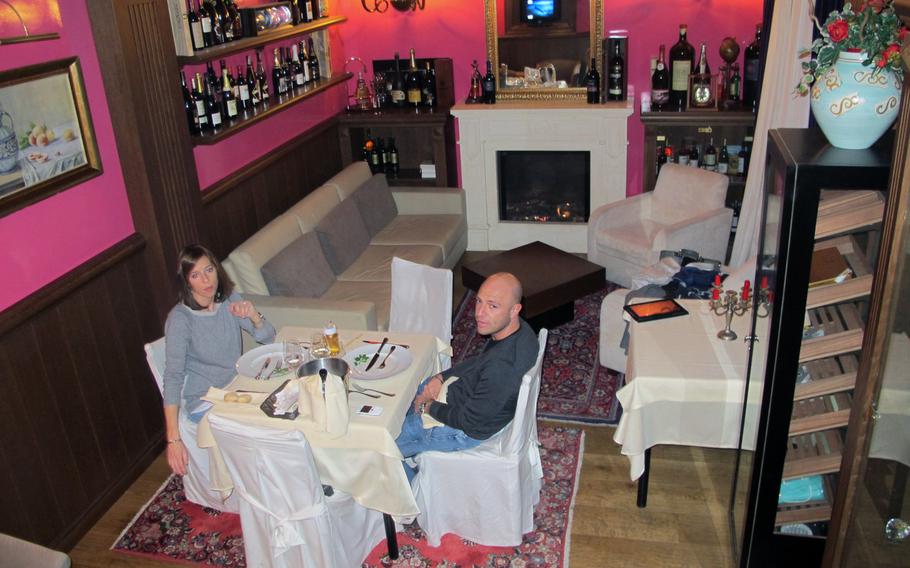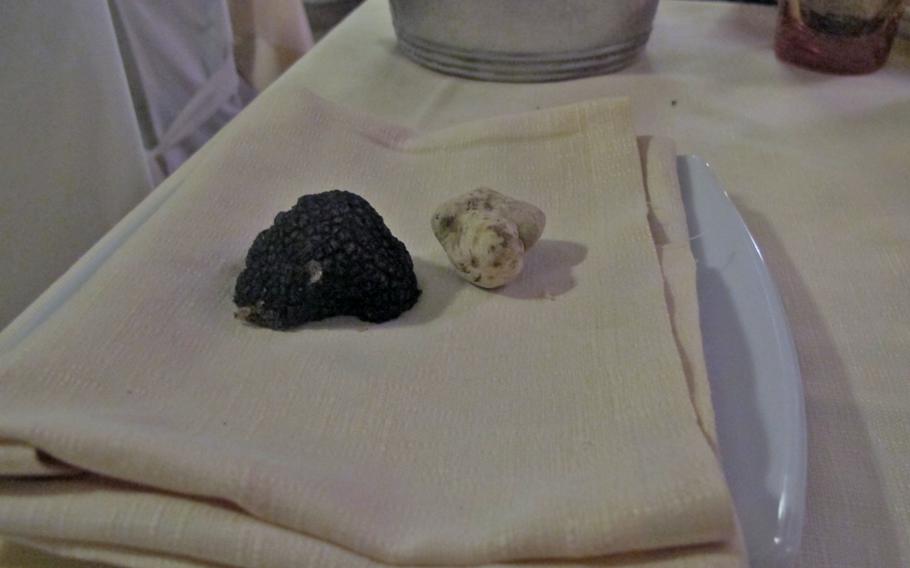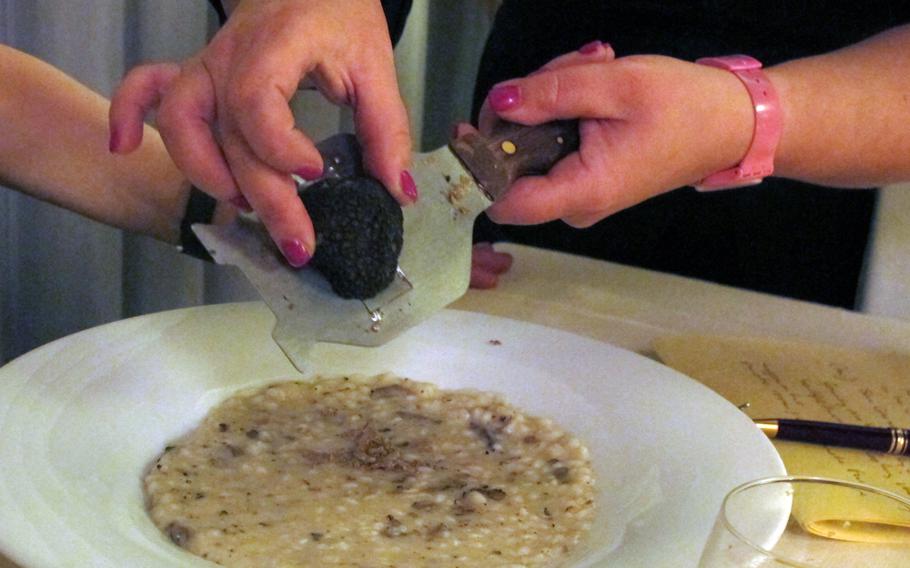 My real estate agent, Stefania, is Italian, with all the traits the stereotype implies: She's gorgeous (she resembles Isabella Rossellini), well-dressed and an expert on wine and food.
So when she agreed to choose a restaurant near Vicenza for my assigned "After Hours," I knew it would be good. Beyond that, all was mystery.
She picked me up on a Sunday evening, and as we wound our way up the Berici Hills above Vicenza in her 325-horsepower, turbocharged Volvo SW V60, she told me we were going to a formerly rustic, now more elegant, restaurant owned for generations by the same family. That sounded nice.
Then she told me the restaurant was known for its black-truffle risotto. Truffles! I love truffles. I'd had my first truffle dish about a decade earlier and had instantly become enamored. How, I wondered, could mushrooms that grow underground and smell so strong taste so good?
After we arrived at Antica Trattoria Moreieta, about eight miles and 25 minutes from downtown Vicenza, in Arcugnano, Stefania showed me the restaurant's spacious terrace. It's amazing in summer, she said, with a panoramic view of the valley. But it was dark and chilly, so we went inside, past a Christmas tree and a large fireplace glowing with burning logs.
It was only 8 p.m., too early for most Italian diners, so we had our choice of tables in the creamy main dining room. A single gentleman dining to our left chatted with us, saying he came to eat, then play cards with the family. Then he presented us both with boxed key chains.
We decided on an all-truffle menu, planning to get appetizers
and as our first and only course, the black truffle risotto. But then we learned that they also had white truffles.
White truffles! They are known as the "Pearl of Alba" and the jewel of Italian gastronomy. We'd been discussing them in the car. They grow only in a few areas in Europe, with the best from northern Italy's Piedmont region, and are found only in autumn by specially trained pigs or dogs.
We had discussed how they tasted — complex yet delicate — and their unique aroma: "a combination of newly plowed soil, fall rain, burrowing earthworms and the pungent memory of lost youth and old love affairs," as food writer Josh Ozersky put it in Time magazine.
As such, the little fungi are expensive, mind-bogglingly so. They sell for as much as $3,000 a pound. In the United States, restaurants charge $65, $85 and $150 for one plate of pasta with white truffle shaved on top!
We added a pasta with white truffle — one order to share.
Stefania selected a bottle of white wine from a huge list — some 200 wines, none more than 35 euros a bottle — and we began a meal that was magical and satisfying. Incidentally, it was the most carbohydrate-rich meal I've probably ever eaten: toast with mushrooms and black truffle, pasta with white truffle and risotto with black truffle.
No meat at all, although the meat dishes at Trattoria Moreieta are said to be exceptional as well by people who wrote about it on the website Trip Advisor, where the restaurant is rated the best of 23 restaurants in Arcugnano.
Most everyone who posts to that sight mentions the warmth and friendliness of the restaurant's owners, the Costa family, and we experienced that as well.
We had no idea what the charge would be for the pasta with white truffle. But we were shocked — shocked — when we got the bill: a mere 18 euros (about $25).
We should have ordered two plates.
montgomery.nancy@stripes.com
Antica Trattoria Moreieta,
Address: Via Soghe 35, 36057 Arcugnano Vicenza, Italy
Hours: Daily, noon to 3 p.m. and 7:30-10 p.m. Closed Tuesdays.
Food: Regional Italian, specializing in black truffles. English menus are available.
Prices: There are 10 appetizers and all cost 7 euros. First courses, nearly all pastas, cost between 8.50 euros and 10 euros. Second courses — fish, game, veal and English roast beef — are about 12 euros. Desserts cost about 5 euros.
Information: Phone: (+39) (0)444 273082; website: moreieta.com.
Photos by Nancy Montgomery/Stars and Stripes
Server Marianna Gasparini, a longtime employee of Antica Trattoria Moreieta, shaves a black truffle over a serving of risotto.
Behold, the black truffle and the astronomically expensive white truffle, unprepossessing though they look.
A private dining room complete with fireplace at Antica Trattoria Moreieta must be reserved in advance. It's also the only room in the restaurant in which patrons may smoke.