After hours: Ahl Scheier in Morbach-Merscheid, Germany
by
Seth Robbins
December 1, 2010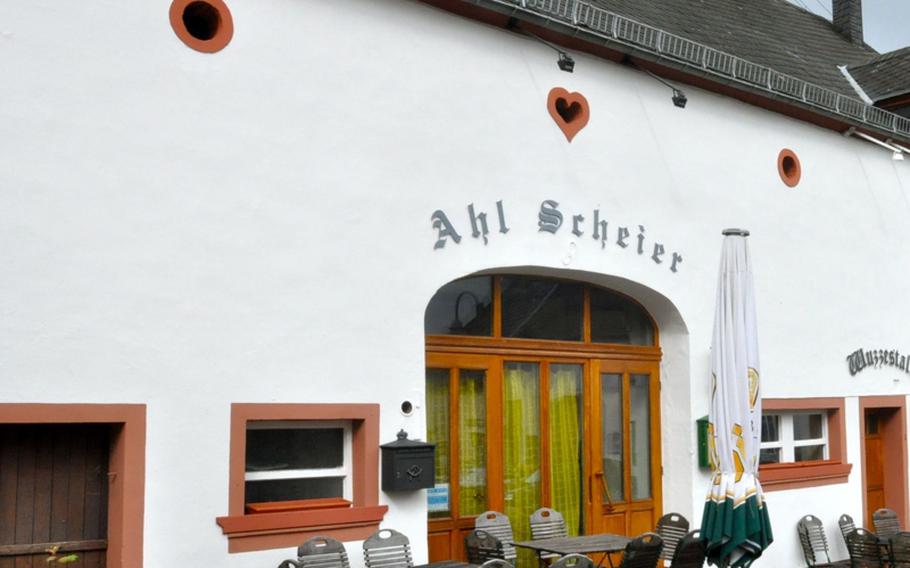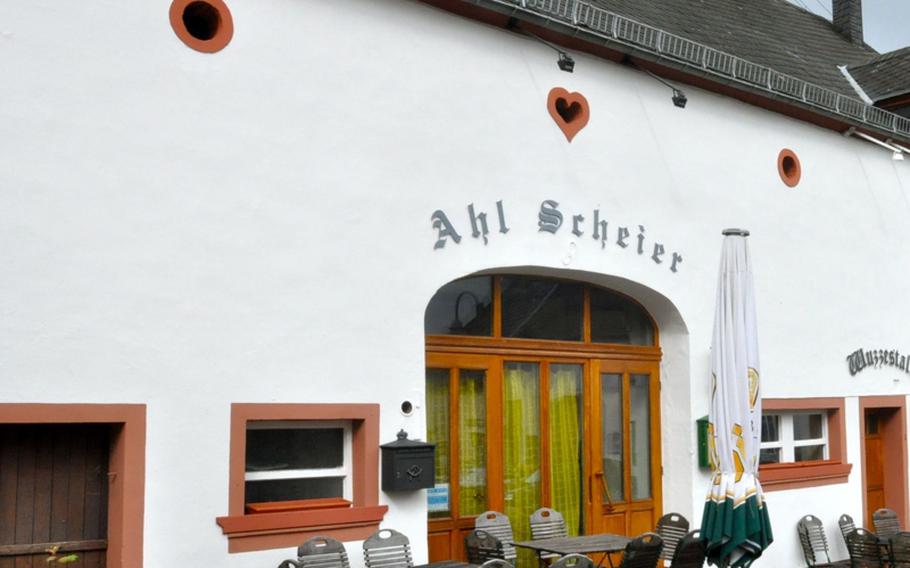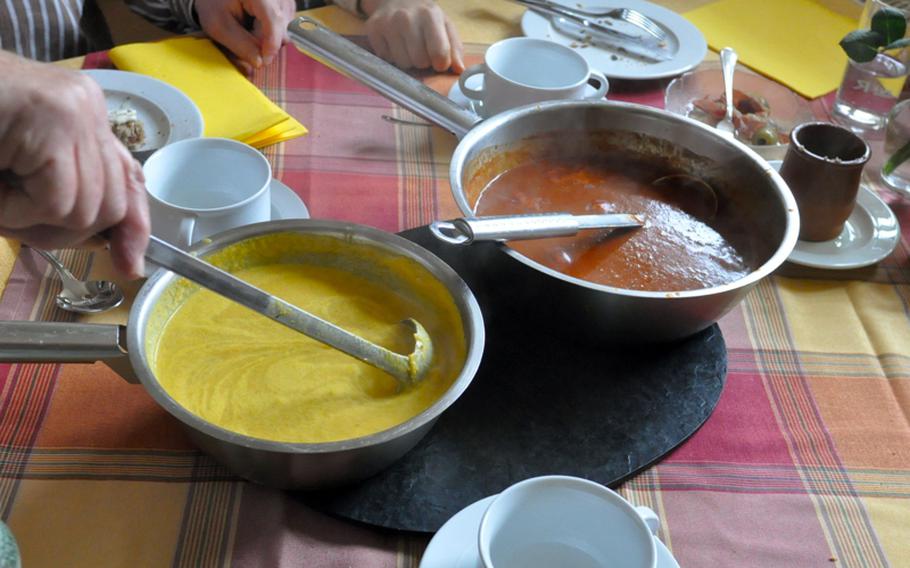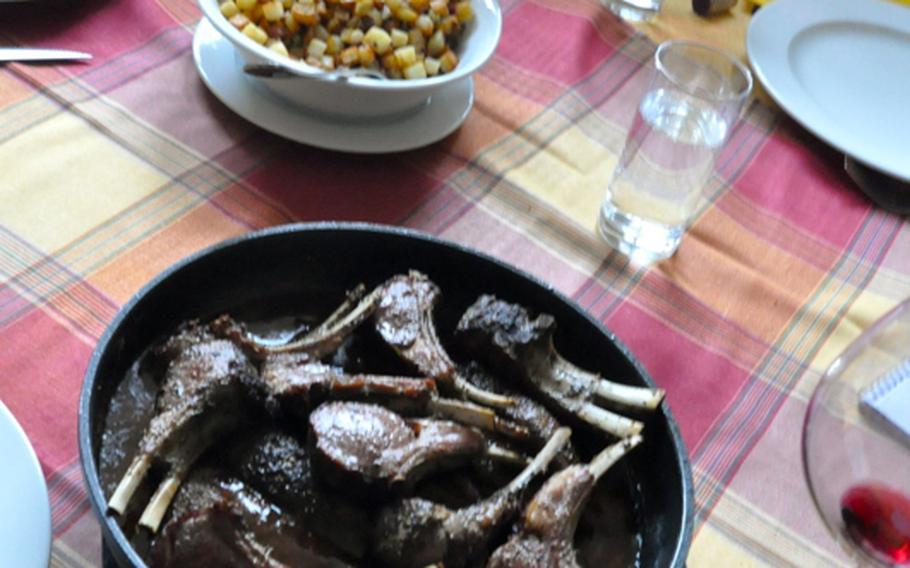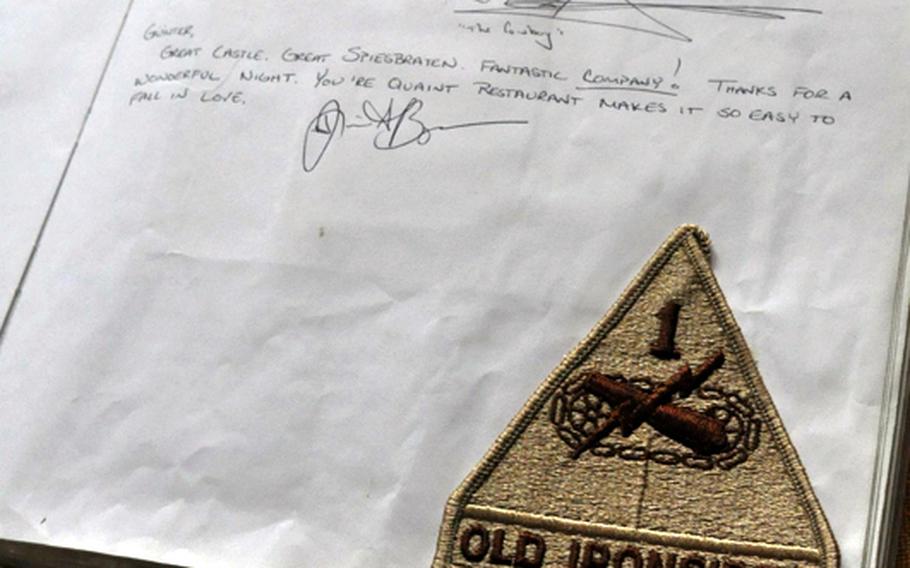 Gunther Ritter served a pot of Schmalz in a clay pot, along with a basket of freshly baked, still-warm bacon bread.
The surprisingly delicious Schmalz — pork fat mixed with duck fat and goose fat, to which Ritter adds fresh herbs, spices, and in this case, some dried apricots — starts every meal at his tiny restaurant, the Ahl Scheier, or "ol' barn," in Morbach-Merscheid, Germany.
Ritter, a large lumbering man with a gray-flecked beard, likes to show off the low-ceilinged rooms where pigs were stabled nearly a century ago. The barn is a stark change from his previous restaurant inside Idar-Oberstein's castle.
There, between 250 and 500 tourists came daily for quick meals of barbecue, potato sausage and Knödel, a pork- and spice-filled dumpling. He changed his name unofficially to Ritter, meaning "knight," deciding that it was a better fit for a castle restaurateur than his real name, Hub.
He never had a menu. There was something on the door, but "that was just for the government." At night, in Ritter's castle, he made what he felt like. Or what his guests wanted, if he felt like giving it to them.
This is still the case at Ritter's restaurant, so don't bother asking for a menu.
After serving two pots of different soups — one a delicate yellow curry, the other a spicy, bright red-orange creation — Ritter emerged with the main dish, a pan full of tender lamb chops, sautéed in a plum sauce. Along with the lamb were two family-style bowls of vegetables, home fries and sliced steamed carrots in a dill sauce. Ritter does not do nouveau cuisine. His meals are real meals.
"I go to the gourmet restaurants," he said, "and see the plate so big and in the middle, a teaspoon of food. Like something for a baby."
Not long after he opened the castle restaurant, prominent visitors began to notice Ritter's generous and inventive cooking. Germany's economic minister arrived for a taste, and then the foreign minister, and a French general. Ritter began guestbooks that he turned into thick, photograph-filled testimonies from people who came for his increasingly famous Knödel: among them a former Olympic skating medalist, a New York police chief, Miss Poland, a gospel choir, several Swissair flight attendants and a belly dancer, whose details are meticulously listed on her publicity portrait.
At the time, U.S. servicemembers from nearby Baumholder were some of his biggest and most constant customers. Many of the notes are from them. One, who signed his name only as Cowboy, wrote: "The Spiessbraten was divine … the memory of this will sustain me through long nights of sandstorms and Scud alerts."
The year was 2003, just before the start of the war in Iraq.
Soldiers no longer come to Ritter's new restaurant in Morbach-Merscheid. But if they do, he has all the ingredients for his stuffed dumplings ready and waiting for them.
Ahl ScheierLocation: Morbach-Merscheid, Germany
Directions: From Baumholder, take Kennedyallee to L169, and then turn right onto Haupstrasse/L170. Continue on that road for about 10 miles, to B269 and stay on it for 18 miles. Turn left at K99 (signs for Piesport/Horath/M.-Merscheid/M.-Rapperath) and continue onto K80, following signs for Morback-Merscheid. The restaurant is in the center of the small town in a white farmhouse with a large sign out front.
Hours: Open for lunch and dinner on Fridays, Saturdays, Sunday and German holidays. Make sure you call for reservations, and expect to stay awhile.
Food: Rustic German cuisine
Prices: A five-course meal, including wine and dessert, costs about 50 euros per person.
English-language menu: No menu at all actually, but Gunther speaks English and will make excellent recommendations.
Clientele: Mostly Germans and foodies
Dress: Casual
Phone: 06533-955779