Afghanistan deployment just a daily grind for this GI
---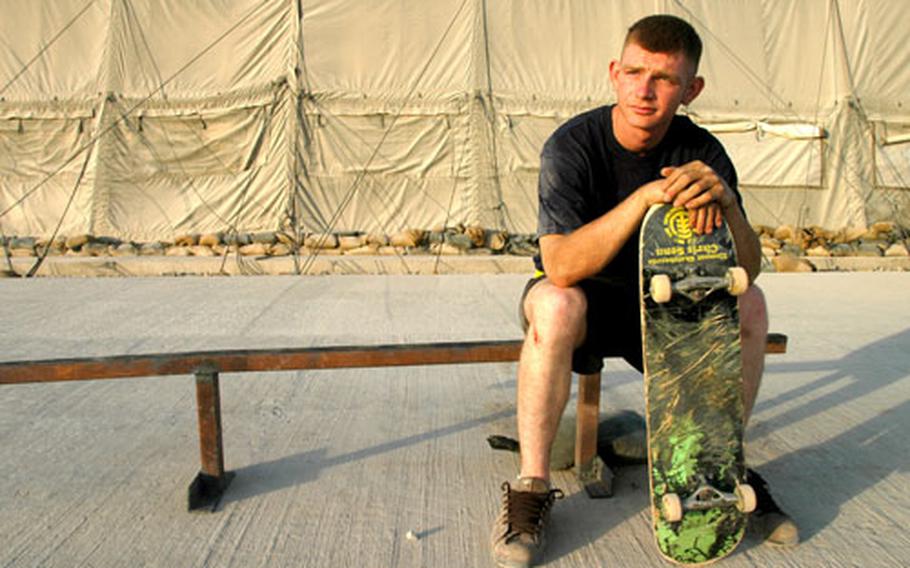 Helmet? Check.
Flak vest? Check.
M-16? Check.
Skateboard? Check.
When Spc. Lowell Passons was preparing to deploy, he was stoked about bringing his board to a combat zone to grind the rails or do some 50-50s and aciddrops.
But finding a flat surface to ride on the dusty, rock-strewn air base of Kandahar, Afghanistan is difficult. Finding anything resembling a skate park is impossible.
So Passons has commandeered a basketball court-size cement slab in the 173rd Support Battalion's motorpool to skate, spending hours doing bigspins, ollies and indygrabs.
"I try to come out two or three times a week, skating until I can't skate anymore because I'm too tired or too bloody," he said.
The 20-year-old Tulsa, Okla., native said he's been working on his mctwists and meloncollies for about six years.
"Everybody I hung out with was doing it," he said about his high school days. "I figure I'd give it a try."
Later, enlisting in the Army and being stationed in Europe gave Passons' hobby a boost.
But friend and co-worker Spc. Michael Conyers said Passons has taken his skateboarding past the hobby level.
"He's pretty darn good," he said. "Anybody who brings a skateboard to a combat zone, it's more than a hobby."
"It gives me a reason to travel and see new places," Passons said about skateboarding. He explained that Europe's cities, with their large, open squares, provide changes of skating scenery and lots of new things to try.
"It's not like it was built for skateboarding. … it just seems like it was built for it," said Conyers.
Conyers said many pro skateboarders from the U.S. come to Europe to skate its cities.
"He's pretty lucky to be able to do it with the Army," he said. "When he gets back, he can say that he skated Barcelona."
The world, it seems, is nothing more than a giant skate park for Passons.
Except, maybe, for Kandahar, which is known more for its sand dunes than its city squares.
Still, Passons knew that he'd find a place to pull out his deck.
"I knew I was going to do it," he said about planning for the deployment. "If I didn't have a place to skate, I'd build one."
But with the concrete slab in his work area, he didn't have to. So, he turned his attention to adding a little variety to his skating workouts.
Passons — a mechanic with the battalion's Headquarters and Headquarters Company — built a portable grinding bar out of scrap metal. Skaters will roll, then jump onto the bars, grinding along them for a short distance, before hopping back to the ground.
Passons soon hopes to add a small ramp to his skate park inventory.
"Nothing too big," he said. "There's not a lot of room."
Despite the relatively small space, he said, he definitely gets a workout doing tailslides, fakies and grabs.
"It keeps me in shape," he said. "It's good exercise. I find I'm in better shape than many other people out here."
And it's enough room to get his wheels rolling and take his mind elsewhere.
"It's something to do to take my mind off of everything else," he explained, sitting on the grinding bar one evening. "It takes my mind off the war and allows me to enjoy my time here."
---
---
---
---