Absurd, outrageous and fun, 'Saints Row IV' marches on
---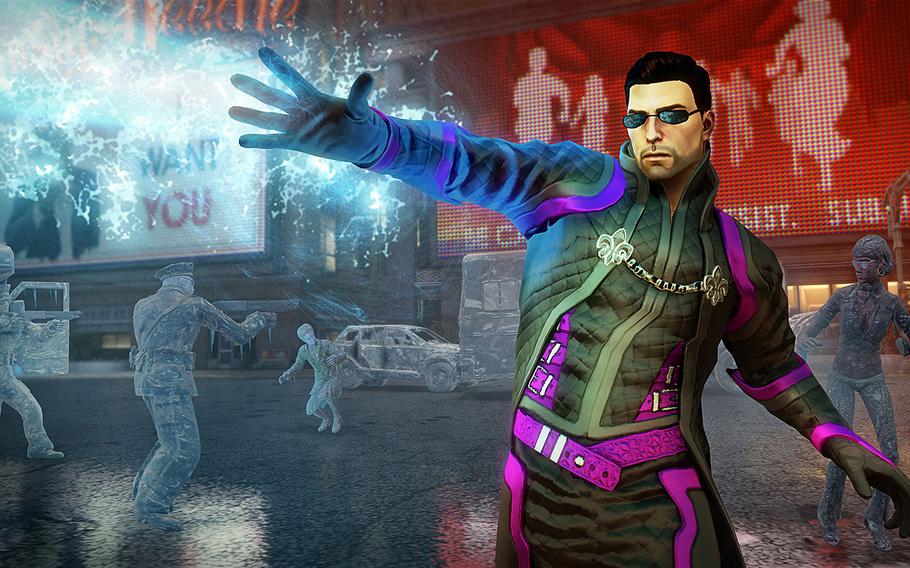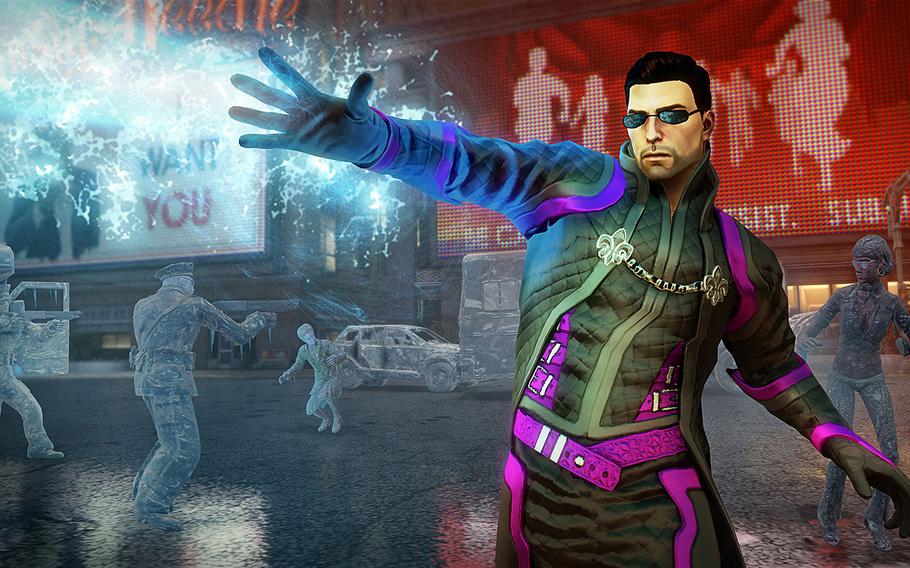 The original "Saints Row" let you play as a street thug. However, it didn't take long for gamers and Deep Silver's developers to realize that a little humor could go a long way — and a little orneriness could go even longer.
So, don't expect "Saints Row IV" to be a gritty look at crime and social ills. Expect to whip aliens with a tentacle-shaped bat while dressed as a hot dog.
Like the previous games, "IV" offers a large open city that you can explore, picking up missions and causing as much mayhem as you desire. However, instead of expanding your turf at the expense of rival gangs, you have a much more sinister opponent.
"IV" starts with a spoof of military action games. You and some special ops companions infiltrate a terrorist hideout — which you can identify by the fact that there's a door bearing a sign that says, "Authorized Terrorists Only." The action is wild and the climax is over-the-top — landing your character in the Oval Office.
Your next mission is to determine what your avatar will look like and how he or she will behave. There are extensive options for shaping your avatar's face, hair and body. You can also select from a huge range of skin colors, which comes in handy if you want to look like the Hulk or Deadpool. You can also choose a voice, which also comes with its own personality and set of comments.
The character-creation system is a lot of fun to use. I have to admit that I've spent two or three hours creating avatars in the opening segment and in various shops around the city. I now have a variety of characters uploaded to the game's website and, when I feel a little bored or ornery, I'll download one of the stranger ones to terrorize my foes.
When the game resumes, you find you have become the president of the United States. And befitting a former gang-banger, the "White Crib" is filled with stripper poles and weed-smoking bureaucrats.
But it's not long before trouble erupts in the form of an alien invasion. You're captured by the Zin and hooked into a complex computer program that mimics the real world — pretty much the same idea used in "The Matrix" movies. But after a few minutes of game time, a friend on the outside contacts you and hacks the computer to give you special powers that help you fight the aliens from within the program.
You start out with the ability to run extra fast and jump extra high. But by the end of the game, you can run up the side of a building, leap into the sky and soar across the cityscape, hurl ice or fireballs and pick up cars with telekinesis and fling them at your foes. Of course, these powers set "Saints Row IV" apart from its predecessors and other crime games and move it close to adventure games like "inFamous" and "Prototype." However, they are very fun to use.
Early in the game — and also when you're visiting computer simulations that are imprisoning other people — fighting generally involves more traditional weapons. You'll have access to the standard selection of video-game firearms as well as a comparable selection of alien weapons. There are also some offbeat weapons, like the Dubstep gun, which causes people and vehicles to break into dance.
The primary missions involve breaking out of your digital prison, gathering a team and then fighting back against the Zin. These missions are varied and are usually well designed. Several missions offer flashbacks to games of the past, including '70s-style text-only interactions and '80s-style side-scrolling battles.
However, I spent only a fraction of my time playing these primary missions. Most of my time was consumed by a delightful series of side quests and challenges.
Side quests involve destroying Zin outposts, defeating waves of attackers, stealing cars and tackling a number of outrageous challenges, all of which undermine the Zin's computer programs. Most of the challenges involve using different weapons and super powers to unleash devastating attacks on the Zin and the digital drones inhabiting the computer simulation. Others are a little more unusual, like hurling yourself into traffic to see how much damage you can cause to your own body. I'm not sure which was more enjoyable. Blasting away with an alien tank can be terrific fun, but the sight of your avatar cartwheeling through the air after an encounter with a speeding truck can be quite impressive.
All of these activities generate "cache," which is the game's currency. You can spend it to upgrade your abilities or your weapons. Or you can buy new clothing or undergo plastic surgery to alter your appearance.
Anyone who played the franchise's third installment knows that clothing is a big part of your character's personality and the game's fun factor. In addition to a wide selection of pants, shirts, skirts, shoes and underwear, you can add a plethora of items inspired by science fiction, comics and video games. You can also dress as a furry panda, a hot dog or a toilet.
The control system is well designed and responds very smoothly. Even though there's a wide variety of actions mapped to the controller, it's easy to accomplish the task you intend.
The artificial intelligence isn't always the brightest. You can easily develop a routine for handling most of the different situations. However, there are so many kinds of missions, challenges and activities that things don't seem too repetitive.
The game does have some bugs. Enemies get stuck inside walls. The framerate falters. Loading screens can be frequent and somewhat long — though primarily during the few sequences that are scripted. However, they never reach a level beyond "mildly annoying."
The game definitely earns its mature rating. A lot of the "mature" content is actually pretty juvenile: coarse language, skimpy costumes, drug use, an area filled with strip clubs and such. You can adjust the size of your "endowments" — both male and female — which eventually determines how large the pixelated spot is during a scene where you fight aliens in the nude. Finally, you can hook up with virtually anyone — and anything — who joins your crew, though you don't actually see anything beyond a first kiss or other initial move. It's definitely not a game for young gamers or those who are easily offended.
Bottom line: "Saints Row IV" offers outrageous action and a fun superhero vibe. So if you have serious criminal intent, you might want to wait for "Grand Theft Auto V" to come out next month.
Platforms: Xbox 360 (tested), PlayStation 3, PC
Online: www.saintsrow.com
---
---
---
---