Abeno in London prepares Japanese pancakes at your table
---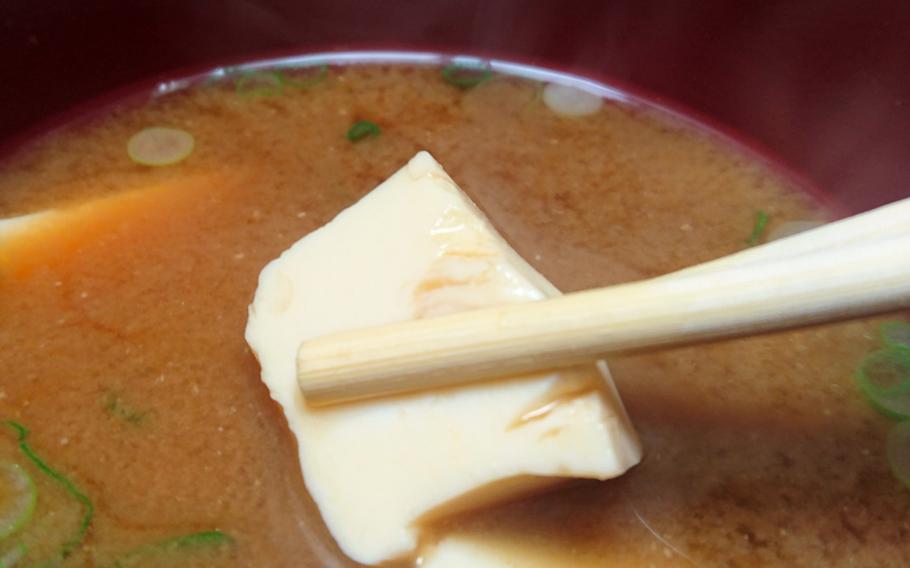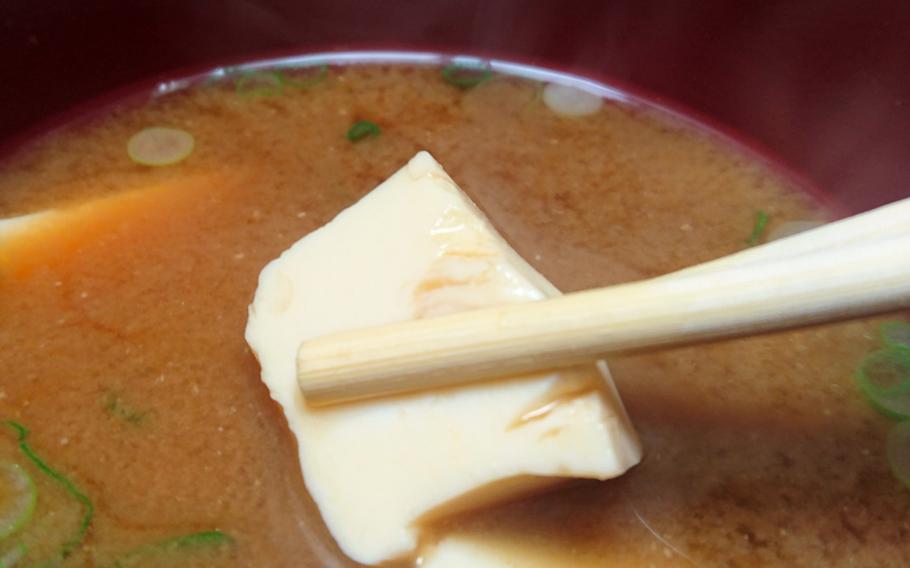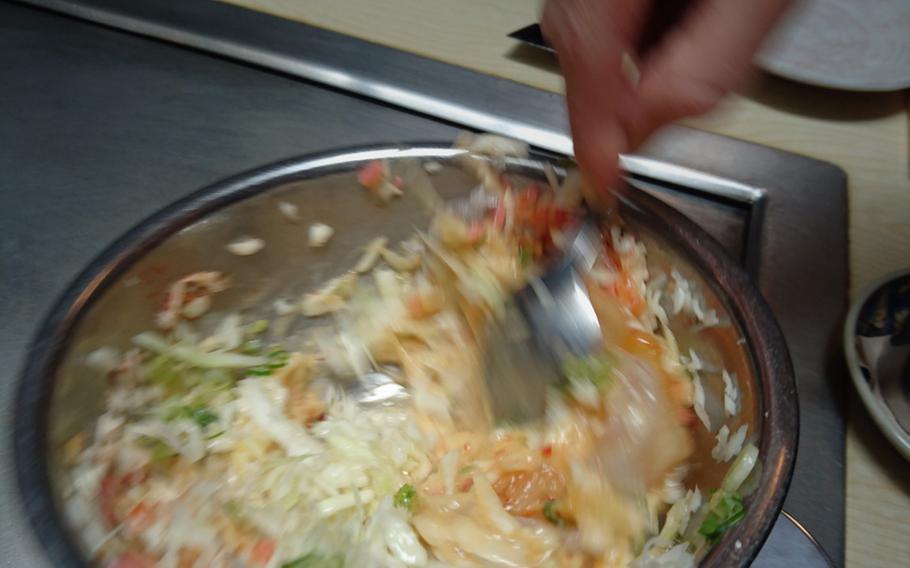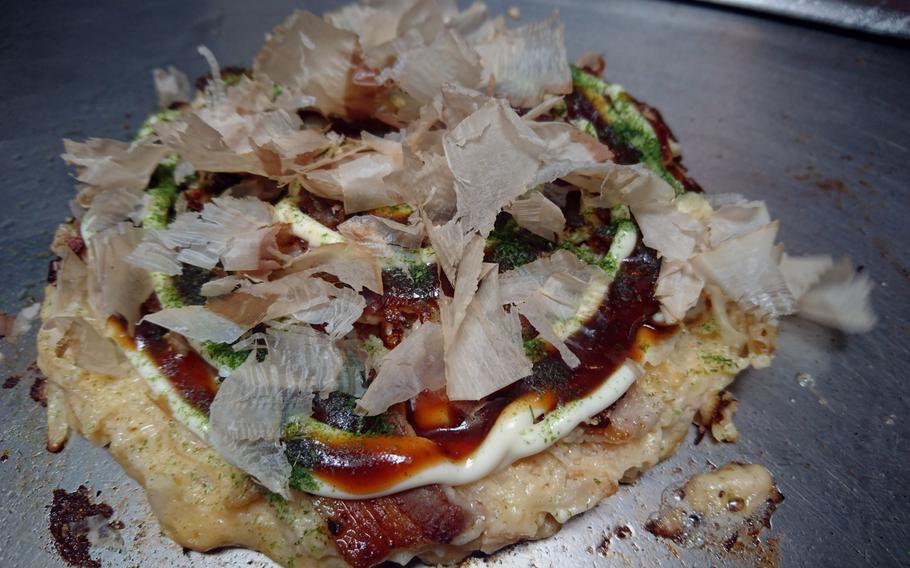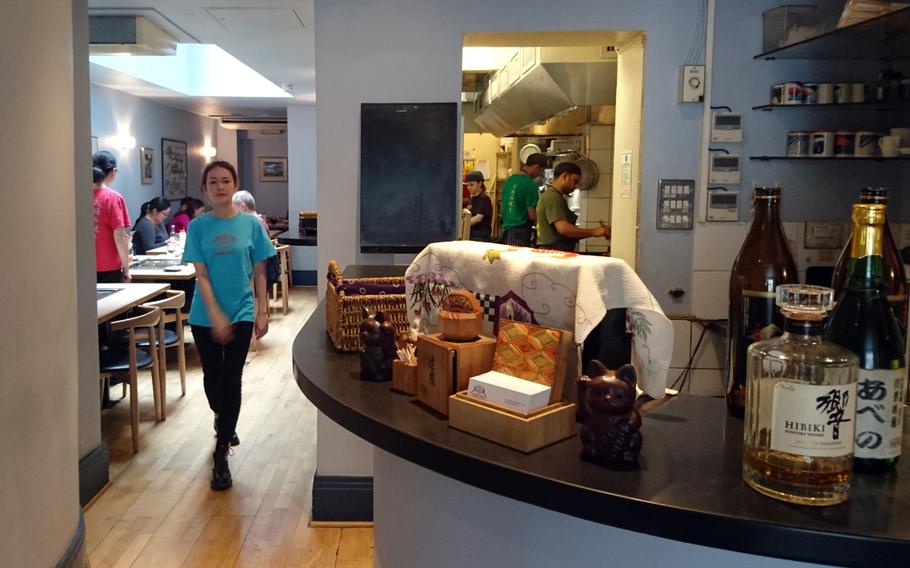 Abeno in London prepares Japanese pancakes at your table
I enjoyed my very first Japanese pancake after a long afternoon of London museum-going at Abeno, a rare European okonomiyaki restaurant.
Versions of okonomiyaki exist throughout Japan, from Hiroshima's layer of noodles underneath the batter to Tokyo's runnier variant. Abeno's savory pancakes hail from Osaka and the Kansai region, an area known among Japanese for great grilled food.
The ingredients vary as much as a Louisiana gumbo or a grandmother's vegetable soup. The meats, cheeses and vegetables thrown into the mix are generally up to the customer.
Okonomiyaki enlightenment began when my themed mix arrived to the heated cooking table in front of me.
I ordered the Osaka mix from the menu: pork, prawns and kimchi complemented a base of cabbage, egg and dough. Spring onions, pickled ginger and morsels of tempura batter accented it all.
A server mixed my order and neatly poured it onto the hot tabletop surface. He shaped the mix into a pancake as it cooked, completing the final stages of my enlightenment by flipping and decorating the okonomiyaki with a selection of recommendations.
A brown sauce and Japanese-style mayonnaise contributed to the pancake's savory appeal while adding sweetness. Dried, thin bonito flakes appeared to dance as the steam rose from the pancake.
The whole process — from cooking on the table in front of me to slicing the okonomiyaki into wedges for consumption — was unlike any Japanese meal I've ever enjoyed.
Refueled by my first Japanese pancake, I energetically left Abeno to again brave the crowds at the nearby British Museum.
Abeno, which opened in 1993, has locations in London's Bloomsbury and Covent Garden neighborhoods.
Abeno Location: 47 Museum Street, London. The restaurant is a block away from the entrance to the British Museum nearest to the London Underground Holborn station.
Hours: Noon to 10 p.m. daily.
Dress: Casual to semiformal.
Prices: There's a party menu for guests of four or more that ranges from 25 to 40 pounds ($32.16 to $51.45). The lunch menu includes okonomiyaki, omu-soba, yakisoba and curry udon meals ranging from 12.50 to 13.50 pounds. The regular menu includes tofu, natto and rice side dishes. Okonomiyaki from 9.95 to 49.95 pounds, noodle dishes from 9.75 to 13.95 pounds, teppanyaki from 7.50 to 23.50 pounds, salads from 5.50 to 7.25 pounds and desserts from 2.80 to 8.50 pounds.
Information: Phone: (+44) (0) 20 7405 3211, email: okonomi@abeno.co.uk, website: www.abeno.co.uk/
---
---
---
---