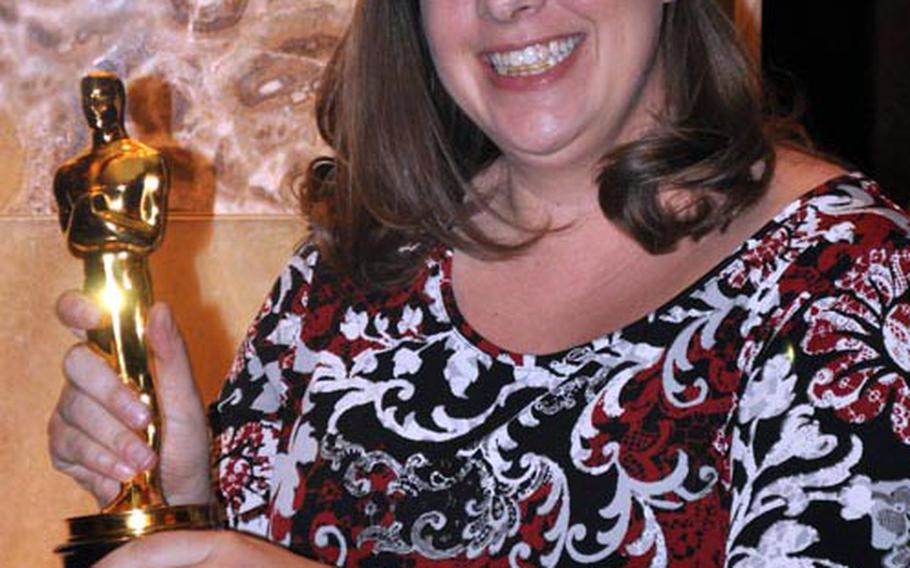 I'd like to tell you that I started planning for my recent moment with Oscar a couple days in advance. Just like a nominee, I carefully selected what I was going to wear (keeping in mind that it's cold here in the D.C. area this time of year), refreshed my makeup before leaving work, and practiced my smile in the mirror.
But I've been thinking about this moment for a long time. What would it feel like to hold an Academy Award in my hands? Would I be speechless with surprise and excitement?
An Oscar statuette is currently touring the U.S. as part of the Oscar Road Trip ahead of the Academy Awards on Feb. 24. His first stop was New York and his last will be Hollywood. In between, the statuette will be in lots of major cities. In the D.C area he visited the White House and a hotel in Arlington, Va., which is where we met.
Oscar came into the room on a silver platter, carried by a man in a tuxedo. Oscar was a patient statuette as the guests at the event gazed at him in awe, then were invited to take pictures with him. It was soon my turn.
The first surprise – he's heavy. I really had to give him a good lift to get him off the pedestal he was on. (An Internet search reveals he weighs 8.5 pounds. Here's more on his stats. He's very, very shiny -- and very hard to photograph for that reason. He's also taller than I thought he would be. And the expression on his face is serene and patient. As I held him, flash bulbs were going off in front of me – just as if I was backstage with the press after my win. I held him high and smiled, just the way I'd practiced in the mirror with a makeup brush.
Not exactly the moment I'd imagined – the stars of Hollywood weren't in the audience before me, applauding my win; Seth MacFarlane wasn't around to kiss; and no speech was really necessary – but it still felt pretty awesome to hold that gold statuette in my hands and smile.
You can follow along with his cross-country adventure here. And you can follow me on twitter at @dorogaya26 and the trip @OscarRoadtrip and on Facebook. And look for our coverage in the Feb. 22 paper and again after the show on Feb. 24.
---
---
---
---