Lawmakers, advocates urge help for servicemembers sickened by burn pits
by
Claudia Grisales
April 30, 2019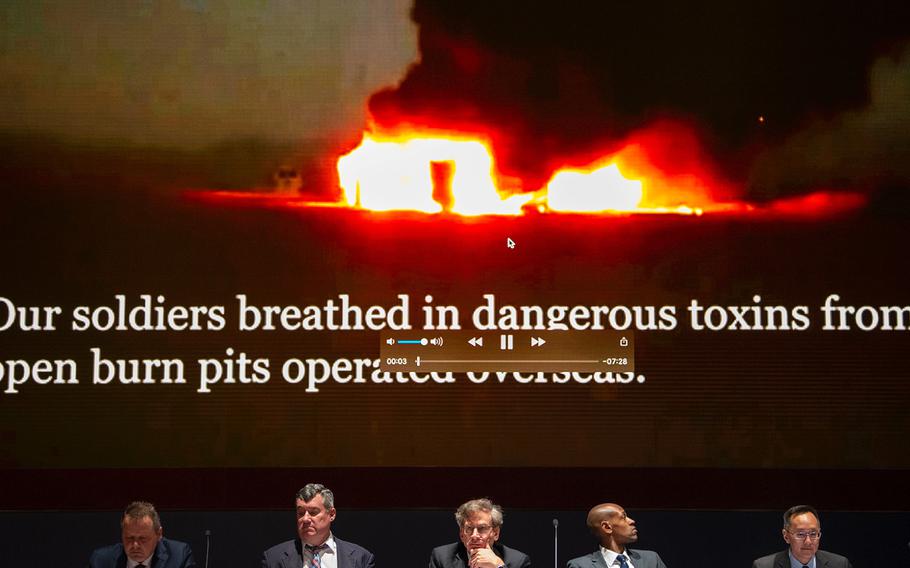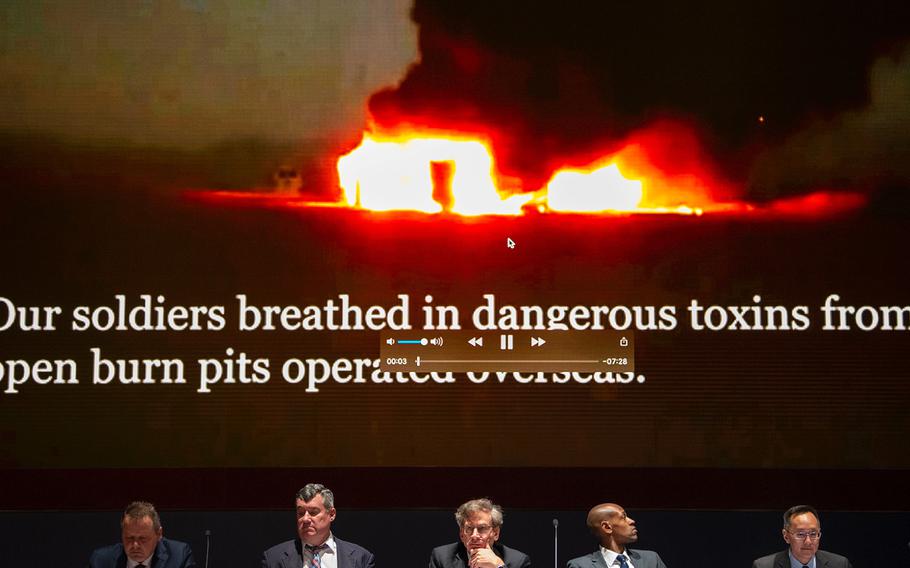 WASHINGTON – Lawmakers and military advocates on Tuesday urged new action to support servicemembers exposed to toxic burn pits that have been linked to a long list of serious illnesses.
Today, a registry of servicemembers exposed to burn pits now totals 173,000.
And there could be many thousands more, some experts and lawmakers contend.
"We need to take care of our veterans, we need to provide the health care that they need and the benefits that they earned," Rep. Raul Ruiz, D-Calif., told an audience gathered Tuesday on Capitol Hill for a briefing on the issue. "We need to act now."
Ruiz joined Sen. Tom Udall, D-N.M., Rep. Joaquin Castro, D-Texas, Rep. Tulsi Gabbard, D-Hawaii and a panel of advocates and experts urging new actions on a package of legislative efforts regarding burn pits.
Burn pits exposed deployed servicemembers to dangerous chemicals and fumes that have been linked to a series of deadly illnesses, experts have said.
Hundreds of open pits have been used at U.S. military bases in Iraq and Afghanistan to burn trash, human waste, petroleum, rubber and other debris and released hazardous smoke into the air. Some troops exposed to smoke from burn pits have attributed medical conditions, such as respiratory issues and cancer, to the toxic fumes.
But much work remains for government officials to make that connection, lawmakers and advocates said.
"It doesn't take a genius to understand there is an association between this toxic smoke and somebody's ill health," said Ruiz, an emergency room physician. "We ban the use of burn pits in the United States of America because it could cause health effects including cancer. Then why are we allowing American soldiers being exposed to burn pits in other counties when our government and our military are doing the burning?"
In February, Castro conducted a series of town hall meetings in Texas to urge action on pending legislation in the lower chamber on burn pits. Castro said Tuesday that servicemembers were exposed for days, weeks and months to burn pits, which total more than 200 so far during the wars in Afghanistan and Iraq.
"We can't afford to cast a blind eye to the level of exposure and the number of servicemen and women who were impacted," he said.
Castro has sponsored two bills to expand the tracking and evaluation of veterans and servicemembers who spent time living or working near burn pits while deployed overseas.
The first, the Family Member Access to Burn Pits Registry Act of 2019, or H.R. 1001, would expand the Airborne Hazards and Open Burn Pit Registry to allow family members of veterans to register their loved ones who might be too sick to do so or have died.
Created in 2014, the registry is managed by the Department of Veterans Affairs and is open to veterans of Operation Enduring Freedom, Operation Iraqi Freedom, Operation New Dawn, veterans who served in Djibouti, Africa on or after Sept. 11, 2001, Operations Desert Shield or Desert Storm veterans and others who served in the Southwest Asia theater of operations on or after Aug. 2, 1990.
The second bill, the Burn Pits Veterans Revision Act of 2019, or H.R. 1005, would create a diagnostic code and evaluation criteria for obliterative bronchiolitis, a medical condition often linked to burn pits. The law would also create a disability rating for the illness.
Udall said the VA contends it still needs additional documentation to link burn pit exposure to illnesses to approve service-connected disability benefits for servicemembers. That is a next big step that must be reached, he said.
"We've made progress but our work is far from over. Our goal is to recognize burn pit exposure as a 'presumptive service connection,'" Udall said. "We won't rest until we get this done."
In February, Sen. Sherrod Brown, D-Ohio, also renewed calls for burn pits legislation and a congressional hearing to address the health concerns of servicemembers and veterans exposed to burn pits while deployed in Afghanistan and Iraq.
The Burn Pit Accountability Act, S. 191, sponsored by Sen. Amy Klobuchar, D-Minn., who is also a presidential candidate, was introduced Jan. 17 and co-sponsored by a bipartisan group of 31 senators including Brown.
The legislation requires the Defense Department evaluate servicemembers for the toxic exposure during routine medical exams and directs more data collection.
Brown, a member of the Senate Committee on Veterans' Affairs, has said Congress needs to hear directly from servicemembers and veterans who have suffered serious health problems related to the open-air burn pits used to dispose of toxic waste.
Ruiz on Tuesday urged more impacted servicemembers to contact his office to share their stories.
"We're making real progress because you are making real noise," he said. "All of you please tell us your stories. You are going to see us amplifying those here in Washington D.C. until we get this fixed."
grisales.claudia@stripes.com Twitter: @cgrisales
---
---
---