Retirement of former top general at Fort Benning held up amid investigation into social media use
By
Stars and Stripes
September 23, 2022
---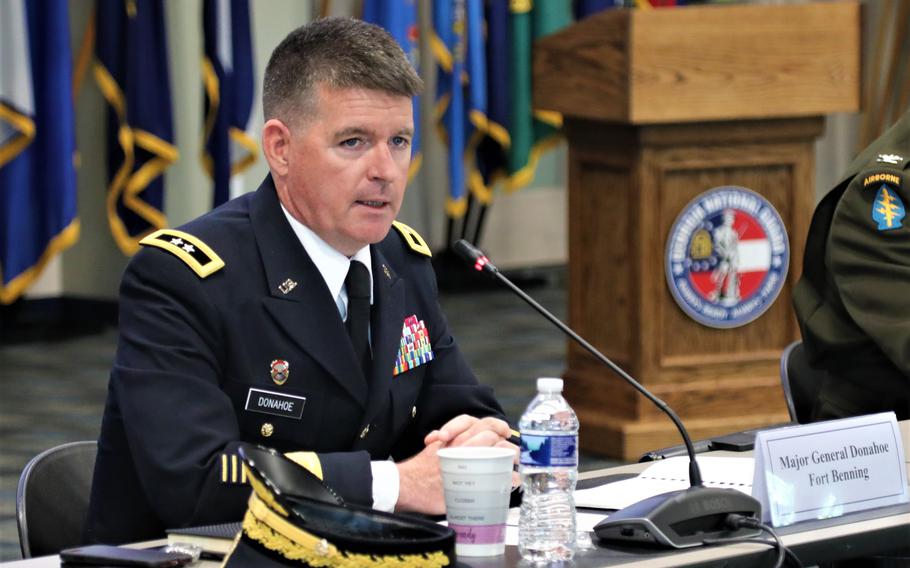 ATLANTA — The Army has delayed the retirement of a general who relinquished command of Fort Benning, Ga., and the Maneuver Center of Excellence in July as the service completes an investigation of his use of social media, service officials said this week.
Maj. Gen. Patrick Donahoe was temporarily assigned as a special assistant to U.S. Army Training and Doctrine Command's top general, Gen. Gary Britto, as the Army works to complete "administrative reviews," said Cynthia O. Smith, an Army spokeswoman. Army records show Donahoe remains assigned to Fort Benning, which falls under TRADOC's authority. Brito and TRADOC headquarters are housed at Fort Eustis, Va.
Smith declined to answer questions about the nature of the reviews involving Donahoe or what, if any, punishment the general could face once they are completed.
"As the Army's review process is ongoing, we cannot provide any additional information at this time," she said Thursday.
The probe is related to Donahoe's use of Twitter while he was the commander of the MCOE, an Army official familiar with the investigation said Friday. The official was not authorized to comment publicly about the investigation and spoke on condition of anonymity.
Donahoe regularly communicated via Twitter as the MCOE commander and amassed a following of some 23,000 users. But Army officials opened an investigation into his use of the social media platform sometime last year after Donahoe — along with other top Army officials — clashed with Fox News hosts about the popular internet network, the official said.
Donahoe first clashed with the conservative-leaning Fox News in March 2021 when he called out Tucker Carlson on Twitter after the television host aired a segment criticizing Pentagon leaders for taking new steps aimed at recruiting and retaining more female troops. Carlson decried the efforts, which included changes to grooming standards to allow new hairstyles for women and the introduction of a flight suit for pregnant troops, as softening the U.S. military.
"While China's military becomes more masculine as it has assembled the world's largest navy, our military needs to become as Joe Biden says more feminine, whatever feminine means anymore," Carlson said in the TV segment that characterized the efforts as a "mockery of the U.S. military."
Donahoe later responded by tweeting a video of himself reenlisting a female staff sergeant at Fort Benning and writing it was "just a reminder that @TuckerCarlson couldn't be more wrong."
The general was later targeted by Fox host Laura Ingraham, who in July 2021 aired a segment with a Marine veteran who had clashed with Donahoe on Twitter over coronavirus vaccine policy.
In that incident, Donahoe tweeted a message of "Come get your boy" to Hillsdale College in Michigan, where the veteran was a student, after the individual criticized the general's endorsement of mandating the inoculation for all service members. That tweet was later made private.
The Army official declined to estimate when the probe would be closed, comment on whether Donahoe was likely to be punished or disclose what potential repercussions the general might face.
Donahoe did not respond to a request for comment.
The general in July told local media, including WRBL news in Columbus, Ga., that he planned to retire from the service after more than 33 years in uniform and settle in Columbus, outside Fort Benning's gates. Donahoe led Fort Benning — one of the Army's premier training posts — for about two years after previously serving as the installation's chief of staff.
Donahoe was commissioned an armor officer in 1989 after graduating from Villanova University in Pennsylvania. He is a veteran of combat in Iraq and Afghanistan
---
---
---
---