Coast Guard carves out strategic niche in Africa
By
Stars and Stripes
August 30, 2022
---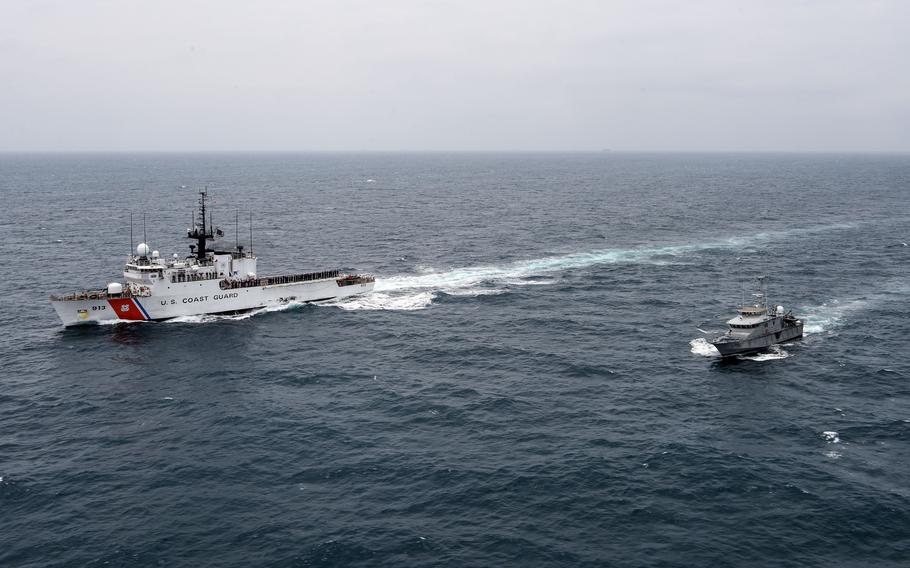 NAPLES, Italy — The Coast Guard's centuries-old mission of defending U.S. shores and enforcing the nation's laws has led to a demand for its skills abroad, including giving the service a role in America's broader goals in Africa.
Combating illegal fishing, drug trafficking, human smuggling and other crimes falls outside the primary missions of the Navy and Marine Corps.
The Coast Guard's assistance — prized by coastal African nations afflicted by criminal cartels and terror networks — helps foster relationships that counter Chinese and Russian bids for influence and resources, U.S. officials say.
"Our brand is maritime security, a rules-based economic order and helping partners protect their maritime sovereignty," said Coast Guard Cmdr. Derek Cromwell, the liaison officer to U.S. Naval Forces Europe-Africa/U.S. 6th Fleet. "And ideally, that's with us."
Earlier this month, the State Department announced a significant shift in its approach to sub-Saharan Africa. The new policy seeks to bolster U.S. favorability by addressing mutual interests, without forcing African nations to choose a U.S. partnership exclusively over other countries.
The effort comes amid a heavy challenge to American influence. For example, just 28 of the 54 U.N. member states in Africa voted in favor of a March resolution that, among other statements, condemned Russia's attack on Ukraine, according to a March 9 report by the Brookings Institution.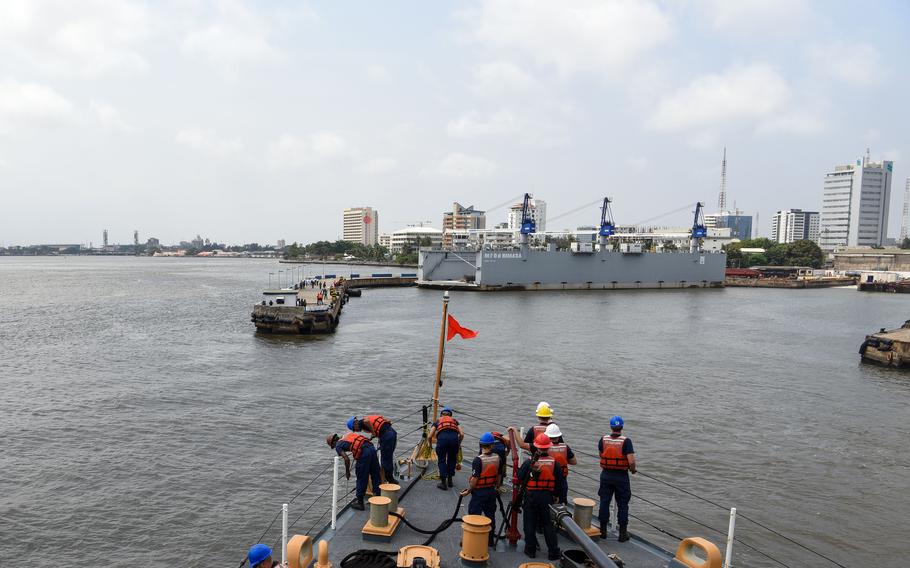 During a July visit to Egypt, Congo, Uganda and Ethiopia, Russian Foreign Minister Sergey Lavrov blamed the U.S. for grain shortages tied to the war in Ukraine. He didn't mention that Russia had imposed a naval blockade in the Black Sea preventing Ukraine grain ships from leaving port. Just days before Lavrov's visit, Russia and Ukraine reached a deal that unblocked the ports.
Many African countries, such as Kenya, Sudan, Congo, Egypt and Uganda, heavily rely on Russian wheat exports, according to a June United Nations report.
Meanwhile, China has a military base nearby the U.S. Navy's base in Djibouti and is seeking a base on the West African coast, U.S. Africa Command has said.
Beijing's expansive presence in Africa already is evident in financial support for projects such as roads, ports, power stations and railways. But China also is interested in African natural resources, such as oil, and building new export markets.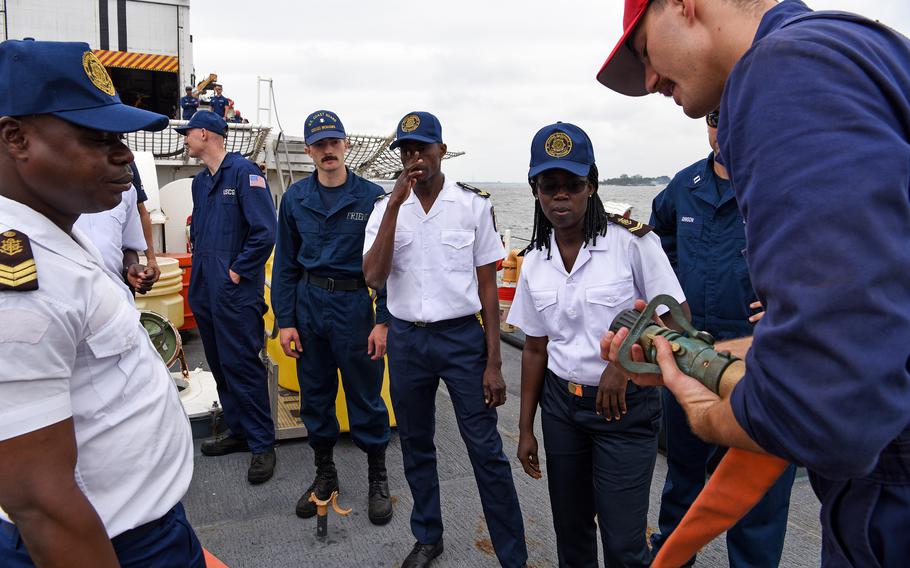 Checking those moves would require a mix of U.S. statecraft and business investment, along with security assistance that differs from some other parts of the world.
In early July, the Coast Guard cutter Mohawk arrived in Dakar, Senegal, the first stop of a deployment to the U.S. Naval Forces-Africa/U.S. 6th Fleet area of responsibility. Since then, the Mohawk mostly has sailed in the Gulf of Guinea, helping West African countries such as Senegal, Cape Verde and Sierra Leone enforce their maritime laws.
Those countries are dealing with issues of foreign fleets or criminal cartels fishing in their waters without permission, avoiding payment of taxes or duties or committing other related violations.
Illegal, unreported and unregulated fishing is a global problem but is most acute in West Africa, where it was estimated to account for $2.3 billion in losses annually, according to a 2016 study funded by the MAVA Foundation, a conservation group headquartered in Switzerland.
Lost fishery revenues not only affect national finances but also mean fewer jobs, making people vulnerable to drug cartels, terrorist groups and criminals seeking cheap labor. The resulting security problems, in waterways such as the Gulf of Guinea, have a global impact, officials say.
Through bilateral agreements, the Mohawk works alongside African officials boarding ships suspected of illegal fishing or other activities such as drug trafficking and piracy.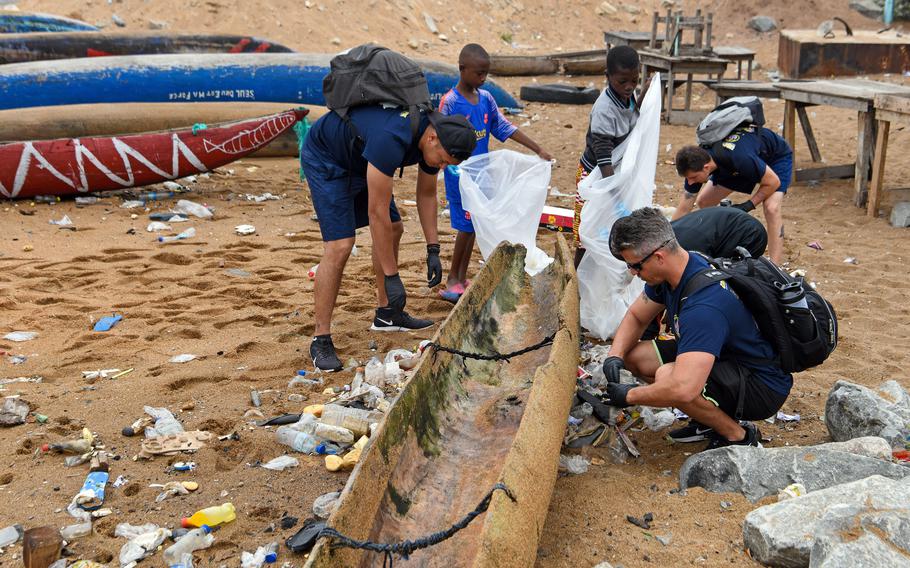 The Coast Guard not only passes along vital skills and knowledge but also extends the maritime reach and presence of African navies, Cromwell said.
For example, a Coast Guard team embarked on the USS Hershel "Woody" Williams in April and operating alongside Cape Verde law enforcement seized an estimated $350 million of cocaine from a Brazilian-flagged fishing vessel, U.S. Africa Command announced April 7.
The Mohawk also has spent considerable time making port calls in Gambia, Ghana, Nigeria and other countries to build and maintain relationships.
The presence of a smaller Coast Guard ship rather than a larger Navy vessel, such as a destroyer, is sometimes seen as less provocative, Coast Guard Rear Adm. Laura Dickey said.
African countries also may find the Coast Guard a more beneficial example by which to model their own enforcement-focused naval forces, she said.
"Looking at different facets of the competition and conflict spectrum, we may be able to provide (a presence) that lowers the temperature, provides the capabilities and serves as a force multiplier," Dickey said.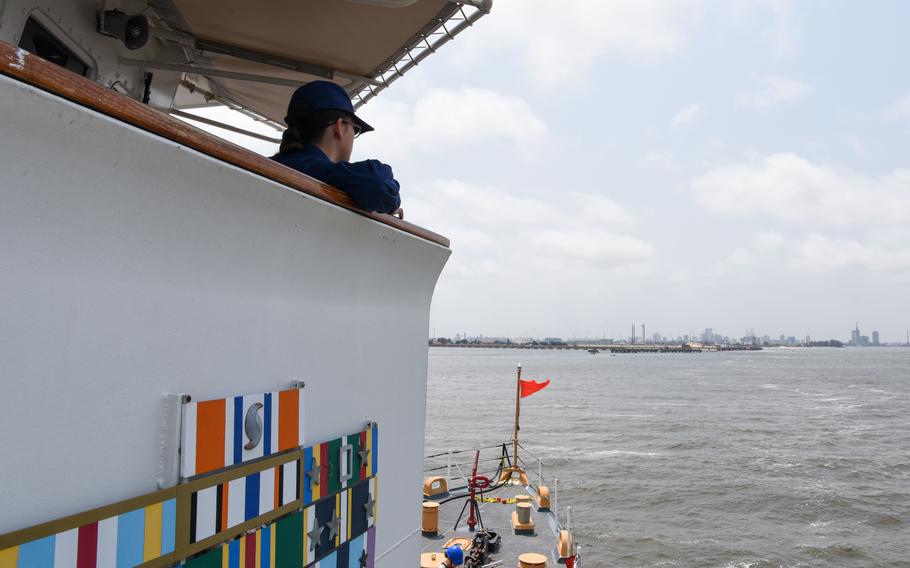 ---
---
---
---