V Corps team will represent Europe in Best Squad competition
By
Stars and Stripes
August 13, 2022
---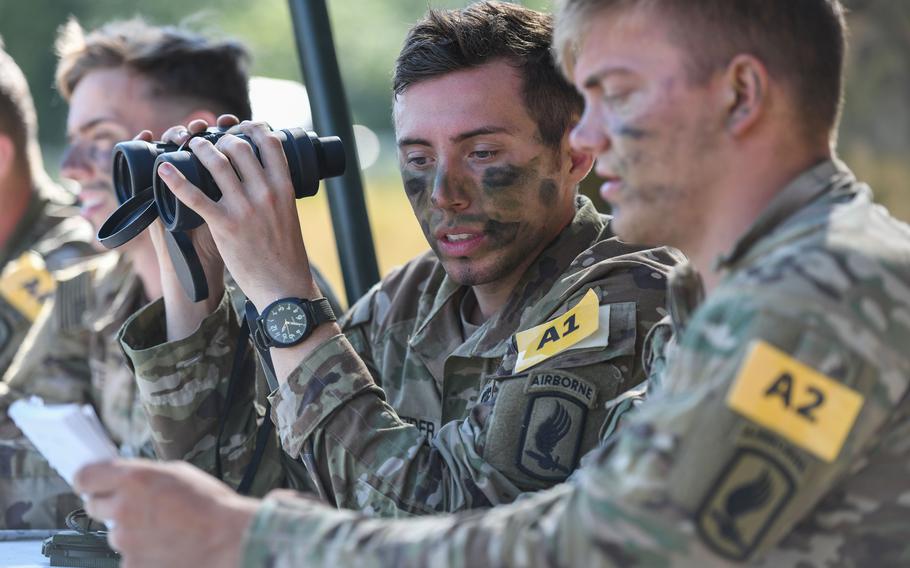 GRAFENWOEHR, Germany — The squad from "Victory Corps" lived up to its name last week, crowned as champions of the U.S. Army Europe and Africa's first Best Squad competition held on the Grafenwoehr Training Area.
Iron Troop, 3rd Squadron, 2nd Cavalry Regiment was one of eight teams from across the U.S. Army Europe and Africa's subordinate commands that underwent the grueling six-day event. Spending 72 hours out in a simulated real world operational environment, squads completed patrolling, live firing and medical scenarios.
"We started planning for this event about a year ago after the completion of the Best Warrior competition," said Master Sgt. Jacob Hurt, lead planner of the competition. "The fighting force of the army is at the squad level. Instead of recognizing individual excellence, we want to recognize squad level excellence."
Teams covered more 35 miles over the course of the competition, which replaces the annual Best Warrior event.
"There is no one thing you can be good at to win this thing, so you have to be a PT stud, you have to know your patrols, a master of your weapon all while being privy to your medical tasks," said Staff Sgt. William Powell, squad leader of 7th Army Training Command squad.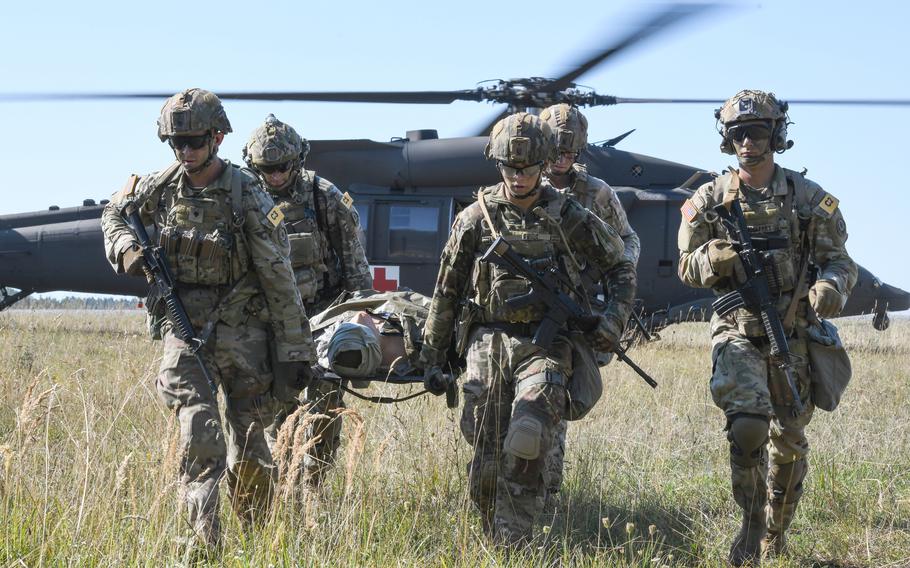 Members of each squad were tested individually on physical fitness, land navigational skills, weapons maintenance and weapon firing capabilities.
During patrol missions, squads were evaluated on tasks that would be encountered during real world environments, such as directing mortar support and reinforcing friendly positions.
The live-fire mission was designed to test a squads' ability to perform and adapt to changing scenarios with different types of weapons from machine guns to pistols. The medical and evacuation mission pushed squads to perform medical care under pressure from enemy forces.
Hurt said that in order to prepare squads for the U.S. Army level competition, events focused on maneuverability and combat scenarios. Teams featured a variety of different jobs from infantryman to a chaplain's assistant.
"It's been more mentally challenging than anything; at some point when you are doing all these different things you can know all your stuff and still hit a wall. That's when you have to keep pushing through," said Spc. Garret Headden of the V Corps squad.
Throughout the competition, squads were responsible for carrying all the necessary equipment with them and calling in resupplies for food and water. After ending each mission, squads slept in the field at various patrol bases, reporting enemy activity and observing their surroundings.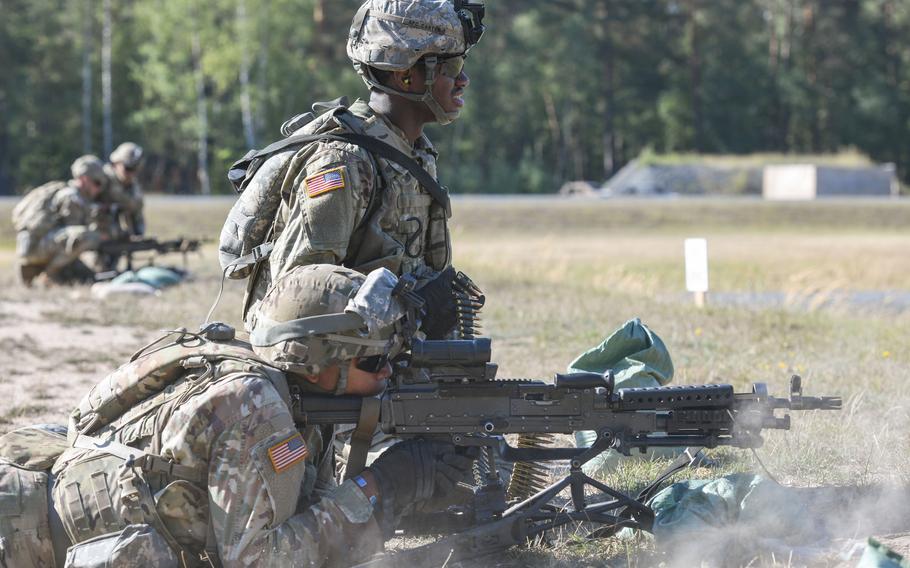 "The hardest part of the competition is keeping everyone motivated and hydrated and keeping their eyes on the prize. It was difficult to stay focused not knowing what is going to come your way next," V Corps squad leader Staff Sergeant Gregory Hudson Jr. said.
The squad now has time to prepare for the Department of the Army level competition next month at Fort Bragg.
---
---
---
---