Service members in Alaska could get extra pay and benefits under proposed legislation to combat suicide
By
Stars and Stripes
June 10, 2022
---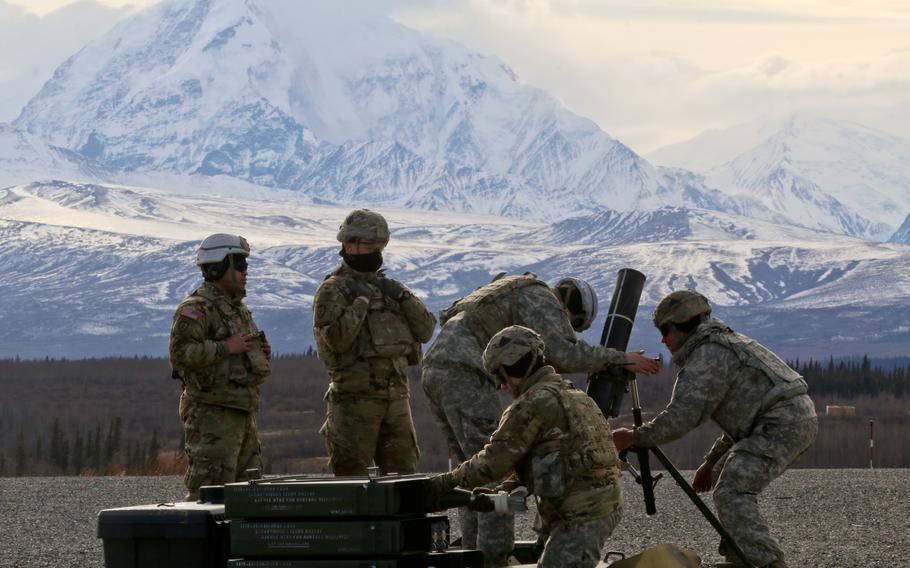 WASHINGTON — Service members stationed in Alaska could receive special pay for cold-weather operations, allowances for internet access, and travel and other benefits under legislation that lawmakers hope will reverse a worrying trend of soldier suicides.
Alaska became the epicenter of the military's suicide crisis after deaths on its remote installations doubled between 2020 and 2021, claiming at least 11 lives last year with another six under investigation. The state's senators, Republicans Dan Sullivan and Lisa Murkowski, as well as Rep. Jackie Speier, D-Calif., are pushing for Alaska-specific measures in the Pentagon's fiscal 2023 budget bill to address the distinct financial and environmental hardships faced by service members in the state.
"It's no secret that training and living in the Arctic can at times present challenges relative to other duty stations," Sullivan said in a statement. "As a Marine, I have witnessed firsthand the training and toughness required of our military in Alaska. Our legislation aims to provide better access to the resources and support Alaska's service members and their families deserve in order to thrive in our unique environment."
Several provisions aim to alleviate financial strain, which is often a contributor to suicidal ideation, in a state where the cost of living is high.
A new initiative called Arctic Pay — similar to dive pay or jump pay — would give service members who are assigned to cold-weather operations an extra $300 per month. Junior service members would receive an allowance for internet costs that can reach $180 per month as well as a travel allowance for one trip home per three-year tour, according to the legislation.
Another measure would launch a car-sharing system to combat the isolation that many service members experience due to a lack of transportation options in the sprawling and often snow-covered state. The program would allow service members who own cars to collect additional income for expensive maintenance costs, lawmakers said.
Lawmakers are also seeking to create a pilot program for the safe storage of personally owned firearms, giving service members at five military installations the option to store or lock their guns safely when not using them. Suicidal thoughts can begin and recede within seconds and removing access to deadly weapons is the most immediately effective way to prevent suicide, according to the lawmakers who cited behavioral health experts.
Beyond the unique stressors of Alaska, lawmakers are looking to drastically improve access to mental health services across the military. Wait times for appointments vary widely and can stretch into weeks or months.
Pentagon officials told senators during a hearing in April that service members with an "acute" mental health problem are seen in a clinic or hospital within 24 hours while those seeking nonemergency visits wait about 28 days. But lawmakers say soldiers in Alaska routinely wait one or two months for one-on-one treatment with a clinician and have monthly instead of weekly follow-up appointments.
"The high cost of living, extreme weather, and crushing isolation from family and friends at home is particularly challenging for soldiers in Alaska," Speier said in a statement. "Worse yet, when they need help the most they face monthslong waits before they can meet with a behavioral health clinician. This national tragedy must end."
The Navy's top enlisted leader told lawmakers last month that sailors on the precipice of suicide wait an average of five weeks for an appointment. Russell Smith, master chief petty officer of the Navy, testified before House members following a spate of suicides among sailors assigned to the USS George Washington.
Speier led the passage Wednesday of a draft of the 2023 National Defense Authorization Act that would increase the number of behavioral health providers through new training programs and financial incentives. The military needs an additional 1,000 providers to meet the need for help from service members, according to a 2022 report by the Defense Department.
The Senate Armed Services Committee, of which Sullivan is a member, will roll out its proposals for the annual funding and policy bill next week.
---
---
---
---