500 Texas troops sent home from Mexico border mission as others build fences and patrol Rio Grande in boats
By
Stars and Stripes
June 2, 2022
---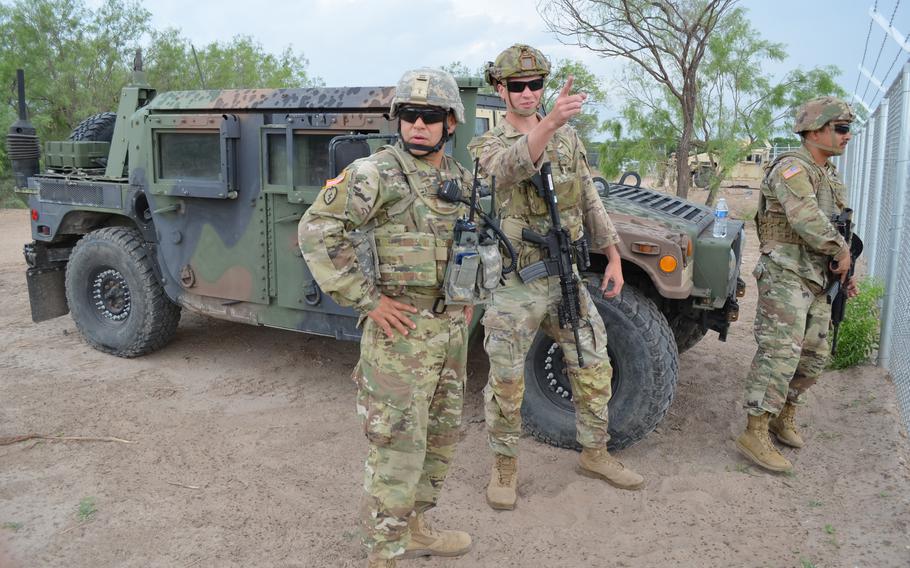 EAGLE PASS, Texas — About 500 Texas National Guard troops were sent home during the last two months from a security mission along the border with Mexico as military officials shift their strategy to stop unlawful migrant crossings by building more fencing and using boats to patrol the Rio Grande.
About 6,000 troops were still stationed along the river as of May 27 on a state-sponsored mission known as Operation Lone Star, according to the Texas Military Department. Another roughly 3,700 are assigned to the mission in other parts of the state, which has not changed.
"Following the adjutant general's detailed assessment and review of Operation Lone Star, begun just after his appointment to the position, the decision to demobilize some support personnel has been finalized," according to a statement from the department.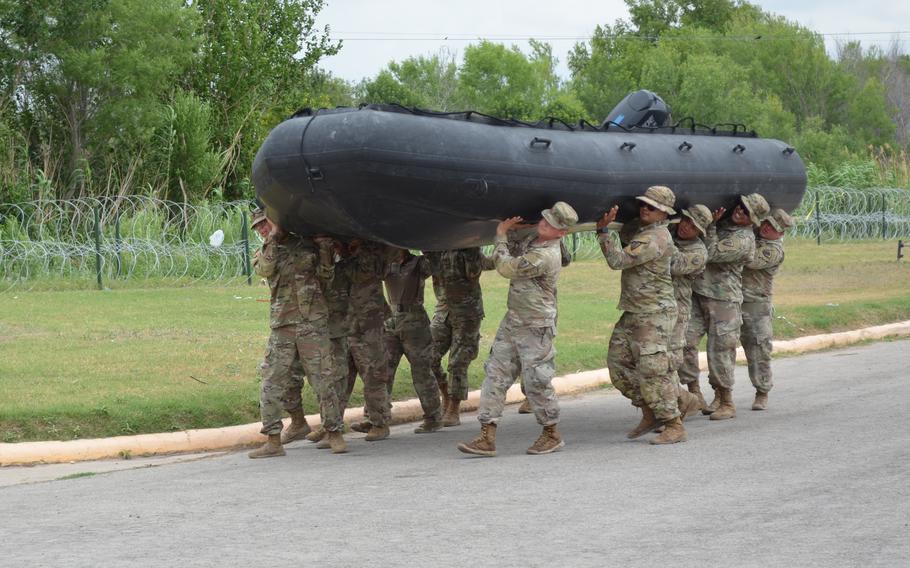 Maj. Gen. Thomas Suelzer, commander of the Texas Military Department, took over the job March 14, and told state lawmakers in April that he believed his initial assessment would find that using more boats instead of stationary observation posts would allow him to send home some troops and ease lawmakers' concerns about the expense of having so many people deployed.
The department in April spent more than $293,000 on inflatable boats, trailers and accessories, and more than $246,000 on inflatable life jackets, according to contracts posted online.
Troops added about 42 miles of barbed wire and fencing along the Rio Grande within the last two months, and trained Mexican government personnel to do the same, Suelzer said during a May 23 news conference in the city of Eagle Pass, which is on the river.
By fortifying the Mexican side of the Rio Grande, he said "they can help block crossers from getting into the water."
Capt. Mario Cervantes, an engineer and commander of the Texas National Guard's Alpha Battery of Task Force Eagle in Eagle Pass, said the coiled barbed wire is a safety element.
"It is to make sure that we deter and that we tell [people] across a river not to come this way for many reasons. It's so they'll be safe not crossing the river, because this is kind of high flow and rapid waters most of the time," he said May 23 during a tour of his area of operations.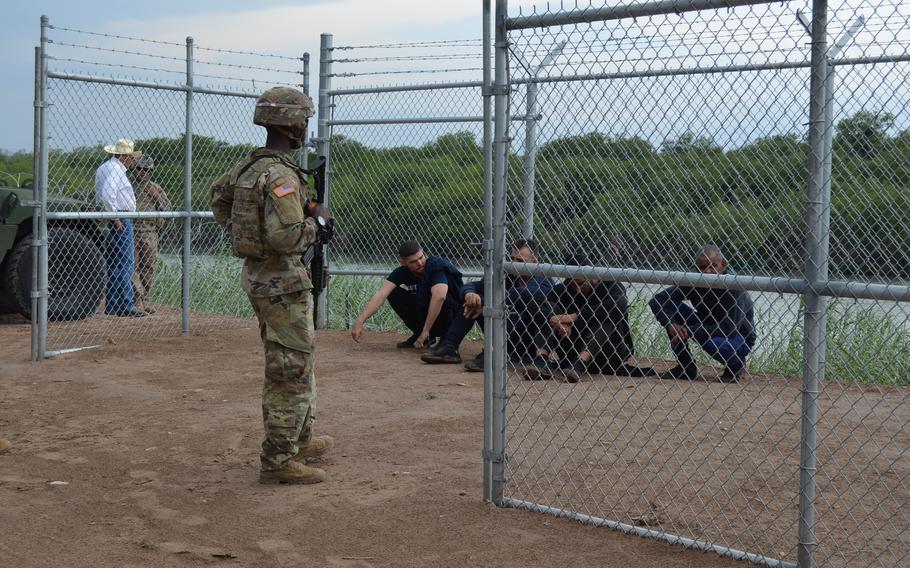 Despite those deterrents, four Cuban migrants crossed from Mexico into Alpha Battery's area of operations during the tour. Troops and state law enforcement watched as the men walked alongside the fence recently built by Texas National Guard engineers on a privately owned pecan orchard.
Once they reached an opening, the four men sat down and waited for U.S. Border Patrol agents to arrive. An armed soldier stood several feet in front of them as others continued to watch for additional activity on the river's edge.
This is how most interactions take place, but the number of crossings varies week to week and is highly dependent on the weather, Cervantes said.
Gov. Greg Abbott first deployed about 500 troops in March 2021 to deter illegal crossings from Mexico into Texas. At its peak late last year, about 10,000 troops were working on the mission and the cost ballooned to about $1.4 billion a year.
Some troops sit at observation posts along the river and report potential illegal activity back to state police or Border Patrol agents, while others build fencing and string barbed wire along the Rio Grande. A small group work on "brush teams" with state police to find drug and human smuggling activity that passed through border communities and moved further inland.
Because the mission expanded so quickly, Guard members faced poor living conditions, inconsistent paychecks and a lack of appropriate safety equipment that led some to join a state employees union. It also sparked concern from some state and federal lawmakers.
Since then, many of the base camps where soldiers live have been expanded to allow for more privacy and space, officials overcame payroll problems, and Suelzer began reorganizing the workload and structure of the mission.
Meanwhile, troops have begun employing the newly purchased boats "that can go into shallow water to help deter and keep people from crossing at low water crossings and also to interdict illicit narcotics," Suelzer said.
As the Guard changes its tactics, it also has increased prevention efforts should a service member encounter drugs, particularly fentanyl — a synthetic opioid that is dangerous in small quantities and commonly trafficked into the United States from Mexico.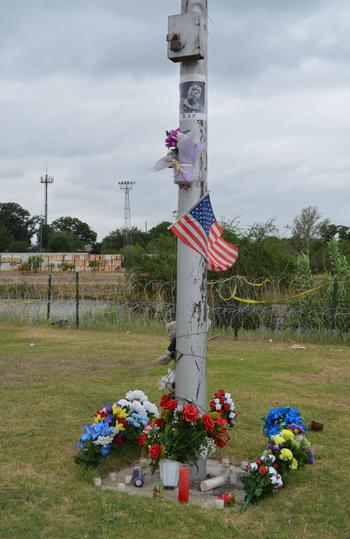 As a precaution, the Texas Military Department spent about $51,000 to purchase nearly 1,400 doses of Narcan, an opioid overdose medication that is administered as a nasal spray, according to contracts found online. Officials said the medication will be distributed to troops along the border and personnel were expected to begin training on how to use the medication in late May.
"The Texas Military Department recognizes the significant increases in transnational narcotics trafficking across our southern border and the accompanying increases in fentanyl encounters," according to a statement from the department. "Thankfully no TMD members have been exposed to this dangerous drug."
Now more than a year into to the mission, troops assigned to the border said they have very little interaction with migrants, but instead report any people suspected of illegally crossing from Mexico into the U.S to Border Patrol agents and the Texas Department of Public Safety.
"We don't look for [drugs]. That's not our job," Cervantes said. "If there's any suspicion of those, we report it to [Texas Department of Public Safety] and let them know."
---
---
---
---