White House taps 18th Airborne Corps' Kurilla to lead CENTCOM
by
Corey Dickstein
Stars and Stripes
January 6, 2022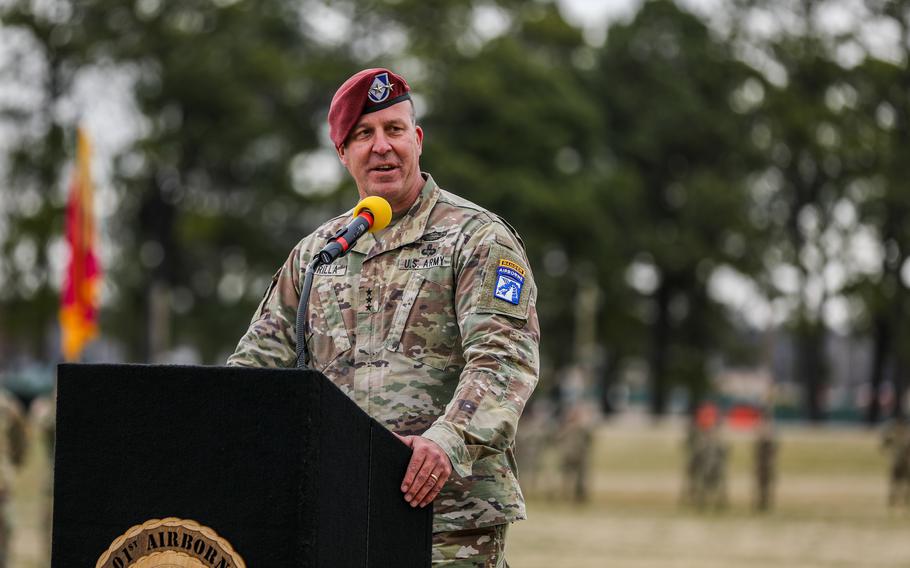 Lt. Gen. Michael "Erik" Kurilla, the commander of the Army's 18th Airborne Corps, is the White House's pick to lead American forces in the Middle East, according to congressional records and a military official.
President Joe Biden on Wednesday nominated Kurilla to receive a fourth star, according to Senate records that do not indicate for which position he had been selected. But a military official, who spoke on condition of anonymity, confirmed a Wall Street Journal report Thursday that Kurilla had been chosen to become the next U.S. Central Command leader.
Kurilla, an infantry officer, is 1988 graduate of the U.S. Military Academy at West Point with extensive experience in the Middle East and Afghanistan, according to his Army biography. If confirmed by the Senate, he would replace current CENTCOM commander Marine Gen. Kenneth McKenzie, who is slated to retire in the spring.
McKenzie has led the command responsible for the Middle East and parts of central Asia including Afghanistan and Pakistan since 2019, overseeing the full U.S. withdrawal of forces from Afghanistan last year, the end of the U.S. combat mission in Iraq last month, and the U.S. raid in October 2019 in Syria that led to the death of Islamic State leader Abu Bakr al-Baghdadi.
Kurilla would inherit CENTCOM as it transitions with the United States moving its focus from two decades of counterterrorism wars in the Middle East and Afghanistan toward preparing for potential fights against major power competitors such as China and Russia.
His nomination comes amid increasing tensions in Iraq and Syria between American forces and Iranian proxy militias who seek to push them out of the region. In recent days, U.S. and anti-ISIS forces have shot down multiple enemy drones near Iraqi bases housing American troops, and Iran-backed militias have lobbed rocket attacks on at least one base with U.S. forces in northeastern Syria, defense officials have said. About 2,500 American troops remain in Iraq to train Iraqi forces to fight the remnants of ISIS. The United States has less than 1,000 troops in Syria primarily working alongside local anti-ISIS forces, the Pentagon said this week.
Kurilla is a battle-tested Army leader who has commanded at practically every level in the Army's conventional and special operations fields, according to his biography. He served in combat operations in Panama, Iraq during Desert Storm, Operation Iraqi Freedom and Operation Inherent Resolve, and Afghanistan. Before taking the helm of the 18th Airborne Corps at Fort Bragg, N.C., Kurilla served as CENTCOM's chief of staff.
Among his leadership positions, Kurilla commanded the 82nd Airborne Division, the 75th Ranger Regiment and its 2nd Battalion, and the 25 Infantry Division's 1st Battalion, 24th Infantry. He also served as the assistant commander of the Joint Special Operations Command and as the Pentagon's deputy director for special operations and counterterrorism.
While leading 1-24 Infantry during a deployment to Mosul, Iraq, in 2005, Kurilla was shot multiple times in a close combat fight documented by Michael Yon, an independent journalist and former Green Beret who was embedded with the unit. Yon wrote Kurilla was "shot in front of me, hit three times, badly, but he continued to fire at the enemy and give orders."
The incident led to one of Kurilla's two Purple Hearts and a Bronze Star Medal with "V" device for valor, according to the Army. He has been awarded four additional Bronze Stars.
---
---
---
---