Army posts reward for information on flag thefts, Confederate flag raising in Germany
by
Immanuel Johnson
Stars and Stripes
October 7, 2021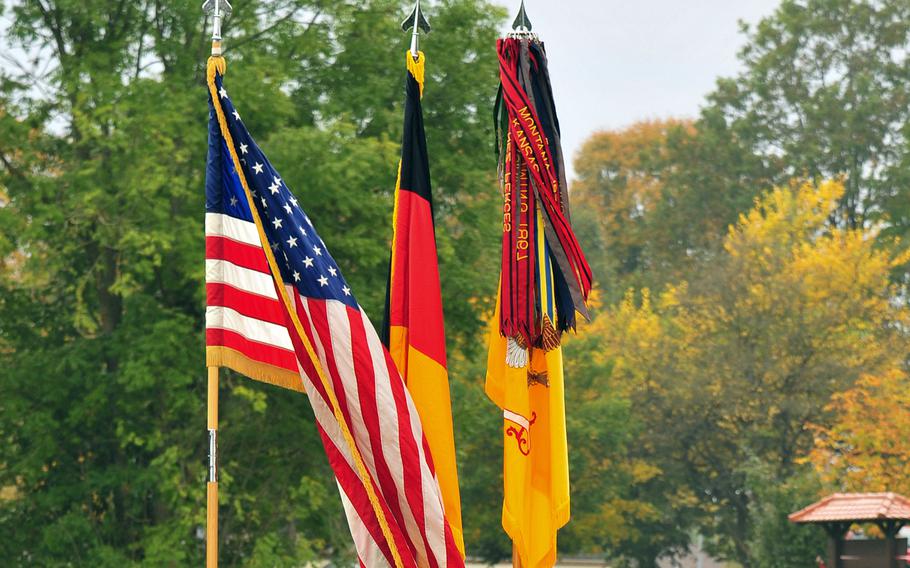 GRAFENWOEHR, Germany — The Army is offering a cash reward for help finding anyone involved in stealing the American and German flags from the 2nd Cavalry Regiment's headquarters and raising a Confederate flag outside the building earlier this week.
A U.S. Army Garrison Bavaria post on Facebook said Thursday that the Army Criminal Investigation Command is offering a $2,000 reward for information leading to the arrest and conviction of the person or group responsible for the incident at Rose Barracks in Vilseck.
The American and German flags were found missing Monday morning and the Confederate battle flag was taken down upon discovery, regiment officials said. The Confederate flag flew from the flagpole reserved for the American flag.
Army officials were not immediately available for comment Thursday on whether there have been any further developments in the case. A regiment spokesman said Monday that they would work with military police to review the base's camera footage.
Last year, former Defense Secretary Mark Esper effectively barred the display of the Confederate standard and other unauthorized flags.
"The flags we fly must accord with the military imperatives of good order and discipline, treating all our people with dignity and respect, and rejecting divisive symbols," Esper wrote in a July 2020 memo.
The Confederate flag has also been used as a substitute flag by some neo-Nazis in Germany, where the display of Nazi symbols is broadly illegal.
The Army is asking anyone with information on the incident to call investigators at 09662-283-3398/3397.