Good food, giant pork chops at popular Wiesbaden restaurant
by
Michael Abrams
Stars and Stripes
September 16, 2021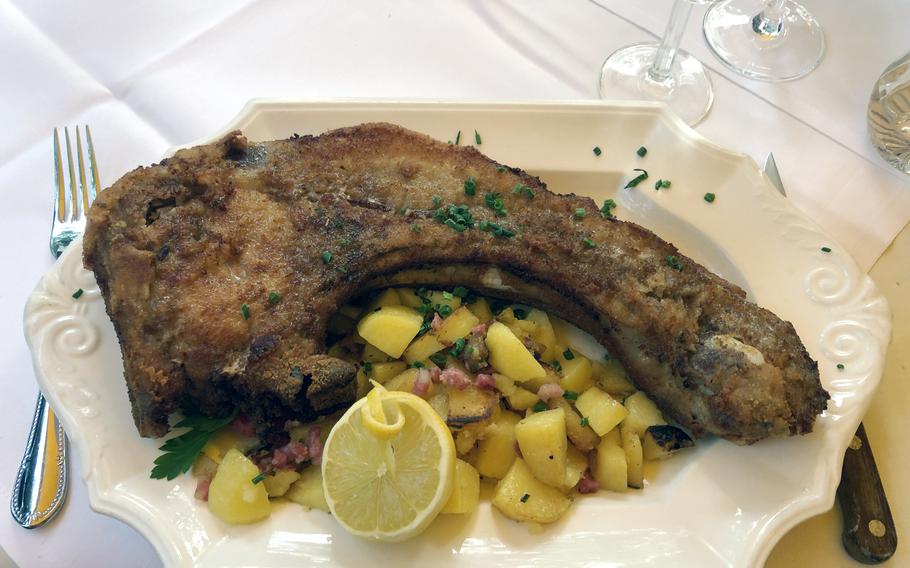 Do you remember the closing credits of "The Flintstones" TV cartoon where Fred orders at the drive-in and the waitress brings out dinosaur ribs so big, they tip the car over?
That's about how I felt when our waitress brought the pork chop I ordered to our table. It was huge!
But let's back up a little. We were dining at the Forsthaus Rheinblick in Wiesbaden, Germany. It is a very popular restaurant that serves German cuisine, just down the hill from Rheinblick Golf Course.
It was hard to get reservations, so we were very happy to finally take our seats on the terrace on a warm Sunday evening.
We started off with cocktails. I had a glass of Riesling sparkling wine and my wife tried an alcohol-free cocktail made with apple and orange juice, pomegranate syrup and infused with bitter lemon. Both were refreshing.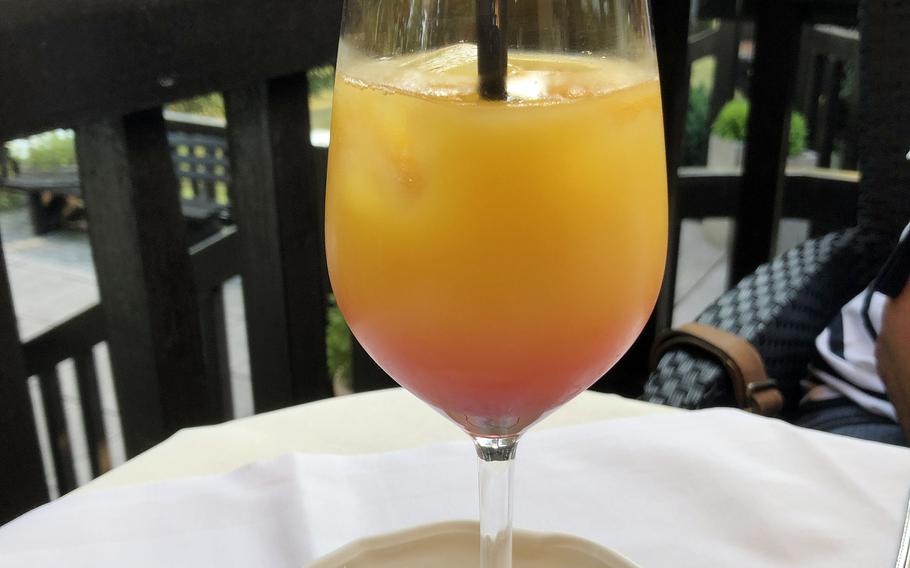 The menu at Forsthaus Rheinblick is rather limited and changes some with the seasons.
For starters, there were two soups and a salad listed.
My wife chose the Wiesenkräuterschaumsueppchen, or meadow herb foam soup, flavored with herbs and topped with croutons. I went with the marinated salad of the season, with baked goat cheese in a crispy coating with honey and pine nuts.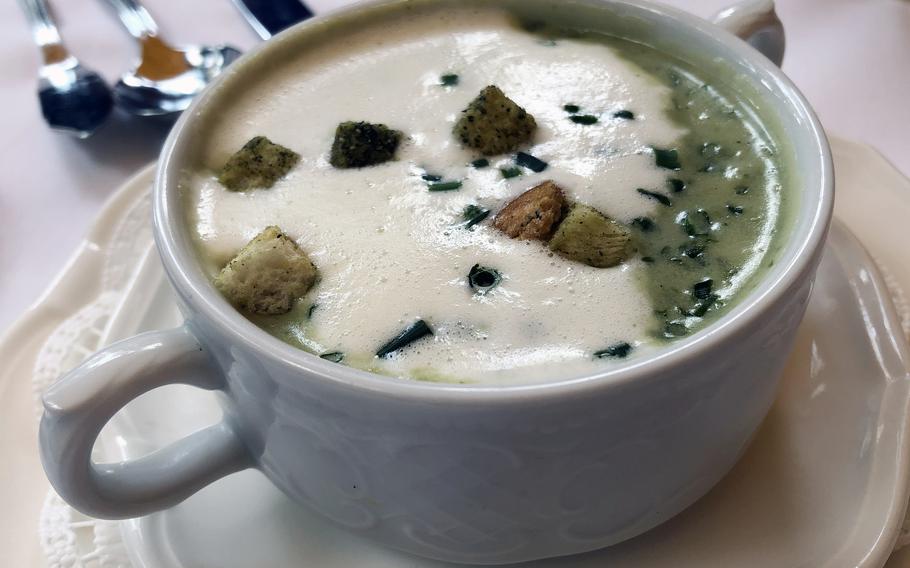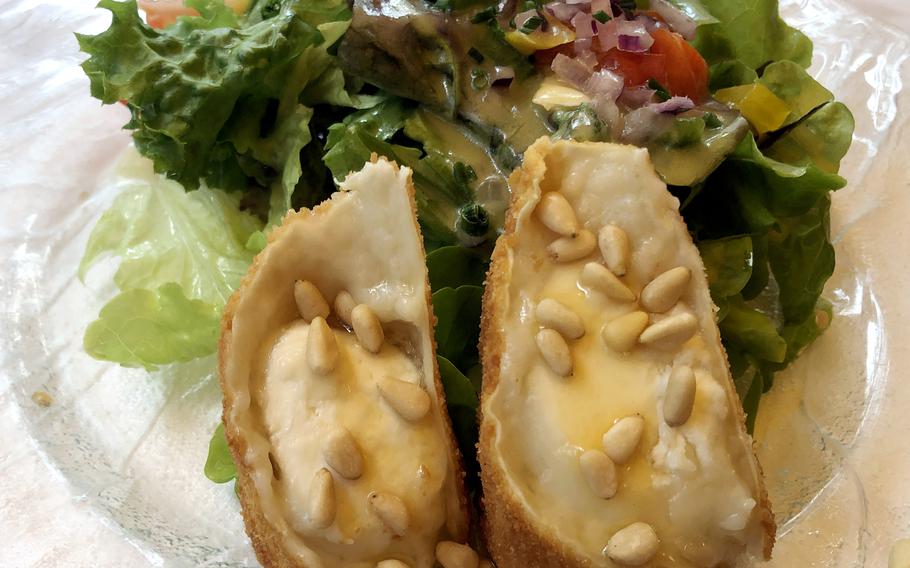 The soup was, as you can imagine, full of herby flavors and the salad was scrumptious, with the cheese melted inside its thin crisp batter and the dressing quite tangy.
To go with the dinner, we chose a blanc de noir from the nearby Klerner winery in the Rheingau region.
The choices for the main course were mostly between fish, steak, schnitzel and game. Something pretty much absent on the menu are, unfortunately, vegetarian dishes.
My dinner companion selected the trout fried in butter, in what is called "Muellerin" style in Germany.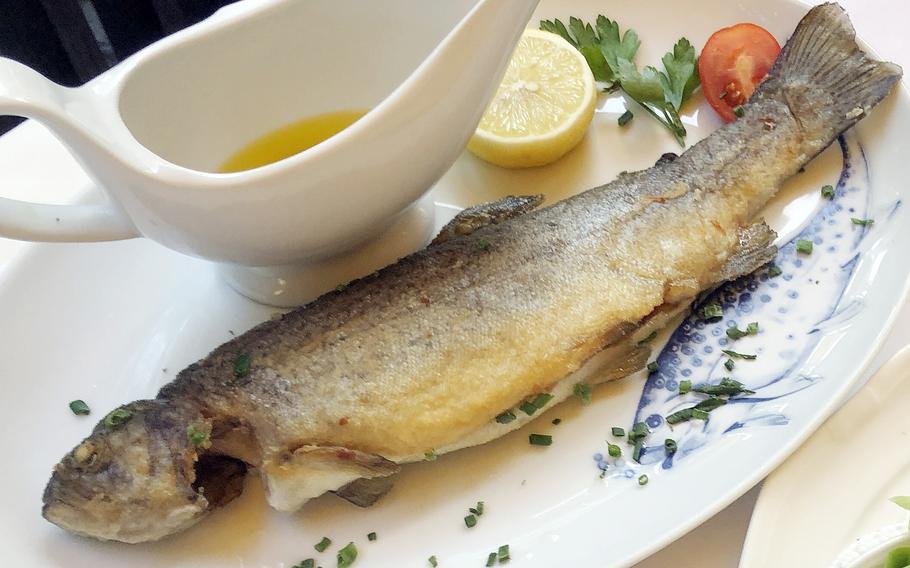 The fried, breaded pork chop used to be a classic at German restaurants, but over the years has mostly disappeared from the menus. So, I took the opportunity and ordered it.
And then had my Fred Flintstone moment.
It was the biggest pork chop I have ever seen, let alone eaten. Served bone-in, it was delicious, the breading crisp and the meat juicy. It came with a portion of roasted potatoes. I ate it all.
My wife's trout looked tiny in comparison, but it was actually a nice sized fish. Perfectly fried, moist, and easy to filet. Served with extra butter, boiled potatoes and a green salad, it was perfect.
While we were both satisfied, there was still room for dessert.
I chose the homemade panna cotta topped with wild berries., while my wife went for what the menu called "tipsy" lemon sorbet topped up with fresh berries and a dash of Rheingau Riesling sparkling wine.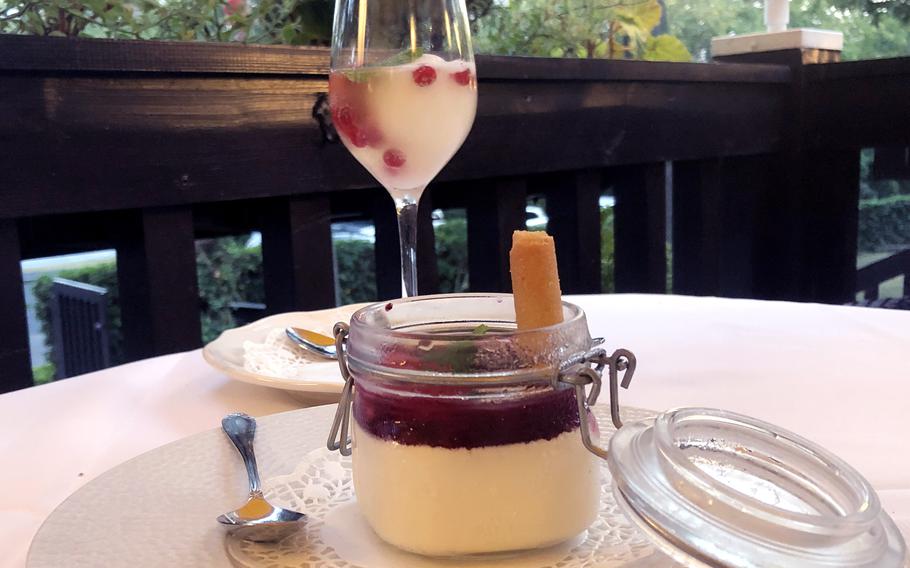 While there probably wasn't enough sparkling wine to make you tipsy, there was more than a dash of it in the glass. The panna cotta tasted nice and creamy, and the berries added a tangy note.
Dinner at Forsthaus Rheinblick is not on the cheap side, but the quality of the food, the friendly, attentive staff and the fine dining atmosphere make it worthwhile. We will definitely eat here again.
But I think the pork chop will be a once-in-a-lifetime experience.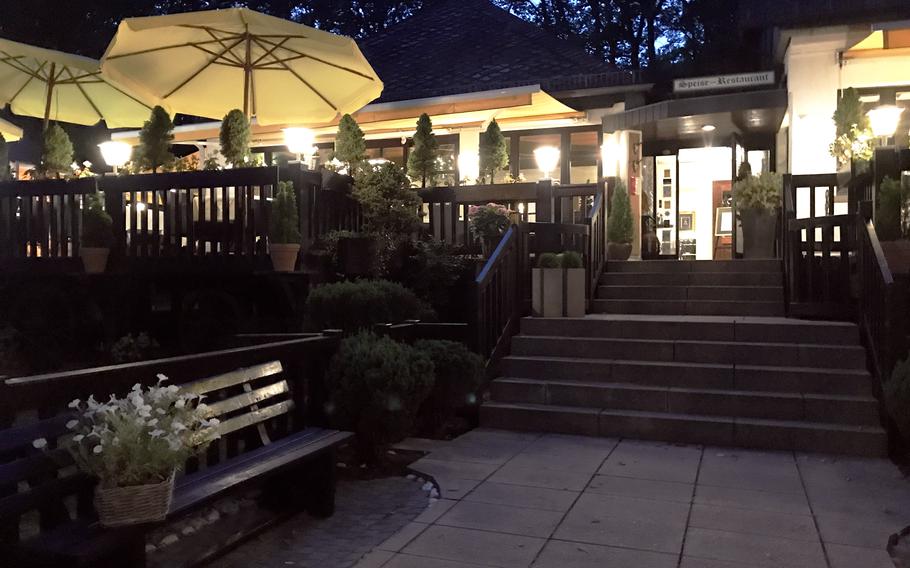 Location: Frauensteiner Strasse 117, 65199 Wiesbaden. At the foot of the hill leading up to Rheinblick Golf Course.
Hours: 11:30 a.m. to 9 p.m. (kitchen closes) Tuesday through Sunday. Closed Mondays
Dress: nice casual
English menu: Unfortunately no
Prices: Starters range from 5.90 euros to 12.50 euros; Main courses from 17 euros to 26 euros; Deserts from 5.90 euros to 8.50 euros.
Information: Reservations highly recommended. Telephone: 0611 429171. German-only website is forsthaus-rheinblick.net